Tori Meyer leading by example: Eyes set on winning Big East Tournament
March 5, 2023
Growing up in Barrington, Illinois with two brothers, Tori Meyer established a competitive edge early on in life to always be the best and strive for greatness. Implementing a winning mentality led Meyer to not only be successful on the softball field, but in the classroom as well.
"I'm probably the most competitive player on the team," Meyer said. "Growing up, I always had two brothers, so I competed with them, and I think it's kind of just ingrained in my personality. I just love to win and just make the fans, my family and myself proud. Winning just means I'm working the hardest and that work is being shown to everybody."
Meyer was a multi-sport athlete throughout high school and fell in love with softball and basketball at a young age. Ultimately, she decided softball was the path to take and committed to DePaul in September 2017.
"Tori [Meyer] was actually committed when I took over the program," head coach Tracie Adix-Zins said. "She wasn't strictly a softball player and had played other sports and was highly competitive in them. [That] is what stood out about Tori. I think when you're bringing in recruits, you want people that are super competitive, especially in this world."
The team knew the risk of investing in a multi-sport athlete, and a day after Meyer signed her letter of intent with DePaul, she tore her ACL playing basketball. Still, Meyer says DePaul was fully committed and helped her tremendously through her rehab process. There was never a discussion of pulling her scholarship.
Meyers breakout season came a year ago, during her junior year, when she hit .339 in 52 games, while also slugging five home runs. Meyer recorded 34 RBI's to go with a .539 slugging percentage too. Her development and growth as a player have progressed significantly from when she first stepped on campus and coaches and teammates have noticed.
"I think she's developed a lot, and I can see she's very confident in herself," senior first baseman Brooke Johnson said. "I think she knows what she can do and is confident in that, so I think she has a lot more confidence than she did her freshman year. I think she's grown since then."
Defense has always been Meyer's strength, and so far this season, she has been flawless in the outfield, committing zero errors with two assists. Prior to this year, she has been a versatile utility player for the Blue Demons but has now solidified herself as the team's leader in the outfield.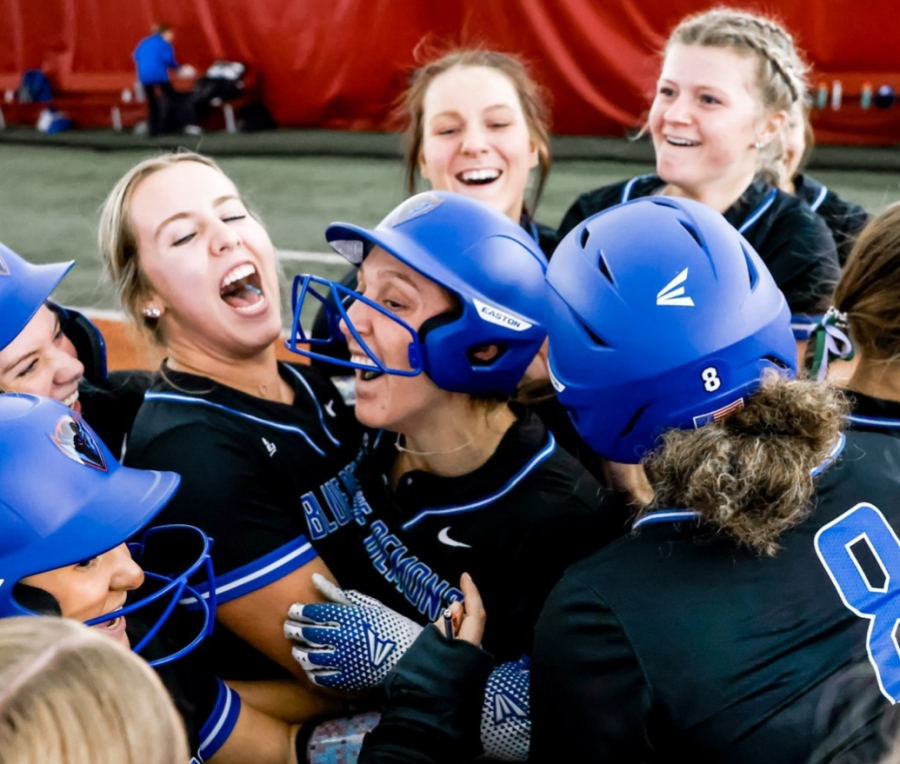 "This is my first year playing center field at DePaul, and that means the world to me," Meyer said. "Center field is like the main person who takes priority over pretty much all balls that we get out there and have to make sure everybody's in the right position or not, so it means the world to me. I'm happy to be in this position right now."
For teammates and coaches, leadership is the first word that comes to mind when Meyer's name is brought up. Meyer's ability to lead a group of people has been seen on and off the DePaul softball field. When she is not tracking down fly balls and helping DePaul find a way into the win column, Meyer's is coaching the next generation of talent.
Coaching has always been a passion for Meyer. So when the pandemic hit and Illinois softball was put on hold due to restrictions, she believed it was the time to pursue it. She decided to coach in Wisconsin and ease her way into it, only coaching once a week.
"I absolutely love coaching softball," Meyer said. "Right now, I'm coaching my 14U team in Barrington, Illinois, and I honestly love it because it kind of makes me a better player, if that makes sense. I'm seeing both sides of the coin as a player and coach and kind of use it to my advantage. I think I'm just more well-rounded now and can teach what I know now on a day-to-day [basis] to reinforce certain skills and drills and mentalities."
Meyer's hard work and dedication has not gone unnoticed, and the team under Adix-Zins has implemented a leadership council instead of the traditional captains. 
"She's [Meyer] going to take over a leadership role," Adix-Zins said. "This is the first year we've had it, and I actually have more of a leadership council because sometimes captains can just get a little dicey. She's a part of the council, and we're trying to impact our players on and off the field and help them understand how to lead in this day and age."
Meyer received votes from her teammates along with Johnson to be one of the team's leaders for the upcoming season. According to players and coaches, Meyer is one of the team's biggest supporters, cheering on the team and staying positive when times are tough, instilling confidence that she will thrive in her new role.
"It kind of solidified that people are counting on me to step up and produce for our team and help us win," Meyer said. "It meant a lot to me and I was very happy and excited to be in that position because I had before and I think it really put pressure on me. It kind of gave me that extra boost of confidence."
Meyer isn't necessarily worried about what the future holds and her main focus right now is on DePaul softball, but if she cannot play professionally, she has interest in being a school counselor. Meyer is majoring in psychology and plans to use her fifth year of eligibility to also play softball and pursue a master's degree in school counseling.
"I'm kind of focusing on taking the team to the Big East Tournament and winning," Meyer said. "I've definitely thought about playing pro at the next level because I do love it so much and it's become a huge part of my life."