Heartbreaker in Connecticut: Missed free throws send DePaul home with 71-70 second-round loss to Villanova
March 6, 2023
UNCASVILLE, Conn – With 2:51 left in the game, sophomore Aneesah Morrow backed down her defender in the low post and shot a contested turnaround jumper over two Villanova defenders. It was nothing but net, and Mohegan Sun Arena erupted as DePaul took a 70-64 lead in the second-round Big East Tournament matchup. 
Morrow's shot proved to be DePaul's final points of the game. Villanova proceeded to go on a 7-0 run as Wildcats sophomore Lucy Olsen iced the game at the free-throw line with seven-tenths of a second left after making the first and intentionally missing the second, for a final score of 71-70. 
"Yeah, my teammates had my back," Olsen said. "They kept telling me, 'you're good, you do this in practice everyday,' it was my teammates putting confidence in me." 
This was the third time this season Villanova and DePaul met this season. Back on Jan. 11, DePaul fell by seven, 71-64, and the final regular season meeting on Feb. 21, saw the Demon's lose 67-64. 
Like those two previous meetings, this one was back and forth as teams exchanged runs. 
There were 10 lead changes throughout the game. The Wildcats won the first two quarters, outscoring DePaul, while the Blue Demons won the final two quarters, but in the end shooting one for seven from the charity stripe, caused a huge six-point swing. 
"I'm a coach who does not believe in talking about free throws," Bruno said. "We work on free throws, we prepare with free throws. I feel we have a good system that puts pressure on players, every single player." 
Senior Anaya Peoples had 10 points in the first half as she controlled the flow of the offense handling the ball. Peoples had three personal fouls by the half to go along with Morrow's two, limiting Bruno's second-half game plan. 
Looking for someone to step up offensively, junior Kendall Holmes did just that. The team's best three-point shooter sought every opportunity throughout the game and gave DePaul impactful baskets when it needed them. 
Holmes went five for nine from three and played all 40 minutes of Saturday night's game. 
"I believe shooters got to shoot," Bruno said. "They have to be ready to shoot. Kendall was due to break out, and she started to break out [in Friday's game], and that's the Kendall we believe in." 
Ultimately, DePaul, who led most of the fourth quarter, let this game slip away. After the game, Bruno said that although his team got defensive stops and outrebounded Villanova, it came up short when things mattered most. 
First round vs. Providence
On Friday, DePaul fared much better, closing out Providence with an excellent performance by Morrow in the team's first-round matchup.
Making its 18th Big East Tournament appearance, DePaul coach Bruno had its work cut out for them entering Friday's game, but a strong showing led the team to the 67-54 win over Providence. 
Morrow had the Blue Demons in control from the start. She finished the first half with 24 points — just two points shy of breaking Syracuse alum Beth Records' record of 26 first half points in the Big East Tournament. 
"Morrow is a phenomenal scorer," said Providence head coach Jim Crowley.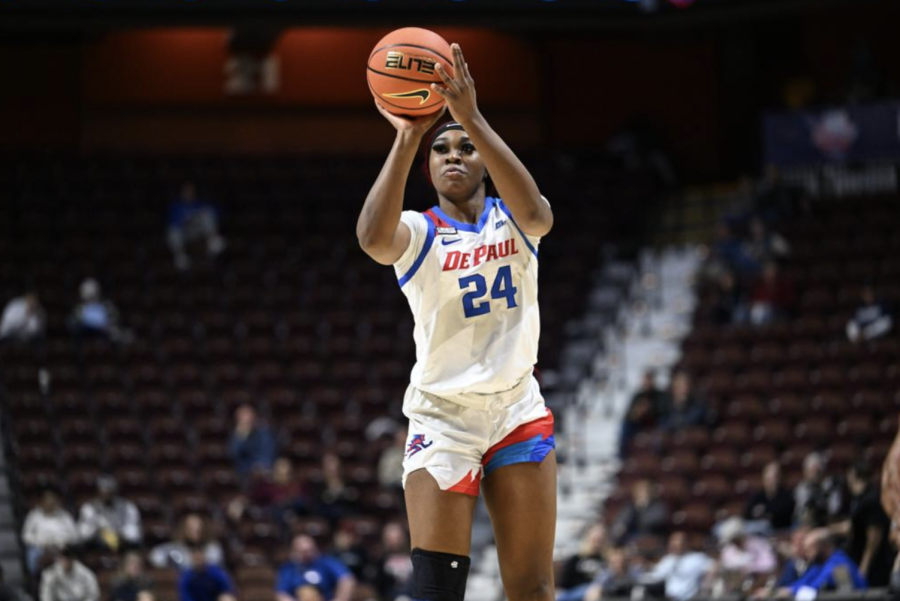 Prior to the start of the Big East Tournament, Morrow was unanimously named to the Big East All-First Team. This is her second selection in back-to-back seasons. Junior Darrione Rogers was also awarded Big East All-Second Team. 
Since joining the Big East in the 2005-06 season, the Blue Demons have only held the seven seed twice, in 2010 and 2013. 
Having defeated the Lady Friars twice in the regular season, DePaul knew they had the experience and gameplan to defeat Providence.
Defense played a huge role in making sure Providence never got going. After going up 14-13, the Friars would not see the lead for the remainder of the 37 minutes of play. 
DePaul forced 10 first half turnovers and held Providence to a sub-30% shooting performance. 
Morrow outscored the entire Friars team in the first half 24-22 as they took a 41-22 lead, capping it off with a 16-2 scoring run. 
"It started before the game," Morrow said. "I was shooting very well in warmups and I knew that I was going to shoot great today. I was in the flow, coach Bruno never really limited me to anything on the court." 
In the midst of Morrow's offensive burst, she drained a three and turnaround mid-range jumper on back-to-back possessions, smiling on her way back to play defense, only for Crowley to call a timeout in frustration. 
The first-half glory did not last. The Blue Demons opened the third on a scoring drought and played a bit out of sorts, committing 10 second half turnovers. 
Pacing the baseline, Bruno yelled at his player over and over again, making an emphasis on making the simple pass and to slow things down. 
"There were some possessions of dysfunction offensively," Bruno said. "But then there were some really good possessions. So I just think that it's a work in progress, and at this point in time of the year, you really just have to focus on what we have to do to beat one team." 
Rogers provided the offensive spark that went missing with Morrow. Her two 25-foot threes kept the Blue Demons ahead and shut down the Providence scoring runs. 
Peoples, who assured herself defensively like she has all season, added 12 points and seven rebounds. 
Through an up-and-down season filled with unknowns and injuries, DePaul might have finished better than its 16-17 overall record if it had been able to build chemistry early on. 
Looking forward to next season, means yet another year Morrow returns to continue to rack up accolades and move closer to the all time leader in scoring.
Morrow, 20, is already regarded around the college basketball community as possibly the best player in the country.
For the second straight season, she was named a finalist in the ballot for the John R. Wooden award. Which is given to the Nation's best player in all of college basketball. 
She finished the season averaging 25 points per game, 12.2 rebounds and shot 42% from the field. 
Bruno will have more than half his roster from this season returning for next season, including one of the nations top point guards from Joliet West High School, Lisa Thompson.