One and done: Lightfoot out, Johnson and Vallas advance in mayoral race
March 6, 2023
Lori Lightfoot became the first Chicago mayor in 40 years to lose reelection Tuesday, failing to receive enough votes to qualify for a runoff election and finishing in third place.
Paul Vallas and Brandon Johnson, the top two vote-getters, will head to a runoff election on April 4. None of the nine candidates got over 50% of the total vote, which is required to win outright.
It's a historic loss for Lightfoot, who was the city's first Black woman and first openly gay person to serve as Chicago's mayor. She will be the city's first one-term mayor since Jane Byrne who lost her primary to Harold Washington in 1983.
"Obviously, we didn't win the election today, but I stand here with my head held high and a heart full of gratitude," Lightfoot said during her concession speech. "I am grateful to the millions of Chicagoans who came together as we made tough decisions, saw the struggles of our frontline workers, and beat back a deadly pandemic."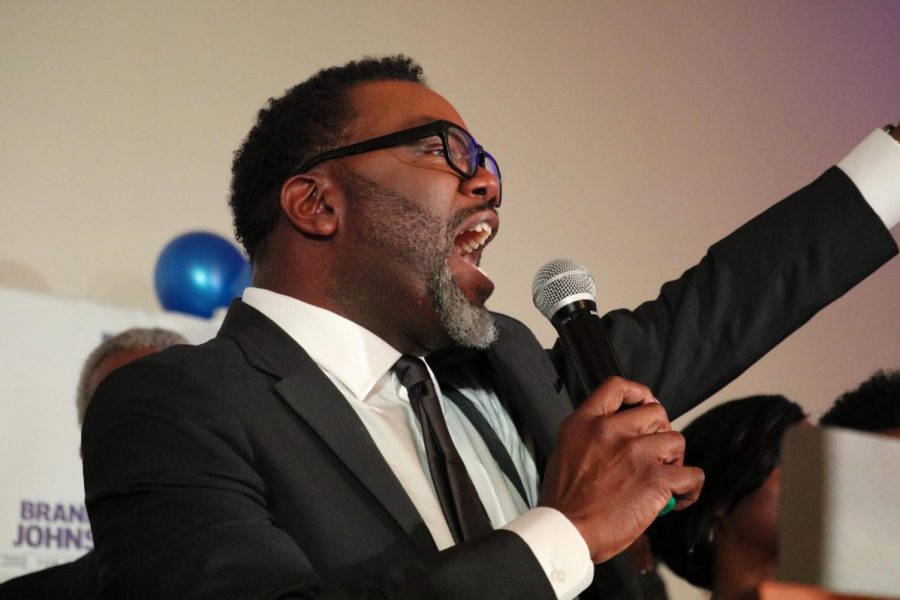 Some are calling the defeat a "stunning upset." For many city residents, it is anything but.
Lightfoot's mayoral tenure was marred by rising crime rates and the fallout of the Covid-19 pandemic. Her recent low approval rating suggested that Chicagoans were motivated for a change in leadership.
"I voted for Brandon Johnson," said 46th Ward resident Susanna Albrecht at the Sherway Tower Apartments polling site. "I can't be associated with someone who still votes Lightfoot."
In her concession speech, Lightfoot said she called Johnson and Vallas to congratulate them for advancing to the runoff.
"We were fierce competitors in these last few months," she said. "But I will be rooting and praying for our next mayor to deliver for the people of this city for years to come."
The stark ideological contrasts between the two advancers have already drawn national attention. Vallas and Johnson represent a growing divide in the Democratic Party between progressives and conservatives.
Vallas is a former CEO of Chicago Public Schools, who campaigned on a theme of "law and order" and was endorsed by the Chicago's Fraternal Order of Police. In 2009, Vallas told conservative commentator Jeff Berkowitz that he is "more of a Republican than a Democrat," despite running as a Democrat in this 2023 race.
As crime continues to be a top concern for Chicago voters, Vallas' messaging as a tough-on-crime candidate resonated with the city's voters. He finished in first place on Tuesday with nearly 34% of the total vote, according to data from the Associated Press. Vallas dominated the 43rd Ward, which includes Lincoln Park, where he got 57% of the ward's vote.
Vallas called for adding hundreds of police officers to patrol Chicago and was highly critical of Lightfoot's handling of crime during her tenure. He reiterated his desire to curb crime during his victory speech.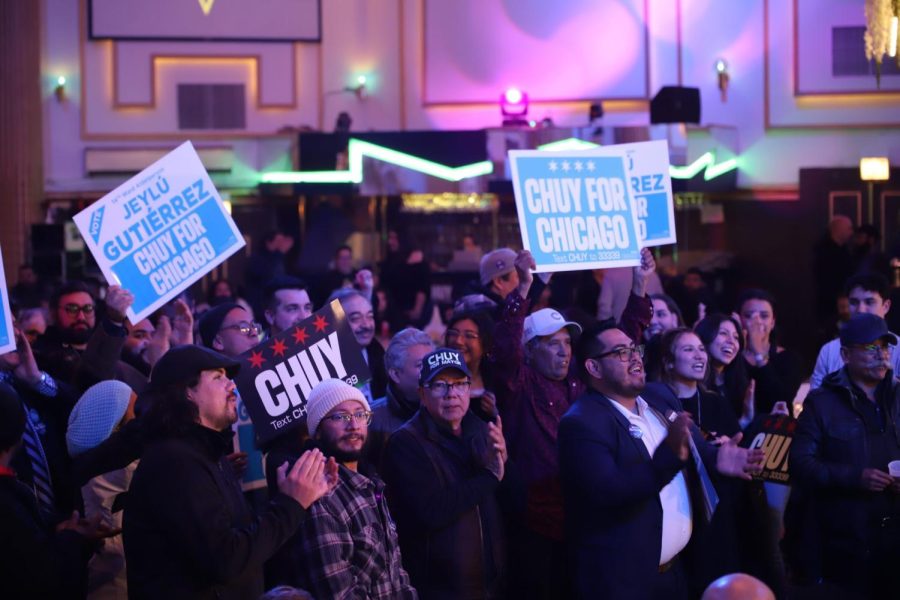 "We will have a safe Chicago," Vallas said. "We will make Chicago the safest city in America."
Johnson, a Cook County Commissioner and former CPS teacher, is the antithesis of Vallas within the Democratic Party. 
Finishing in second place with just over 20% of the total vote, Johnson represents the progressive wing of the party. He was endorsed by United Working Families and is prioritizing investment in education, job placement for underserved youth and raising taxes on the city's wealthy and corporations. 
He also received over $1 million in donations from the Chicago Teachers Union.
"Tonight is about building a Chicago that truly invests in our people," Johnson said during his victory speech Tuesday.
Johnson was critical of Vallas in his speech, calling out his opponent's policing platform and conservative past.
"Paul Vallas is someone who is supported by the Jan. 6 insurrectionists," Johnson said. "He switched parties when Barack Obama became president of the United States … He said that he fundamentally opposes abortion … Chicago, we cannot have this man as the mayor of the city."
The rift between Vallas and Johnson on issues like policing and public safety highlights the same divide in the Democratic Party that played out on a national stage during the 2016 and 2020 elections.
Many believe that Democrats around the country will be paying close attention to Chicago's mayoral race due to its potential impact on the future of the party.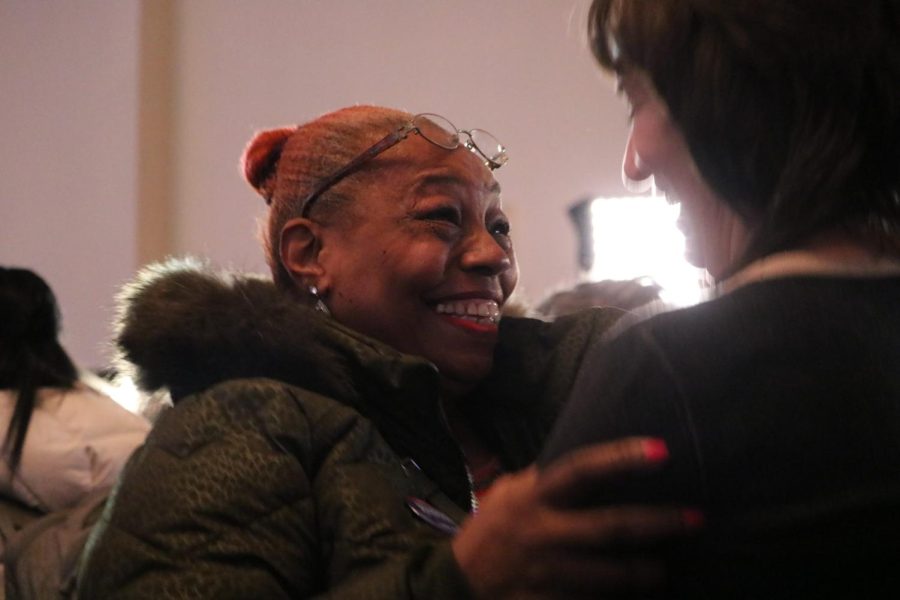 "I've already had inquiries from maybe half a dozen national publications that are tracking the mayor's race and are attempting to understand what the meaning of the race is for both the Democratic Party and national politics," said Dick Simpson, political science professor at the University of Illinois Chicago and former 44th Ward Alderman. "It does show a significant [divide], not only in Democratic politics, but the polarization of politics more generally."
Conservatives, too, will be watching, as a win for Vallas could imply a right-leaning shift in cities concerned about public safety, which Republicans can potentially use to win back urban voters.
Chicagoans expect a polarized race heading into April.
"I think it's going to be a lot more tense because of how polar opposite the candidates are," said Lexie Wheeler, graduate student at University of Illinois at Chicago who attended Jesús "Chuy" García's election party Tuesday.
Wheeler voted for Garcia, who finished in fourth place behind Lightfoot after once being considered the front runner. After Garcia conceded, Wheeler said that she would support Johnson but believes that the city's progressive youth will have to play an important role in Johnson's organizing efforts to compete with Vallas.
"We are going to rely really heavily on younger voters to make up for the fact that folks in the older demographic are really the ones voting for Paul Vallas," Wheeler said. "It's going to be a really big effort to engage the millennial and Gen Z populations."
It will be a tall task. The city's youngest voters, ages 18 to 24, accounted for just 3.14% of the citywide vote, according to the Chicago Board of Elections.
Over 160,000 Vote By Mail ballots have been returned to the board, with thousands still outstanding to be counted through the March 14 deadline.