'We are in a crisis around the world': International Women's Day rally brings attention to global inequalities
Over 50 students, volunteers and organizers gathered outside the DePaul Center to celebrate International Women's Day on March 8. 
Organized by Revolution Club Chicago and Rise Up 4 Abortion Rights, the assembly brought attention to issues ranging from countries such as El Salvador that prohibit abortion, Walgreens' recent ban on selling abortion pills in certain states and the Taliban's near total control over Afghan women.
Jay Becker, a volunteer for Rise Up 4 Abortion, expressed gratitude for bringing awareness to the growing restrictions against women's health care and access to abortions.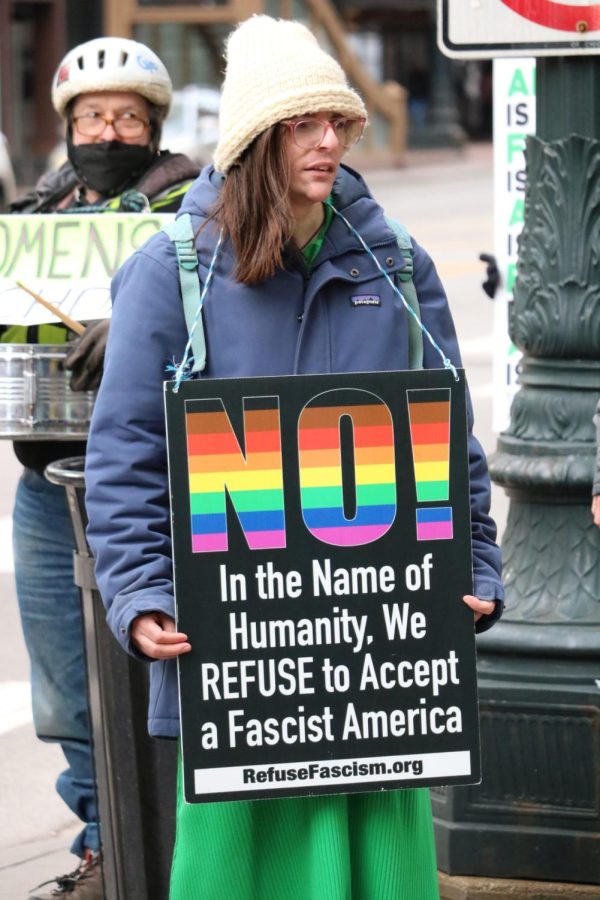 "We are in a crisis in this country," Becker said. "We are in a crisis around the world. The patriarchy is being reasserted with a vengeance against women in this country where we have lost the right to abortion in directly half the country."
Before Wednesday's rally, Chicago's Rise Up 4 Abortion branch has held routine protests, marches and die-ins — a type of demonstration where attendees lie down in public places as if they were dead and refuse to leave or allow regular activities to proceed — following the aftermath of the Supreme Court's decision to ban abortions on June 24, 2022. 
The group's most recent demonstration was outside of Walgreens' West Loop office after the company decided to stop selling the abortion medication mifepristone in states where Republican attorneys have threatened legal action. These states include Indiana, Ohio and Montana. 
Yet, to Becker, this week's gathering means more than fighting for abortion rights. This gathering acts as a stark reminder of women's resilience in the face of adversity. 
"[International Women's Day] is a day where women rise up against the patriarchy and rise up for their rights," Becker said. "All of our rights have been reduced … This is just an outrage that we should all be out on the streets. That is how we won. It wasn't electing anybody, it was through non-violent resistance, and that's how we will win it back." 
Nearly 50 years have passed since the Supreme Court's 1973 decision in Roe v. Wade, deeming abortion a constitutional right. However, since the Supreme Court's recent reversal of the case, many like Becker continue protesting for a future where all women can once more have equal access to abortions. 
"When we're fighting for the right to abortions, we're fighting for every woman and girl to be treated as a full human being," Becker said.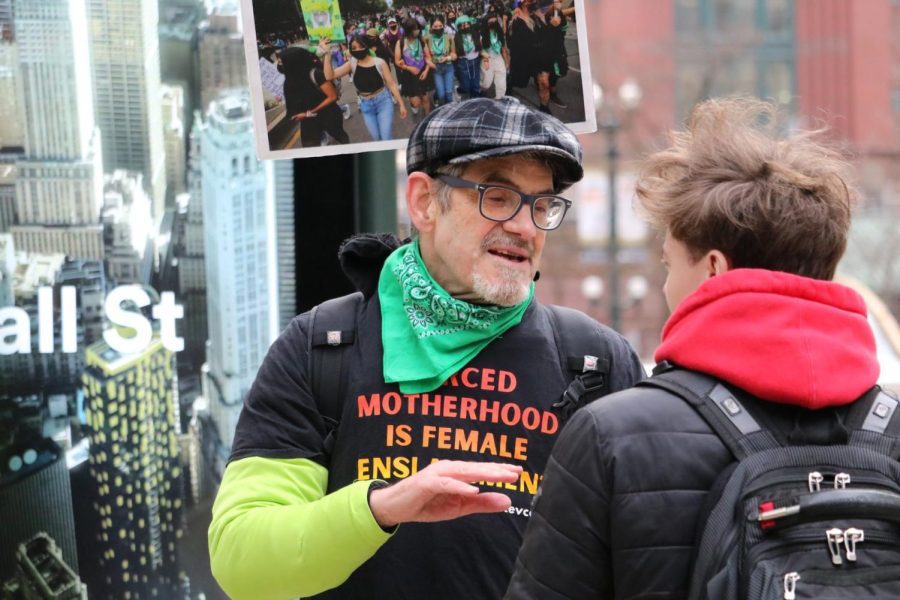 The rally transitioned into a march as its numbers increased, inviting individuals to chant and don green bandanas, a symbol of the movement for free, safe and global abortion rights.
Leaving State and Jackson, the group made the 700-meter walk to Walgreens on 2 N. State Street, where they continued their rally outside the pharmacy entrance.
For participant and Revolution Club Chicago member since 2016, Mollie Brady expressed the importance of holding regular protests and rallies.
"People are very forgetful," Brady said. "They forget things are happening if they're not constantly reminded." 
Grounded in politician Bob Avakian's Maoist framework, the Revolution Club fights for gender equality, a world without borders and to end capitalism. Branches of the Revolution Club are also active in the Bay Area, Los Angeles and New York.
"Marches like today bring attention to our rights and the importance of protecting women and other minorities that are being oppressed," Brady said. 
One of the rally's first speakers was Patricia Wallin, who has been a member of Rise Up 4 Abortions for over a year. 
Wallin's speech invited individuals to celebrate the accomplishments of women while remaining vigilant of those still oppressed. 
"We cannot succeed when half of us are held back," Wallin said. "This day is celebrated by many by giving flowers and gifts to women. But, like I said, every year more and more people know that this day is for demanding our rights, for speaking for those who cannot."
Wallen joined Rise Up 4 Abortion following the Supreme Court's leaked draft. Now she stands at the forefront of the fight for quality and awareness.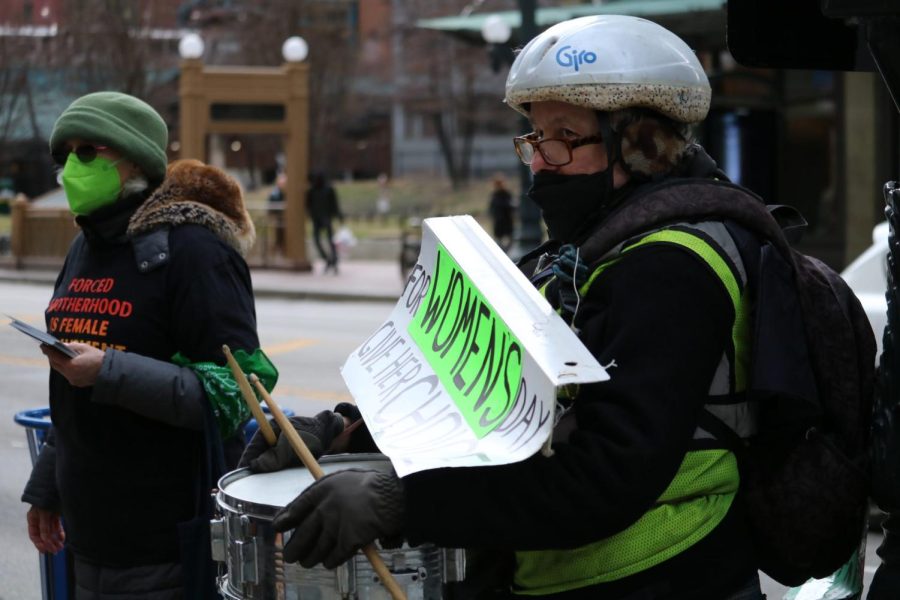 "In truth, I'm very nervous to speak in front of people, but I was thinking last night, well if they're asking me, I should do this because I think about the women that are fighting to end unwanted pregnancies or women that just feel like there's no way out and no one to help them," Wallin said. 
With divisions in seven other cities, including Austin, Miami and Honolulu, Rise Up 4 Abortion has become one of the fastest-growing anti-abortion organizations since its foundation in January 2022. 
For Wallin, the group allows her to bring attention to her home country, El Salvador, where abortion is illegal. Women found guilty of breaking this law are likely to face jail time. Less than a year ago, an El Salvador woman who suffered a miscarriage was sentenced to 30 years for aggravated homicide. 
"In the country [where] I was born, where they don't have access to abortion, there are women in jail because they had a miscarriage, or they had a still born," Wallin said. "So, I feel like this is why we're out here."
Many women and femme-presenting people share the same sentiment as Wallin, as they gather together not only on the corner of State Street and Jackson Boulevard, but across the globe to protest for women's rights. Although in many countries, women have gained far more rights than they had 50 years ago, activists like Wallin say the fight is far from over, even after the rights have been gained. 
For people looking to attend a protest in Chicago, Rise Up 4 Abortion updates their website with protests and events taking place in the city frequently.