Here's where DePaul can find great reads this Bookstore Day
April 23, 2023
The Chicago spring is slowly arriving, and the blooming trees around the quad are the perfect place to spread out a blanket or hang up a hammock, enjoy the much-needed sun, and spend some time reading. 
With Independent Bookstore Day, a celebration of local bookstores and their impact on communities, approaching on April 29, DePaul students may want to check out their local brick-and-mortar bookstores to seek out reading materials and connect with the Chicago community outside DePaul.
The world of independent bookstores can seem like an unstable world and the past few years of the pandemic made it even more fraught.
"For all of 2020, bookstore sales fell 28.3% from 2019," according to data from the U.S. Census Bureau.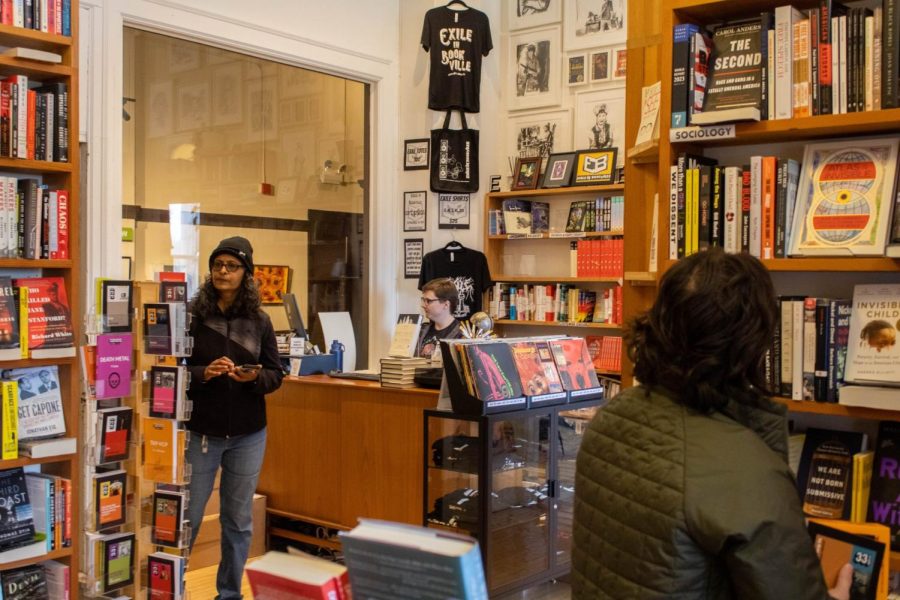 Despite this, the New York Times reported in 2022 that "something unexpected happened: Small booksellers not only survived the pandemic, but many are thriving."
Independent bookstores are important parts of any community by providing a space for people to congregate and connect over a love of literature. Here are some recommendations that might help DePaul students find some new favorites or reconnect with old loves. 
Unabridged Books on 3251 N Broadway St. is a welcoming and open storefront only a brief walk or bus ride from the Belmont El stop.
Inside, new releases crowd the shelves next to handwritten, impassioned staff reviews on index cards. Their collection varies from science fiction to photo collections. They also have a large section devoted to queer literature and symbols of all kinds, which is an important gesture given the store's location near the historically queer neighborhood of Northalsted. 
"We strive for a friendly, inclusive environment where one has a feeling of solidarity with their fellow book lovers," said Shane Khosropour, the manager and frontlist buyer at Unabridged. "We also hope that customers will find something they didn't know they wanted, either through one of our handwritten signs or a verbal recommendation or from just browsing on their own."
Community is also encouraged at Volumes Bookcafe at 1373 N Milwaukee Ave. in Wicker Park, a cozy bookstore that includes plenty of seating areas, string lights and a café counter that "adds to the allure of coming to a bookshop in the middle of the day," said owner Rebecca George.
The cafe also provides some additional income for the store, a helpful move in a business where margins can be small.
George says the store also hosts events such as open mic nights and poetry writing workshops for kids and teens, things that "not just help the community, but are engaged with the community directly."
For those DePaul students in the Loop, there are close options as well, such as a downtown mainstay Graham Cracker Comics on 77 E. Madison St. Slightly hidden by scaffolding, the revolving door entrance of Graham Cracker brings you into a place that feels like what a comic shop should be.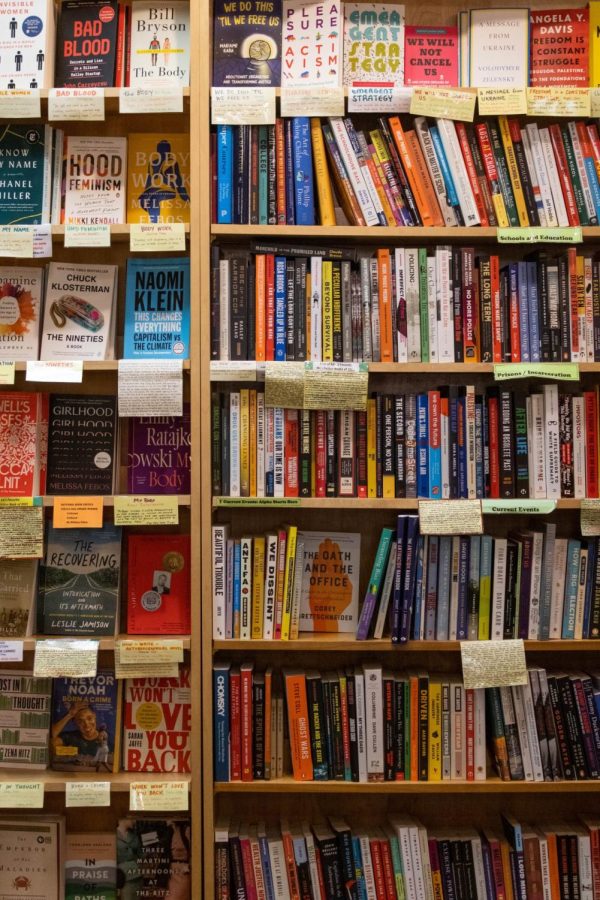 The shelves of brightly-colored covers may be overwhelming at first, but upon closer look, one will find a meticulously organized collection of both classic superheroes and lesser-known and artsier indie pieces. 
"There have been some, you know, indie titles that have been wowing a lot of people," said employee Julio Manzano. "Since they're indie, nobody expects them to be amazing. So whenever we get orders in, it's like, 'oh, we got maybe five, 10 copies.' And then it turns out that word on the street is it's a new masterpiece."
If Blue Demons travel south on Michigan Ave., they will find a place with a much different appearance than Graham Cracker but a similarly enthusiastic staff and community.
Exile in Bookville, located on the second floor of the Fine Arts Building at 410 S Michigan Ave. and named after the iconic Chicago indie record Exile in Guyville, lets you gaze out at Grant Park from floor-to-ceiling windows while browsing floor-to-ceiling shelves and admiring posters from classic indie bands. 
"[Customers] really enjoy sort of the atmosphere of the bookstore," said Exile co-founder Kristin Enola Gilbert. "We're not, You know, stuffy. We're not playing classical music. We're out and about talking to everyone and you know, everyone's thinking to feel very at home at our bookstores, and that's what we really want. We want everyone to feel like they have a place there."
Exile's second birthday happens to fall on Independent Bookstore Day. They are hosting a party, filled with drinks, music and readings to unite and celebrate the passionate community that has made them a successful bookstore.
A bit farther from the Loop, nestled underneath a brick building at 23 E. Illinois St., resides after-words Bookstore. The store appears small at first glance, but the basement contains all manner of books, including more niche used books on spiritualism, homemaking or celebrity photo collections.
"You can't really find it anywhere else," customer Aria Reynolds said about the books she was looking for. "Something that you might not even be able to find online."
Reynolds also shared their thoughts on what makes after-words, and other stores like it, appealing.
"You look at everybody around here and you know, everybody's like looking for knowledge and you're all here for the same reason," she said. 
Finally, Gallery Bookstore at 923 W. Belmont Ave. provides a more vintage experience. Open since 1927, Gallery's high shelves and narrow aisles are filled with new and used finds from sports almanacs to queer fiction.
Books truly own the space in this store, reflecting the anti-Kindle philosophy of enigmatic owner Bill, who refused to be interviewed for this story. If you decide to take a trip here, remember to silence your phone, don't take any photographs and allow yourself to get lost in a piece of Chicago bookstore history.