'Untold Stories' reflects Asian Pacific Islander Desi American student experience at DePaul
May 7, 2023
The theme of untold stories came naturally to Asian Pacific Islander Desi American (APIDA) art gallery curator Sophia Iqbal.
"The idea of untold stories is very prevalent among Asian American communities and Asian American students," Iqbal said. "As a minority population, especially at this particular school, a lot of people might not know our family histories, or our voices might not be as hard as populations that have bigger numbers."
The DePaul senior saw the theme and kickoff of May as APIDA heritage month as an opportunity to share the diverse narrative of APIDA students through art. Since its 1990 foundation, APIDA month has celebrated the diverse identities, histories and cultures of all members of the APIDA community.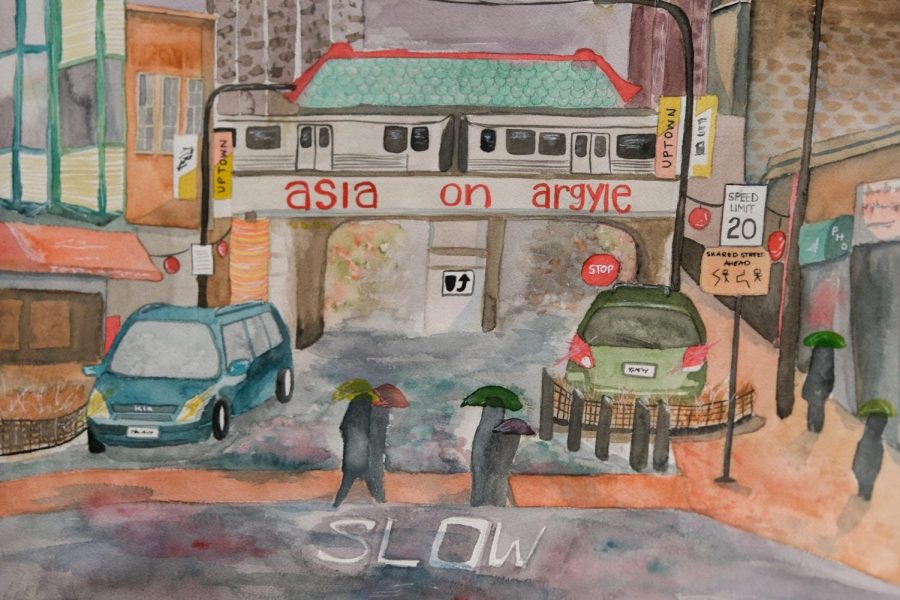 The gallery — organized by the university's APIDA cultural center — had been in the works since the winter quarter. Artwork for the gallery was garnered through a submission process, open to all mediums and perceptions of the prompt.
Students bustled in and out of the gallery as they passed through the Student Center Monday afternoon, May 1. The exhibit featured nine physical displays, including photography, collages, videos and paintings, alongside two virtual exhibits.
DePaul sophomore Isabella Kallieris attended the event to support her friend, Christina Sifri, who participated in the gallery. For her, the event's theme of untold stories created an introspective atmosphere and a unique range of pieces. 
"I think a lot of people don't share much of what goes on in their lives, so it's really cool that art is able to provide that opportunity for people to be able to really express themselves and share what they might not feel comfortable saying to an audience," Kallieris said.
For Iqbal, "Untold Stories" resonated on a personal level. Alongside her curating duties of selecting and designing the gallery, she also participated, submitting her acrylic painting titled "Summertime." 
"My piece was about a childhood memory of me and my cousin as children," Iqbal said. "It's a small moment, and yet we don't see much of what family dynamics are within Asian American families. I wanted to highlight the sweetness of childhood and the connection of family as a second-generation Asian American." 
A scene bursting with color, Iqbal's painting radiates nostalgia and the untroubled freedom of childhood, a common theme among participants' artworks. 
However, others like DePaul freshman Jr Alvarez interpreted the prompt through a broader lens. His multimedia collage "554" illustrates the culture and people of Chicago's Chinatown alongside the risk of displacement accompanying the neighborhood's rising rates of gentrification.
"I was thinking about their [people of Chinatown] untold stories," Alvarez said. "I was thinking about the people that are already living there and how they have generations of their lives in Chinatown."
Occurring alongside a research paper on gentrification within Chinatowns across the country, Alvarez's collage explores the dangers that coincide with cultural extinction.
"With the current construction of District 78, Chinatown is at risk of gentrification, displacing not only the people but the history and culture that was brought with them," Alvarez said in his artist statement for his piece. "The unique Chinese American experience is cultivated in this ethnic enclave. Being wiped from their own homes — who will be left to tell these stories."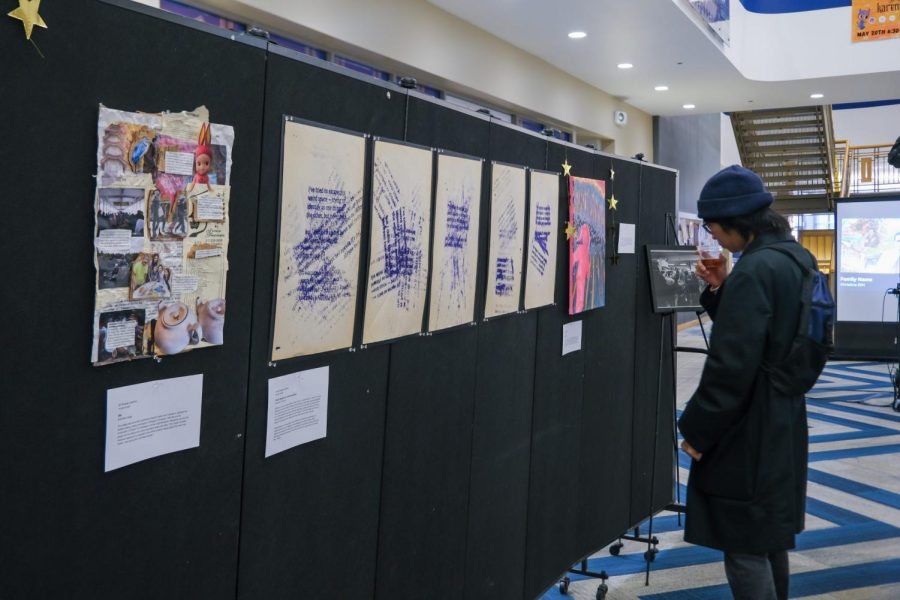 Despite being the first collage Alvarez had completed since high school, he expressed the significance of narration through art.
"Words can't always tell our stories," Alvarez said. "Through art, you can visually represent other people's experiences that others can relate to and feel comforted in."
DePaul senior Kathy Doan highlighted Little Vietnam in her watercolor painting "Argyle." Juxtaposing deep shades of gray and green with the eye-catching red of the neighborhood's "Asia on Argyle" sign, Doan cultivates an atmosphere of comfort and community.
"I was born here, but my parents immigrated, so I'm a first-generation college student, but hearing stories of even my dad coming to Chicago and spending so much time on Argyle and spending so much time there as a kid makes it [Argyle] feel homey to me, and that in itself feels like an untold story to me," Doan said. 
Painted in her introduction to watercolors class, Doan drew inspiration from Dong Kingman, a Chinese American painter and pioneer of the bold yet realist California style. Mimicking Kingman's use of vivid colors and lively urban settings, Doan settled on Argyle as her muse after reflecting on the late watercolor master's depictions of Chinatown in San Francisco.
"I wanted to showcase something that means a lot to me, but also means a lot to other people in the community," Doan said.
Still, for Doan, the APIDA gallery transcends the honor of sharing her art with her peers.
"Having this month to us is important, but I think using art as a medium to share our stories and share our feelings is so expressive and impactful to me," Doan said. "I think that having an art gallery at DePaul and having our untold stories be told to a community that is a predominantly white institution is very impactful and sends a powerful message."
For a complete list of upcoming APIDA heritage month events and celebrations, visit the APIDA Cultural Center or check out their Dehub page for more information.