Track & Field competes in NCAA prelims after historic season
May 29, 2023
DePaul's track and field team sent four athletes to compete in the NCAA first round in Sacramento, California. Sophomores Alex Bernstein and Darius Brown represented the men's team, while senior Tori Carroll and freshman Jaiah Hopf took part for DePaul's women's team. 
The events each athlete competed in varied. Brown competed in hurdles events, while Hopf took part in the long jump — the event in which an athlete takes a running start and jumps as far as they can into a sand pit for distance. Carroll was in the triple jump, which is the event in which an athlete makes a horizontal jump for distance. Finally, Bernstein competed in the hammer throw, which consists of a throw with a metal ball on a steel wire for distance. 
Head coach David Dopek is concluding his 13th season at DePaul and has developed a specific philosophy putting an emphasis on education to recruit his athletes.
"It's about the culture here," Dopek said. "The long lasting lessons. We recruit talented athletes who are also academically motivated." 
Dopek's players' significant focus on academics has shown throughout this season. The team's cumulative GPA for the men was 3.5 and for the women was 3.2.
Dopek's connections to DePaul stem back to his days as a track athlete. In 1995, Dopek was the school's first individual or team participant to win an NCAA championship in the 200-meter. 
In this season's Big East Tournament, the men placed second, and the women placed third in the competition that took place May 11-13.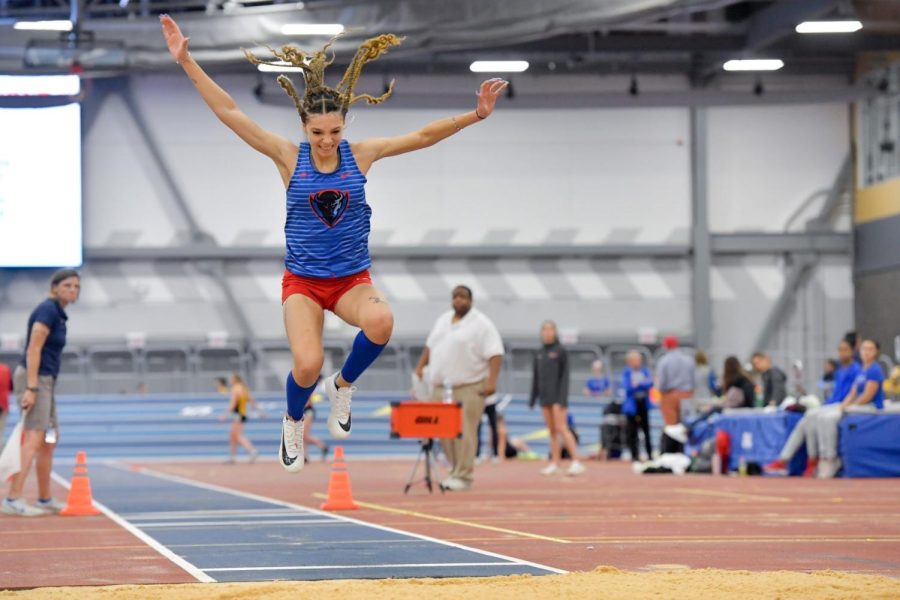 Although only four were able to qualify for the NCAA preliminary first round, the work by the rest of the athletes did not go unnoticed. 
Senior Olivia Borowiak won the Female Athlete of The Year in the 2023 Billys, and Brown won Male Athlete of The Year. 
Additionally, the men's track and field team took home DePaul's team of year award at the Billys, which captured the overall talent of the team throughout this season. 
In comments made by Dopek, he said that it is easy to get caught up with all the individual work, but track and field is really a team sport. 
After the results of both top three finishes for the men's and women's teams in the Big East Tournament, Dopek was pleased with the team's performance. 
"They did excellent," Dopek said. "It was going to take a perfect effort. The men and women showed up and kept fighting." 
The athletes have been breaking records and setting personal best numbers all season long. 
Bernstein, from Preston, England placed first in all four of his outdoor events and first in the Big East Tournament. His hammer throw events consist of him being able to throw a weighted ball on a steel wire for distance. 
"Everyone loves track and field," Bernstein said. "It's the ultimate sport that tests human physical ability."
In his NCAA preliminary debut he placed in the top 25 with a final mark of 63.01-meters.
His teammate Brown has also been able to replicate the same success this season. 
Brown competes in over four events, but his primary focus is the 110-meter and 400-meter hurdle. He has broken records in the 110-meter hurdle, 60-meter and 400-meter this season. 
Qualifying for the second time in consecutive years for the NCAA first round, Brown placed 11th with a time of 13.66. 
Brown values his family and always keeps them close to him, wearing a necklace in honor of a deceased relative. 
"It has something to do with this lowkey [pointing to his cross necklace],"  Brown said. "Because this is my cousin, and he used to hurdle a long time ago, and he's passed away, and they passed it down to me."
As for Carroll, the only senior participating, her hard work and humble approach has guided her towards her success. 
She brought home her second Big East Championship in the long jump qualifying for her third NCAA preliminary event. 
The senior placed in the top 30 over the weekend ending her season. 
"So much different competition, a lot of pressure, but I feel I belong," Carroll said. "My spiritual background, God and Jesus at times have helped me out, and I believe in everything that happened for a reason." 
For Hopf, in her first season as a member of the Blue Demons, she had a time of 12.11 in her triple jump event. 
Her success slowly built throughout the season, with the indoor and outdoor events, as she finished her first year campaign with multiple first place finishes. 
With the 2023 season now concluded for these four athletes, three of them will continue at DePaul with more years of eligibility remaining and more personal goals to be achieved. 
Bernstein said that a goal of his for his senior year is to compete for a NCAA championship, and it is something that he feels is a very realistic goal with his confident ability. 
"Outside of them being one of the most naturally gifted athletes, they are four of the most coachable athletes," Dopek said. "They process critiques, work hard and spend time resting and recovering." 
Dopek had high remarks for this season's team saying this team came together collectively and much more organically then any other team he has led. 
For the 2023 season, over 15 separate records were broken combined between the two teams, which is the most in recent history and surpasses last season's total of 10.