Upon entering the DePaul Art Museum (DPAM), visitors are met by the simplistic, modern layout of the exhibits and the variety of art on display. Their newest showcase, "Life Cycles," is a lavish and bright presentation curated by DePaul students and featuring local Chicago artists. 
DPAM describes its latest exhibit as "the processes and materials that structure and subtend life while also examining the life of art objects."  
When stepping into the display, it is apparent that each artist has their own interpretation of the theme. Some featured pieces included giant tapestries made of different materials and ceramic sculptures showcasing identity. Others are small paintings or a wall of cigarette boxes collected in Chicago's streets. Many artists took inspiration from their past when making the pieces featured.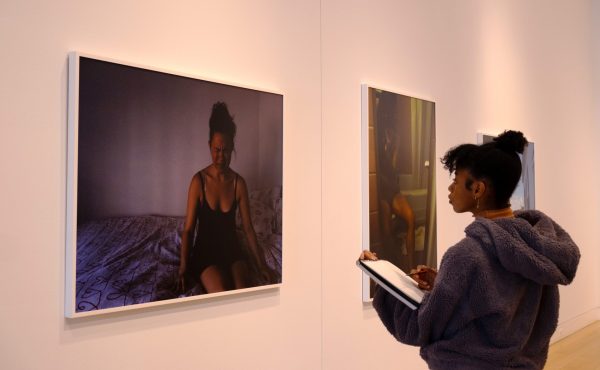 Curators and exhibit managers of DPAM chose from art in their permanent collection and new contemporary Chicago artists not in their collection, totaling over 50 artists for this collection. Museum staff also collaborated with DePaul University student employees to select the artwork. DPAM has more than 4,000 objects in its collection, and 10 Chicago artists were new to the collection. 
One local artist, William O'Brien, made his piece over 16 years ago for his first solo show, with the work now featured in "Life Cycles." 
"It was like visiting an old friend in some ways because I feel like I definitely remember the time that that piece was made and why I made it," O'Brien said of his sculpture "Workshop." "That sculptural work was really about me trying to understand what my voice was as an artist, and I think a lot of the figurative pieces were not necessarily self-portraits, but I am queer." 
Elnaz Javani, another featured Chicago artist, works with textile fabrics by layering them together to make collages. Javani came to Chicago from Iran in 2013 and could not work as an artist until she became a U.S. citizen. This process took eight years, putting a halt to her creative efforts. 
"I lost a lot of opportunities that I was actively doing before coming to the U.S.," Javani said. "[It's hard] not being able to go out and also not having documents [to] show art or get grants." 
Javani said her pieces can take extremely long to craft because she experiments with different fabrics and how to make each piece new and different. 
"I'm constantly playing with all kinds of printing techniques and drying processes, and it's a lot of chemicals involved with those techniques, so experimenting what would happen if I mix this with this and what fabric reacts to that," Javani said. "It's like a lot of that discovery happens in the process, which I really enjoy, like a kid in a playground." 
Javani said she has a unique way of thinking about the materials and how she can craft them, 
"Fabric is more like bodies," Javani said. "It's like humans. Besides the skin, I see them as more sculptural, and so there's endless love to that that I would like to explore and play with that material."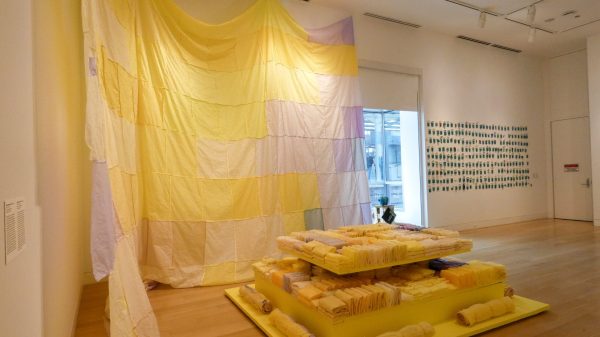 Laurie Hogin is a Chicago oil painter who uses ornate frames and parodies of 17th-century Dutch still life paintings with modern themes. 
"In this case, I use monstrosity and a reference to environmental poisoning to suggest that the ideological position represented by that history of painting — seeing the world as eternally consumable — needs to be disrupted by the reality of the consequences of such an ideology," Hogin said. 
The exhibit's main theme is material and how unconventional materials can show life and its cycles, and both artists use somewhat unconventional materials to make their art. O'Brien talks about how he used carpets from his apartment in his early days along with other materials to make his projects. 
"At that time, I was recycling everything," O'Brien said. "I was pulling up carpet in my apartment and putting it into the sculptures, and so that included the wood that you see actually in the sculpture was from both work I was making in the studio, and then things that were in my apartment."
"Life Cycles" is the museum's main attraction, taking up both of the main rooms in the building. O'Brien attended the premiere of DPAM's new exhibit on Sep. 7. 
"Usually, when there's a lot of artists involved with something, it can be not as successful," O'Brien said. "There's always this posturing of artists wanting to claim space or make their voice louder than other voices in the conversation, and I was actually really inspired to see there was a lot more of equal footing in terms of both on a practical scale of a more interactive and equal participation of the viewer."  
"Life Cycles" runs from Sept. 7 until Feb. 11.