DePaul students called upon university leaders to support the end of Israel's siege on Gaza as part of a nationwide student walkout on Oct 25. 
Students left their classrooms and met in front of the university's Student Center in Lincoln Park, several holding up signs that read, "FREE Palestine."
Students for Justice in Palestine (SJP), an on-campus organization at DePaul, led the protest that included more than 100 students and some professors to march around the campus.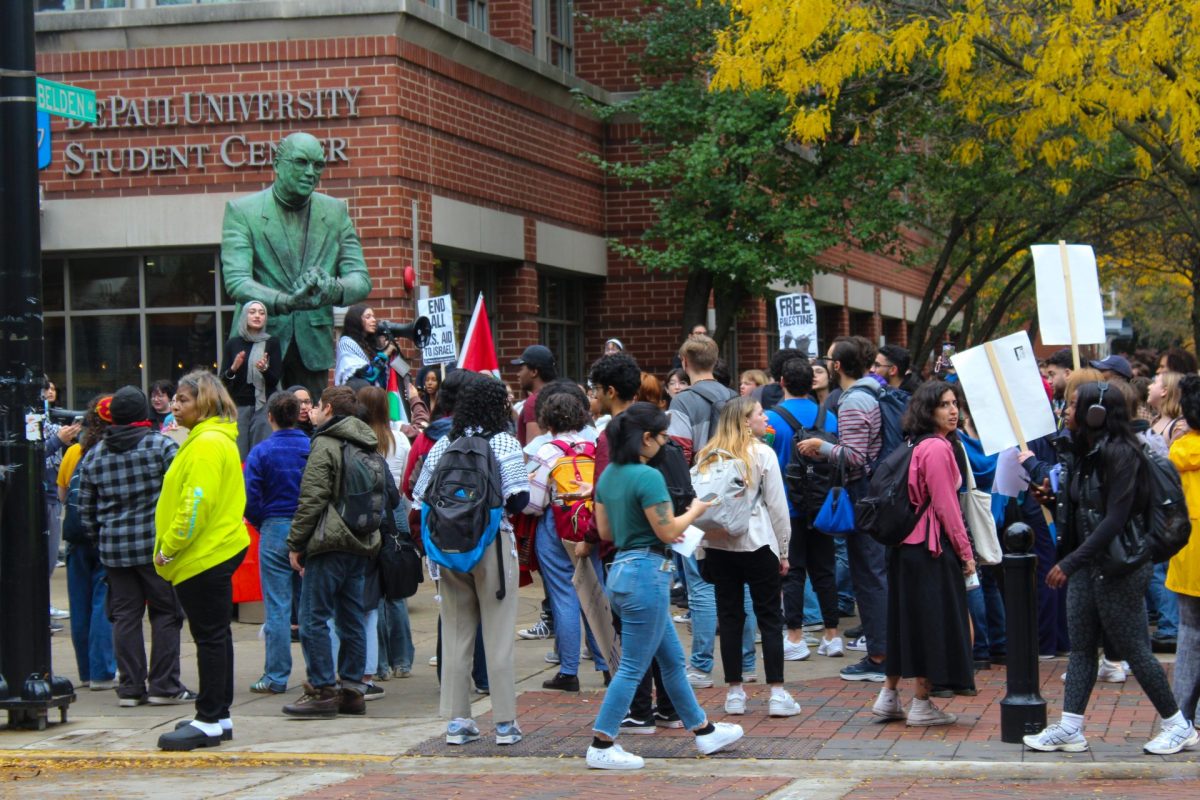 Members of SJP and students remain upset at university leaders for the lack of support for Palestinians as a war rages in the Middle East. Thousands of people have been killed since Hamas launched an attack on Israel Oct. 7.
Hamas militants assailed Israeli towns near the border with Gaza, killing more than 1,400 people and taking more than 200 more hostage, many of whom are still being held prisoner. The resulting war has divided people worldwide, prompting protests and outcry on both sides. The Associated Press reported Sunday that more than 8,000 Palestinians, mostly women and minors, have been killed.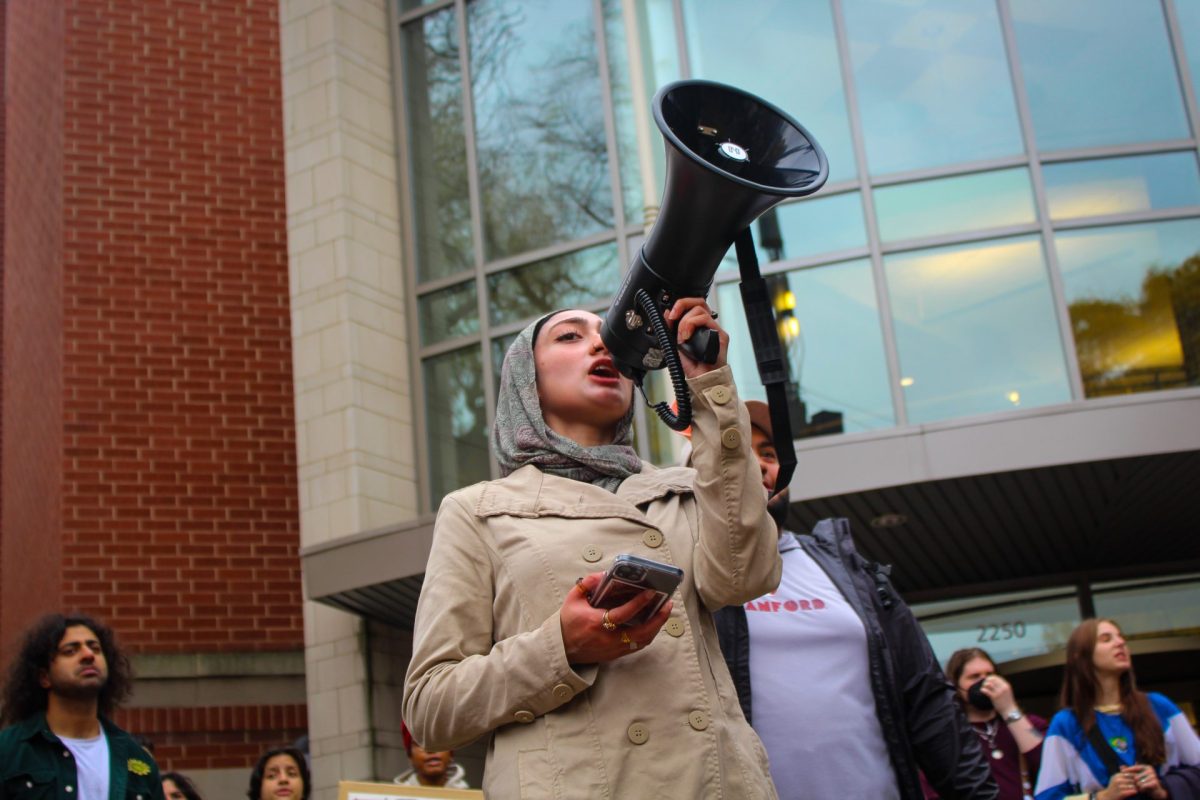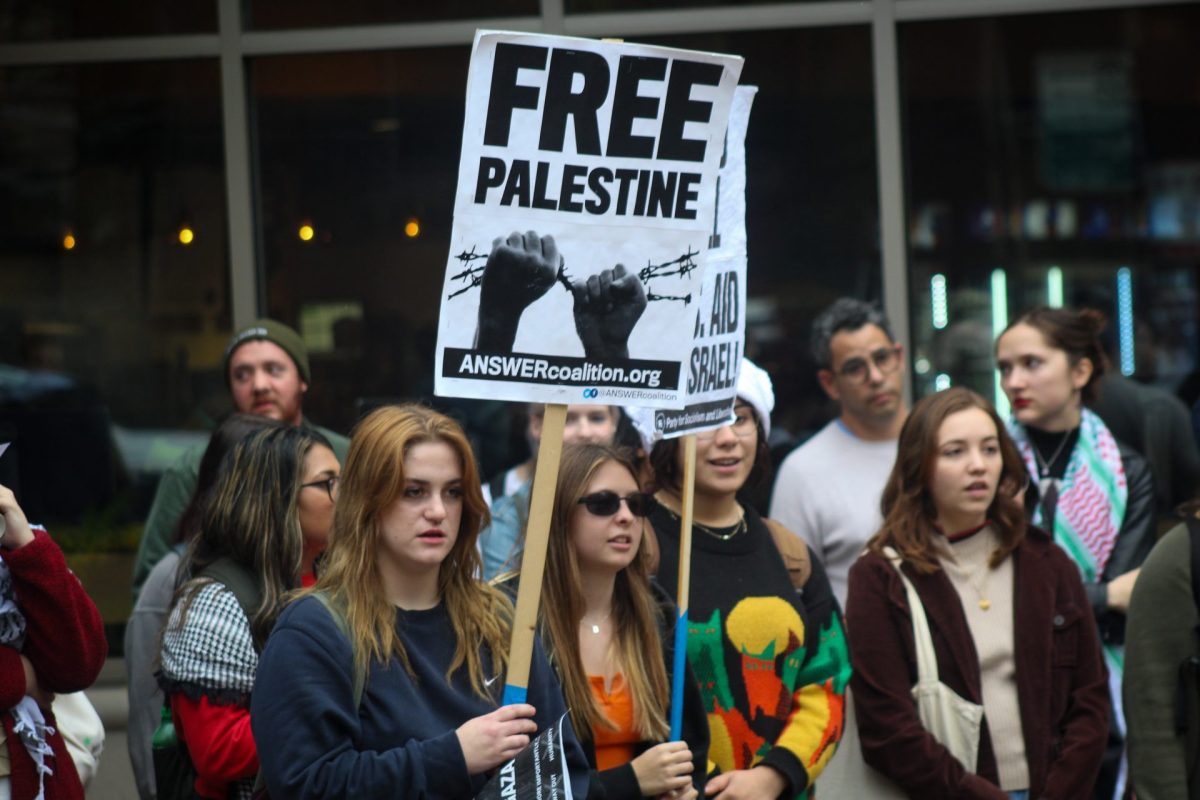 Rev. Guillermo "Memo" Campuzano, vice president of DePaul's Mission and Ministry, sent out an email Oct. 19 announcing a "meditative prayer for peace and nonviolence," for the university community "in response to what is occurring in the Middle East."
"Out of respect for our inclusive community, our prayer will not focus on politics, but rather on support, care and solidarity with one another, especially with all those in our community who are directly impacted by these events," the university-wide email read. 
SJP members criticized the university on their Instagram account, stating that it was because they felt the email omitted people in Palestinian territories. 
"Omitting Palestine from the discussion does not maintain impartiality but favors a specific narrative undermining the struggles of Palestinian-Americans in [the] diaspora," they said in a statement posted on their account Oct. 17. 
Henna, a member of SJP who declined to disclose her last name because of safety concerns, said, "It's pretty sad that we even have to come out here in the first place and even protest an administration that we pay to protect us."
Two days later, President Robert Manuel's office sent out an email acknowledging the "escalation of Islamophobia and anti-Semitic acts around the world and in our neighborhoods" and referenced the killing of a Muslim 6-year-old Wadea Al-Fayoume  from suburban Plainfield Township. 
Despite the university's emails, other student protesters like Lazin Sunesara said the university "should not be taking a neutral stance in a genocide." 
Barbara Schiffer, a recent Jewish DePaul graduate, said "there is no better terminology" than the word "genocide" to describe the attacks. However, she believes people don't understand that Jewish communities are also facing violence.
"You can say that what's happened in Gaza is horrible, and it should absolutely not be happening and neither did those Israelis deserve what happened," Schiffer said. "That's what they're missing … that it's not 'us against them.'"
Several high-profile crimes have shaken the city's suburban communities since the Oct. 7 attack, according to the Chicago Tribune. For example, one man in west suburban Lombard faces two counts of hate crime after allegedly threatening to shoot two Muslim men outside his apartment.
Schiffer said that when she was enrolled at DePaul, she met several times with Manuel's administration to talk about ways to support Jewish students. Although she believes the president is "doing the best he can," there is still "a long way to go," she said.
Meanwhile, protesters such as DePaul senior Mayha Syed, said the university should take further action beyond condemning the ongoing attacks.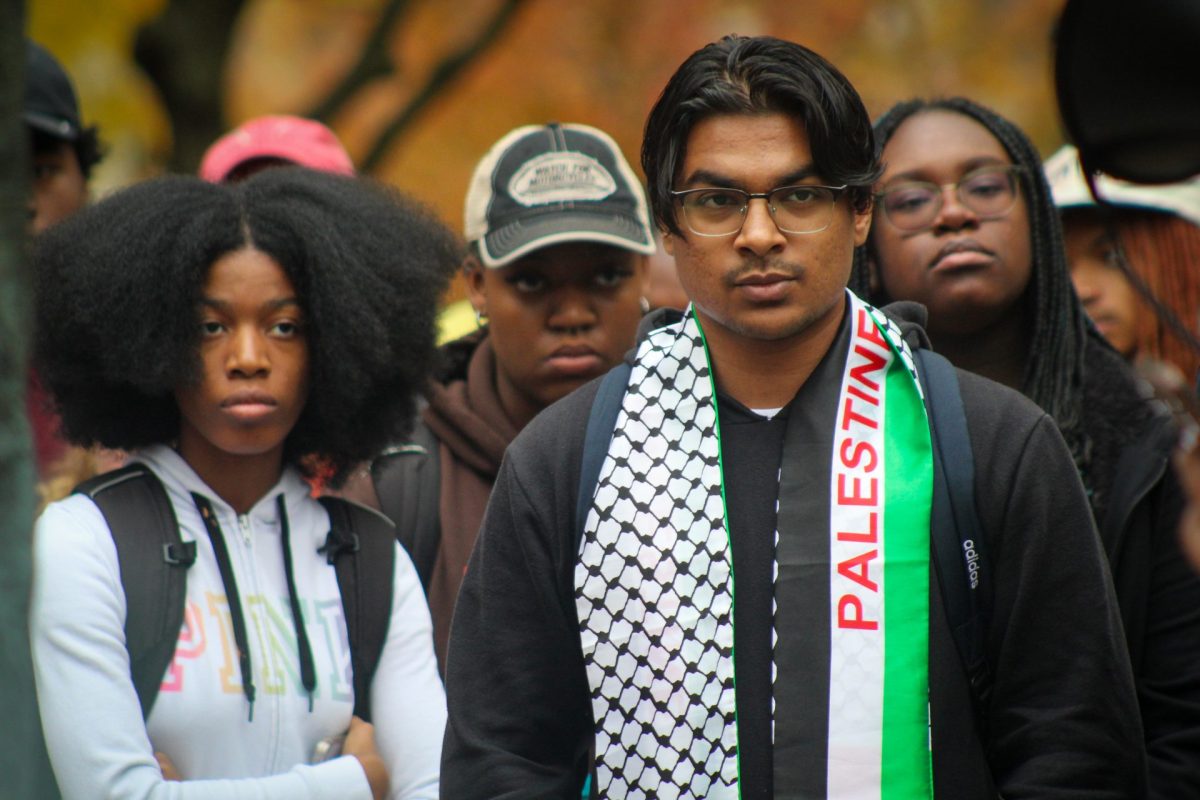 "Stop the silence, stand up [and] actually embody the Vincentian values that we preach," Syed said. 
Elizabeth Roessler, a junior who attended the protest, said "DePaul is a university in Chicago that has the power to pressure representatives to do something. …It's all about power and convincing people in power and everybody to be on the right side of history."
President Biden announced last week that the United States provided $100 million in humanitarian assistance for Palestinian people in Gaza and the West Bank. The funding would supply the millions of people affected with water, food, medical care and more, according to the White House. 
However, journalists have reported that fuel supplies in Gaza are dangerously low, making it difficult to keep hospitals and ambulances in the area running. 
Some sources have criticized continued U.S. funding of the Israeli military and its attacks in Palestinian territories. Of the $3.8 billion in military aid provided to Israel this year, half a billion were for Israel's missile defenses, according to Al Jazeera. 
On Oct. 27 Gaza was cut off from internet and phone service for 34 hours after Israeli forces conducted a ground invasion in Gaza, rippling panic through the territory according to The New York Times. 
"It's disturbing that we say 'never again' for the atrocities that have happened in the past, but when it comes to brown people, it doesn't apply to them," Syed said.
Editor's Note: In this version, "Mayhas Syed" is corrected to "Mayha Syed."