Oregon State drops DePaul men's basketball to third straight loss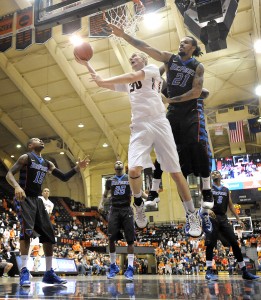 In his post game press conference after a loss to Illinois State, DePaul head coach Oliver Purnell said that his team is a team that bounces back, but they faced a real challenge next. The Blue Demons would travel to play at Oregon State next, a Pac-12 team off to a hot 7-2 start.
On Thursday, that challenge proved too much to handle.
The Blue Demons suffered a season-worst 90-59 loss to Oregon State in Corvallis, Oregon. The loss was DePaul's third in a row, and the team's performance was much similar to year's past.
Oregon State (8-2) raced out to an 18-6 lead, with the Blue Demons struggling to shoot in the Beavers zone defense. The back court of Gary Payton II and Langs Morris-Walker beat DePaul's ineffective press all night. Payton finished with 15 points and Morris-Walker had 10 rebounds and eight assists.
DePaul (6-4) shot a season-low 34 percent, including an abysmal 26.7 percent in the second half. Forward Jamee Crockett led the Blue Demons with 14 points. No other DePaul player was able to get into double figures.
Oregon State guard Tony Robbins was a spark off the bench for the Beavers, scoring a career-high 27 points. Forward Olaf Schaftenaar also had 21 points and six rebounds.
In the first half, DePaul was able to cut Oregon State's lead to nine, 29-18, with a Darrick Wood layup. The Beavers answered with an 11-0 run, the last nine of those points being 3-pointers.
DePaul is now 0-2 on the road this season. They next travel to Hawaii for the Hawaiian Airlines Diamond Head Classic, a three-game tournament.
DePaul plays their first game of that tournament Monday at 3:30 p.m. against Colorado.