AP: Rauner takes office today, faces immediate challenges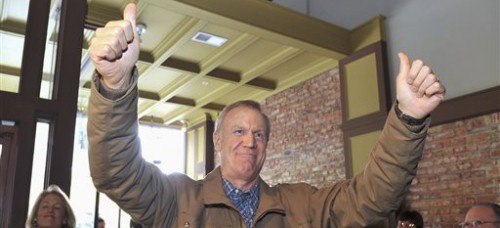 QUINCY, Ill. — Still speaking in campaign themes, Gov.-elect Bruce Rauner met cheering crowds at stops Saturday to thank supporters and ready taxpayers for a "transformation" on the way.
The Republican, who will be sworn in as governor on Monday, was making more stops in a state fly-around he began a day earlier, bringing with him a celebratory mood and promises of "a big turnaround" in Springfield.
He was accompanied by Evelyn Sanguinetti, the incoming lieutenant governor, and Leslie Munger, a suburban Chicago businesswoman who is Rauner's choice to fill the comptroller's post left vacant by the unexpected death last month of Judy Baar Topinka.
"Transformation is coming. Special interest groups like the way things are going, and they're going to try and hold on to that power from the lobbyists," Rauner told a crowd in Quincy, a Mississippi River town and site of the sixth Lincoln-Douglas debate in 1858. "We're going to take them on. I can stand up to these groups like they've never been stood up to before."
Rauner, who's never held elective office, defended his position that critics have called anti-union, saying he's against conflicts-of-interest in which union leaders cut deals with politicians. And he said he is "never going to apologize" for being a wealthy and successful businessman despite derision from opponents.
After campaigning against an extension of incumbent Democratic Gov. Pat Quinn's four-year income-tax surcharge, which lawmakers allowed to expire this month, he has been playing up the budget mess in Springfield in recent weeks, contending it is worse than he had anticipated.
"Boy, it's horrible," Rauner said at his first stop of the day, in Maryville, about 18 miles northeast of St. Louis. " I knew it was bad when we started the campaign, but now that we've gotten inside and started looking … they're putting bills in drawers, and they're not paying."
Munger, an unsuccessful candidate for state representative last fall, will be appointed after Rauner is sworn in on Monday. She told the southwestern Illinois crowd that she will "call out the budget games that have put our state on a path to fiscal insolvency" and will explore an often-discussed proposal to combine the jobs of state comptroller and treasurer.