Hardly Brittany Hrynko: DePaul women's basketball senior's rise to dominance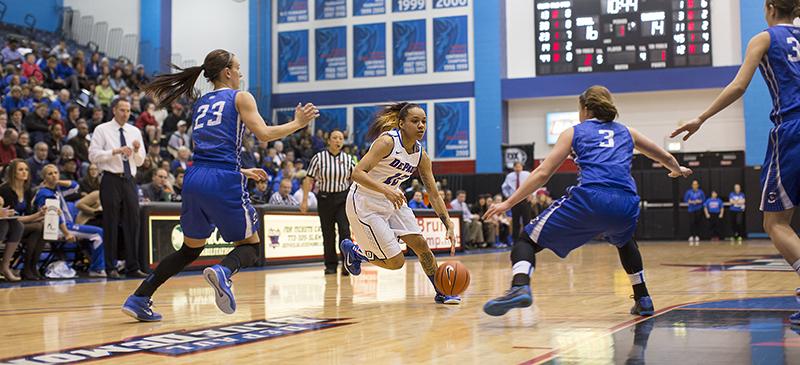 On a down night in between games, DePaul guard Brittany Hrynko relaxed with her teammates. As they celebrated sophomore Jessica January's birthday, Hrynko took the night in. She ate dinner prepared by her teammate ShaKeya Graves. She and her teammates watched TV and then spent the night dancing.
"I think it's important for us to not always be thinking basketball," Hrynko said. "There are times when you can want to get away from basketball. It's the days that we have off. Just having those days to ourselves is important so we're not always thinking about basketball. Those moments we have off the court are what brings us together on the court."
Hrynko is fond of the moments that bring her and her teammates together.  It goes beyond celebrating a teammates birthday or having team dinners.  Even when asked about her individual game, the soft-spoken senior always makes it a point to bring up those around her.
Because as Hrynko is in the course of her best season, Hrynko recognizes the support system she's had at DePaul in helping her become of the nation's best players.
"Coach (Doug) Bruno always talks about being a facilitator," Hrynko said. "Before it was just me scoring, throwing up a shot I couldn't make. Now if my teammate is open, throw them the ball. Or if I'm open, score it."
Hrynko is averaging a career-high 19.9 points per game and 5.4 assists per game, good enough to be second in the Big East in points and tied for first in assists.
Throughout this season, she's gone toe-to-toe with some of the best guards in the nation in Texas A&M's Courtney Jones and Notre Dame's Jewell Lloyd.  Hrynko's also set a single game career-high in points with 38 this year.
The game looks so natural to Hrynko now, who is always finding ways to reward her teammates on the court. On Friday, Hrynko smiled after being asked about a no-look behind the back pass she gave to January on a fast break during a 93-51 whitewash of Georgetown.
"That is more easy than making the simple passes that coach always talks about," Hrynko said.
Bruno, however, couldn't help but interject.
"If you want to give me a jab about making simple passes, I want you to make simple passes. What type of coach doesn't want their players to make simple passes?" Bruno asked as Hrynko laughed. "I want them to throw behind the back passes, but at the same time, that's got no relationship to the simple passes that you did, could and should continue to make that will make you a better player.
"So don't start belaying your behind the back fun to simple passes," Bruno said. "Thank you."
Bruno, though, did say later that he's noticed Hrynko's transformation into a much better basketball player. He points to last season's game at Seton Hall that marked the sign that Hrynko was starting to "get it."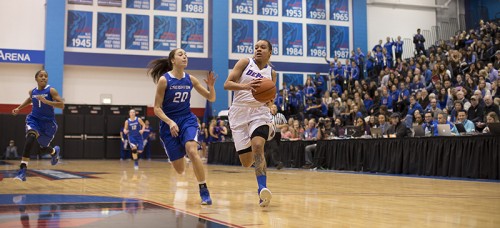 Hrynko not only scored 16 points and had four assists in a 75-68 Blue Demons win, it was the start of a streak that resulted in winning the last 13 of their 14 regular season games. The Blue Demons rode that momentum into the Big East tournament where they emerged as champions and eventually fought their way into the Sweet Sixteen.
"She's just become a real good solid basketball player, and it's exciting to watch," Bruno said. "It's really fun to watch her mature.  Since last year's Seton Hall game, she's just been getting better and better. It's exciting to be a part of."
Hrynko herself acknowledges that Seton Hall was a turning point for her. Not only did she improve on the court, but she's learned the nuisances of college basketball. That goes to competing in practice, going at game speed in drills rather than at an eased pace.
It's a pace and way of playing that January has closely observed. She's studied Hrynko and starting point guard Chanise Jenkins to learn their habits.
"They're always really consistent players," January said. "Being a sophomore, it's really good to look up to two guards, who when they're not scoring, they're assisting. I'm just really honored to play with them."
While January is honored to play alongside Hrynko, it doesn't stop Hrynko from being appreciative of her teammates.  Each time Hrynko has won a Big East Player of the Week award this season, she's put in the time and effort to make cupcakes as a thank you.
Hrynko said the biggest takeaway from her college career is just knowing that she's been able to play college basketball for four years. After having played in so many college games, she said she still gets butterflies in her stomach.
"Coach Bruno just always talks about waking up everyday with a smile on your face knowing you get to play basketball," Hrynko said. "It's about working hard every day on and off the court."
With the way she's been playing this season, Hrynko's going to have to make a lot of cupcakes.
View Comments (2)