No. 22 Butler bullies DePaul men's basketball behind Kellen Dunham's 24 points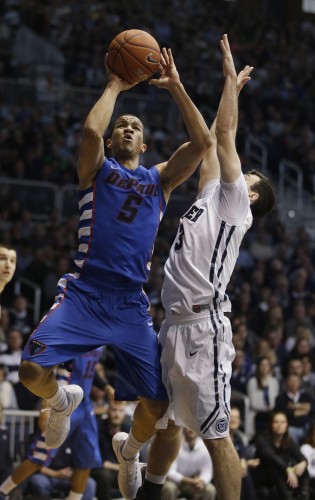 INDIANAPOLIS — An aggressive and proven No. 22 Butler team would made their presence felt early on Saturday afternoon as they defeated DePaul men's basketball, 83-73.
The 9,100 spectators on hand at historic Hinkle Fieldhouse were greeted by a Bulldog team that hovered around 70 percent shooting for much of the first half.
That spectacular percentage led to 40 first half points. Kellen Dunham was a handful for the Blue Demons (12-13, 6-6 Big East) as he was 5-7 with three of those shots dropping from beyond the arc in the first half. DePaul trailed 40-23 at the half, and the Blue Demons couldn't use a second half rally to stop Butler (18-6, 8-3).
"We watched too much film on (Dunham) to give him that many open shots," DePaul head coach Oliver Purnell said. "He can fill it up. I was thrilled that we were down just 13 points at the half when you consider our turnovers and the scoring runs that they strung together."
Dunham led all scorers with 24 points on 6-for-12 shooting.
"DePaul ranks among one of the top scoring teams in the conference, and it's not a surprise as to why that is," Butler head coach Chris Holtmann said. "They shoot the three pretty well. they had six guys make three point field goals this afternoon, so we knew this was going to be a tough game. Our guys responded well when it mattered."
The Blue Demons are 3rd in the Big East in 3 point field goal percentage. While six Blue Demons did hit threes, together the team was just 9-for-23 from beyond the arc.
DePaul wouldn't see any scorer reach double digits in the first half, and Rashaun Stimmage led the scoring charge with six points. Collectively, the team shot just 37 percent from the field in the first half.
The second half yielded a bit of drama as DePaul's energy was clearly at a different level. This translated to much better control of the offense, as well as a renewed effort on the defensive end.
"We were patient, and that resulted in getting the shots that we were supposed to get," said Purnell on his team's second half performance.
The Demons shot 54 percent from the field in the second half, compared to just 45 percent for the opposing Bulldogs.
A 16-5 run cut the deficit to as close as five points in the second half.
Butler junior Roosevelt Jones ended the Bulldogs drought with some aggressive play both inside and outside the painted area. This would create shots for both him and his teammates, while providing the crowd with plenty of fuel to disperse throughout the arena.
"The coaches were able to see some things out there and set up some plays for me," Jones said
"I just did my best to lead the team and provide some impact any way I can."
The junior shooting guard would finish the game with 20 points on 7-for-11 shooting. His strong frame and thicker type build for a 2-guard really caused issues for DePaul's more traditional sized backcourt.
Forrest Robinson sparked the Blue Demons during the 16-5 run, making his first three shots, two of which were three-point field goals. He would finish with nine points.
Jamee Crockett continued his consistent offensive play to lead all DePaul scorers with 14 points. Junior Myke Henry added 12 points, respectively.
DePaul will travel to New York next week and play St. John's University Wednesday at 8p.m.