Ald. Michele Smith makes case for 43rd Ward
Despite her extensive record, divided ward makes runoff a possibility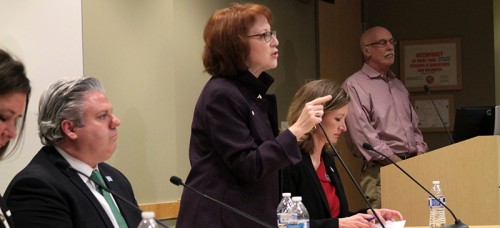 In lush Ward 43, with its luxury housing that hugs its tree-lined streets in the company of the largest Catholic university in the country — also the ward's largest employer — and a decrepit site of a former hospital that casts a shadow over Lincoln Avenue and its suffering businesses, there is much that has been accomplished, but still much to be done.
That is the message of all four candidates running to be the ward's voice on the city council and deliverer of constituent services. And with residents demanding nothing short of the moon, sun and stars, it seems that no official will ever please everyone.
Enter one of those candidates: the incumbent, Ald. Michele Smith.
The ward's alderman since 2011, Smith is a person with natural charisma that can capture the attention of everyone in the room. Her website for re-election reflects it. Her opponents recognize it. The ward's numerous politically active constituents know it.
On issues ranging from education to development, the alderman has tackled some tough issues and taken positions that have not always won her the biggest fans, hence the chorus of challengers lining up for her job.
Yet by the looks on the faces of campaign workers making calls from cellphones and utilizing their laptops in the basement of the 43rd Ward Democrat's office, an unadorned space that matches the no-frills attitude of old school Chicago, and by the attitude of the candidate herself, it is clear that Smith is making her case just as she did in her career as an attorney, she's playing to win – not to simply run out the clock.
Born out West but raised in New York, Smith went to college at SUNY Buffalo where she was active in student politics, serving as student body president. A very passionate environmentalist, Smith helped found a policy research group dedicated to the topic along with interning in Washington, D.C. on the subcommittee on the environment in the U.S. House of Representatives.
What led Smith to Chicago was her admittance to the University of Chicago Law School, where she graduated in 1979. Smith "fell in love" with the city and never left, settling in Lincoln Park that same year only to still be here 36 years later.
"I moved to Lincoln Park because it was, and it remains, an excellent community for young people starting out working," Smith said. "It's very easy to get downtown, it's very safe, and as a single young woman, I wanted to live in a safe neighborhood and one that had great public transportation."
Armed with that law degree, Smith started working for the U.S. Attorney's office where she prosecuted more than 400 cases ranging from drug smuggling to white-collar crimes where she put away some of the most atrocious criminals — corrupt Chicago politicians, that is.
After a while, and as a working mother, Smith moved over to the private sector and became an in-house attorney for Navistar, the automotive giant, where she handled several special projects, an experience that would come in handy later as she came back to public service.
But for Smith, a successful career in law was not enough. Her enthusiasm for her job and public service in general suggest it was a not matter of if, but when. When was determined first in 2006, when a group of neighbors encouraged Smith to challenge the incumbent alderman.
"I've always wanted to come back to public service," Smith said. "So I was really honored by that request and just delighted to try and run."
Though she lost that first race, she forced incumbent Vi Daley, who was endorsed by then-Mayor Richard M. Daley (no relation), into a runoff and garnered 46 percent of the vote. For the record, Vi Daley is supporting one of Smith's opponents, Jen Kramer, in the upcoming race.
There was something about Smith that people liked, which is why she was courted to run in the first place. Her impressive vote total against an entrenched incumbent added to her appeal.
"She's very energetic, positive and overall a great person," said Mike Papanicholas, a DePaul sophomore who is interning with the alderman's re-election campaign.
Smith used her electric energy and stayed active in public life even after the loss.  It paid off.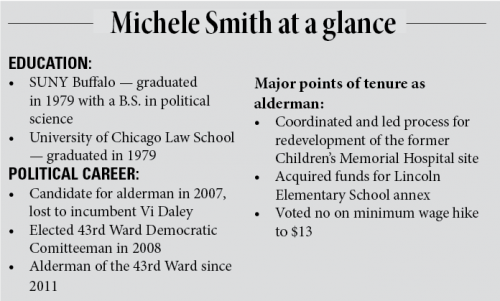 A year after, she was elected Democratic committeeman for the ward. And with Daley retiring, the path was cleared for Smith to run for alderman again in 2011. She won that race in a runoff.
Smith has just less than four years of experience under her belt. Given the drastic financial challenges facing the city and the many ward issues that have come up, Smith has made some tough votes and hard choices. Now, she is the one with the track record facing several candidates just as hungry as she was in 2007.
The one making the most headway, attorney Caroline Vickrey, has criticized Smith especially for her handling of the development process. Vickrey is a member of a neighborhood association that sued to block construction on the former Children's Memorial Hospital site. That lawsuit was thrown out last month.
"I've been very concerned in the past four years about the direction our ward has taken and the promises that were made in the last election by our current alderman were quickly broken with respect to listening to neighbors that are most closely affected by new development," Vickrey said last month after a candidates forum sponsored by the DePaul Student Government Association. "I know we can do better as a ward and I know that I can do better as your alderman."
Smith, however, like the lawyer she was trained as, passionately defended her position, not giving one inch to her opponent.
"We've seen the devastation of Lincoln Avenue from it being delayed so long. And frankly, the delay is being caused by Caroline and her group who are suing over it, including a motion that was filed today to oppose the definitive decision of the judge that dismissed their lawsuit," Smith said at a forum hosted by DePaul on Jan. 27. 
"We do need to get on. And we did have an open process," she said. "If there's one thing about Lincoln Park, Lincoln Park knows how to let their feelings be known. And you all did through four full scale community meetings that were streamed and full intercourse with my office. And I'm proud of the decision that we made there."
For Papanicholas, this is one of Smith's best qualities, but also the reason why the race is competitive.
"If you are going to look out for all of the ward, you're going to have to do things that may be politically unpopular at the time, but serve the best interests of every one of your ward residents. And I think Michele has done that," Papanicholas said. "She hasn't looked out for one special interest group or one particular demographic, she's looked at everything as a whole, and I think that has caused the race to be competitive."
Smith, who has said repeatedly in the past that she is a full-time alderman, has had to fight off attacks after an article in the Chicago Sun-Times revealed that she received $72,000 in consulting fees from a non-profit arts foundation she is involved with.
Despite this, Smith has called it a non-issue and that her record reflects that of a full-time alderman. She said that she works 60 hours a week on ward issues.
"We have two kinds of days: one where I'm downtown and one where I'm here in the ward," Smith said. "So on a typical day, I will be in and about my ward office, in and about the ward, meeting with constituents, meeting with businesses that want to open in our ward, which I always try to promote, and helping constituents solve their problems."
"Other days, I'm downtown in City Hall because we have committee meetings or city council meetings, and I am actively involved in being a legislator during those meetings."
While Smith lists many accomplishments achieved during her term on her campaign website, she said that she is most proud of what she has done for education in the ward, calling it her "number one source of pride."
"I'm most proud that we were able to get an addition to Lincoln School built," she said. "And through my efforts, we've been able to help almost every school in the ward in just three years."
In addition to the Lincoln annex, Smith gushed over the building of athletic fields in neighborhood schools, the introduction of an international baccalaureate program at Lincoln Park High School, and the preservation of the magnet program at LaSalle Language Academy.
Yet Vickrey, who was a member of the local school council at Lincoln, vehemently opposed the annex, calling it unnecessary and a waste of money.
"There were other options in the neighborhood that did not cost any dollars and this is a $20 million annex that I don't think our system can afford," Vickrey said. "We have 2,500 more spaces for kids in our ward than we have public school students, so it's not as if we have a capacity problem in our ward as a whole."
When the subject came up, Smith's skills of cross examination were evident as was the passion of the young environmental activist.
"My opponent's alternative was to shut down LaSalle Language Academy. That's what she wanted to do," Smith said. "By shutting it down and turning it into just a neighborhood school, it would have resulted in 350 children of color who come to our neighborhood for school to lose their chance to go to LaSalle Language Academy. It was a very serious issue and a seriously wrong position for her to take."
One issue that put Smith at odds with many of her colleagues was her no vote on the minimum wage increase to $13. She was joined only by Ald. Brendan Reilly (42nd Ward), who represents downtown, Ald. Tom Tunney (44th Ward), who owns Ann Sather restaurants, and Ald. Mary O'Connor (41st Ward) and Ald. Matt O'Shea (19th Ward), whose wards border suburban communities where the wage would be much lower.
With the interests of those aldermen understood, some were curious as to why Smith, who's ward encompasses DePaul's entire Lincoln Park campus, would not support higher wages for workers, many of them students.
With ward businesses still reeling from the loss of Children's Memorial Hospital, along with restaurants collectively comprising the majority of jobs in the ward, Smith felt it was necessary to hold off on an increase.
"I have been very concerned that having the minimum wage rise to $13 would drive businesses out of our ward that provide jobs," Smith said. "So I fully support the ability of DePaul students to get jobs while they're in school. It's really important."
Also important to Smith is that students get involved with the political process, which she said is the best way to effect change.
"I think young people should be involved in an issue that they are committed to, whether it's through working with a non-profit, volunteering your time, helping serve at a homeless shelter. But government is where so many of these programs get funded, and where big social change happens," Smith said. "So I've voted on things like banning plastic bags to helping build affordable housing. So it's a wonderful opportunity to help make the change that you want to see happen."
While Smith may be facing a runoff should she not receive 50 percent plus one of the vote on Feb. 24, one thing is certain: this is not her first rodeo and she is willing to defend her position on the key issues of the race. And what's also clear: Michele Smith loves her job.
"I love the opportunity to make a difference. To make things actually happen. That's what I like," she said.
View Comments (1)