DePaul's water polo club gearing up for first competition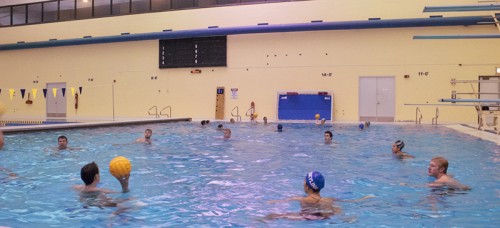 The cement, eggshell-colored walls of Northeastern Illinois University's pool deck bore splashes of mighty chlorine swells as DePaul's water polo club ran through drills during Wednesday night's practice. Bright yellow Mikasa balls were thrown, dragged and hoisted  every which way as the club's assistant coach, Everardo Leon, led the club's practice, calling out pointers to the team over loud splashes.
Three years ago, a club water polo team did not exist at DePaul. During Rashid Klostermann's freshman year at DePaul, he tried starting one. Initially, he was unable to get a team together, so sophomore year he gave it another shot. Klostermann began reaching out to the members of the DePaul class of 2017 Facebook page where he found a few guys who showed interest in starting a club with him. They set up a meeting to discuss the club at the most obvious choice for a meeting spot for college students — Chipotle.
"That first meeting came out of that Chipotle on Lincoln Avenue. It's always been our headquarters," Mark Betti, one of the founding members of the club that connected with Klostermann last year, said.
"I didn't play water polo when I first came to DePaul, I played rugby. Then I met Rashid and some other guys who played water polo from my area, and he (said) 'hey, I was going to form a water polo club, do you want to come?' and I said 'yeah! Let's do it!'"
At that first meeting, Klostermann, Betti and a few  other students debated whether or not they should join the University of Illinois at Chicago's water polo team or if they should start their own. They chose the harder task of creating their own community of players, which is now an official university club team, and  has both men's and women's teams.    
Christine Harder was the first female to join the newly formed water polo team last year and dragged a friend from her freshman dormitory along with her. She is now the president of the women's club, which became separate from the men's when more females joined the team.
"We do everything together just for strength of numbers. It's good to practice with different people that we haven't practiced with before. All of us are from high schools where we only played with females. Now, playing with males, it's definitely more competitive so it has really helped all of our skills.
"Also, we don't cut anybody — we invite everybody," Harder said. As long as you have experience in the water and are comfortable swimming so that we don't have to save you, you can hang out with us. We would teach you how to tread water if you had never played water polo before."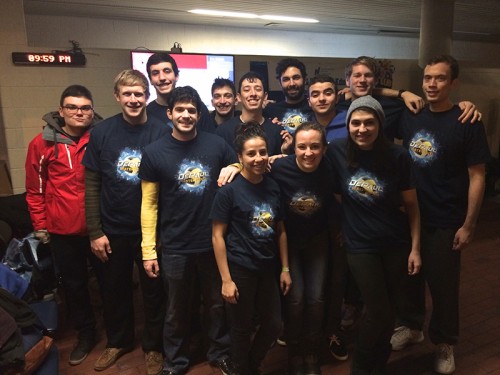 The club welcomes all levels of players to join the team, but the majority of the current players have some experience with swim teams or on high school water polo teams. The club meets most Monday and Tuesday nights for practices at NEIU's North Park campus pool. They have been an official club since last spring and have not had any official matches yet. Their first opportunity to compete at an official club college level is at a tournament being held at Northwestern University from Feb. 28 to March 1. Among the teams competing will be Loyola University, University of Illinois at Chicago and Northwestern.
On Orgsync, DePaul's online campus engagement network, the women's team has 15 members, but at practices the number of females that show up varies.
"It's hard to get people dedicated to the schedule, but we're always inviting new members and trying to get people to come out," Harder said. "We always say, come to a few practices, see what it's like, see what we're all about and there's no commitment."
Men's team president Klostermann shared the same difficulty as Harder in getting people to commit. As he pulled up to practice Wednesday night, he looked at his phone and said, "I just got a text from one of my members asking if there's practice. It's 8:04 p.m. and it starts in 11 minutes."
But the men's team has grown since it was created last spring, and Klostermann is pleased with its growth.
"If it wasn't for this club, my experience at DePaul wouldn't be as good," he said. "I felt during the end of my freshman year and part of my sophomore year that I came to DePaul for all the wrong reasons. Starting up this club, I was able to meet people who were likeminded in the sport and as friends. It's one of the reasons I still like being at DePaul."
Harder shared the same sentiment.
"I hang out with all the water polo people on the weekends," she said.  "They're really great friends. We've got a strong group of both men and women that really enjoy each other's company not only on the pool deck and in the water but also on the weekends and outside of water polo."