Appointed vs. elected school boards, a Chicago debate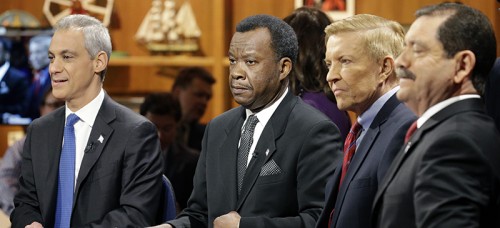 Elected school boards for Chicago Public Schools (CPS) remains a highly contested issue going into Tuesday's mayoral election. Many Chicagoans are unhappy with the condition of the city's public schools and all four of Mayor Rahm Emanuel's opponents support a change to the 20-year-old referendum giving the mayor power to appoint school board members to four-year terms.
The board is responsible for the finances, governing, and organization of CPS.  So, the members of the board of education have profound impact on the policies and direction of CPS. 
William Sampson, DePaul Chairman of the College of Liberal Arts and Social Sciences said electing  board members does not guarantee that the public's values will be represented accurately. 
"There is no assurance that board members will know anything about education or finance," Sampson said. "Since the mayor will be held accountable for school performance, he or she will want to control the education process for which he or she is held accountable."
Having the ability to appoint members to the school board also comes with the accountability for the board to be run well.  In addition, the mayor can appoint members that work best for his or her view for the direction the city should head.
Aside from qualification, in order for a school board to function at its fullest, the members of the board should have a diverse background and different areas of expertise.
"Elected boards, just as appointed boards, require a broad range of skilled individuals to be successful," Horace Hall, a DePaul Educational Policy and Research Studies professor, said.
"Not every member needs to be from the financial district, nor should board elections turn into popularity contests, where voters ignore the evaluation of a contender's qualifications," Hall said.
Need for a diverse and highly skilled school board, combined with the fact that elections do not guarantee that the most qualified candidate will be elected, make mayoral appointments seem  the right way to go. Then why are the four candidates challenging Emanuel's seat in favor of elected school boards?
Elected school boards have their advantages.   
"One of the major advantages of an elected school board is that it can bring all citizens closer to issues surrounding public education and criticality voice our needs and concerns," Hall said.  "This ideally breeds civic engagement and support."
The main issue seems to be the balance between keeping the community's concerns and involvement at the forefront of educational policy while simultaneously ensuring that the board has diverse and qualified members. 
Dina Portnoy, the Knowles Science Teaching Foundation's Director of Senior Fellows program said "the governance of public school districts can by a highly contested arena."
Portnoy spent 25 years teaching in Philadelphia, which also has appointed school board members like Chicago. She believes that at their core, public schools are democratic institutions.
"There has to be some way that people who are concerned with schools, people who are knowledgeable about education, but also people who have the interests of the diversity of parents and community members are serving on school boards" Portnoy said.
While Emanuel maintains newly elected governor Bruce Rauner is not in favor of changing the 1995 referendum. Emanuel's opponents and some of the top minds in the teaching profession would like to see more community involvement in the direction the city and nation's education is headed.
View Comments (3)