Mayor Emanuel unable to capture majority, faces runoff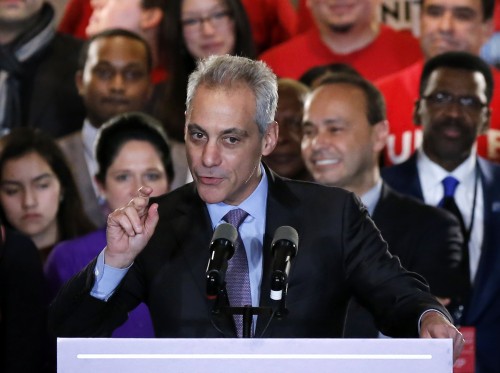 Mayor Rahm Emanuel is headed to an April 7 runoff with Cook County Commissioner Chuy Garcia after failing to get the 50 percent plus one needed to win tonight.
With most precincts reporting, Emanuel has about 45 percent of the vote — well ahead of Garcia who took 34 percent — while other challengers Bob Fioretti, Willie Wilson and William 'Dock' Walls split the rest.
Despite the mayor outspending all of his opponents combined and a slew of endorsements from Democratic heavyweights, including his former boss President Barack Obama, it wasn't enough for Emanuel to avoid a runoff.
"I congratulate Chuy Garcia on a good race," Emanuel said in remarks to his supporters. "He's a good man and I look forward to a debate of the issues in the weeks ahead where we can be clear about the choice the city of Chicago's future."
The mayor has not been able to pull away from the pack after a divisive first term that featured the closing of nearly 50 schools in largely minority South and West side neighborhoods, spikes in crime in those neighborhoods and repeated clashes with the Chicago Teacher's Union, which in 2012 led to the union's first strike in more than 25 years.
The mayor's election night event, held at the Plumbers Union Hall in the West Loop, was festive throughout the night as supporters from many different groups, including a strong union presence, came expecting victory.
"Hopefully people will pick the right person, a mayor who's going to be effective and stand for our city, because the governor is going to come for Chicago first," said Kenneth Williams, an Emanuel supporter who is in the local hospitality workers union.
However, the city experienced record-low turnout, which affected the mayor and many of his supporters in the city council, who will now have to fight for their jobs in a runoff as well. According to the Chicago Board of Elections, only 32.5 percent of registered voters went out to the polls.
The mayor was introduced by U.S. Rep. Luis Gutierrez, who fired up the crowd by listing the mayor's accomplishments over the past four years. Standing with the mayor were a slew of prominent supporters including City Clerk Susana Mendoza, Illinois Secretary of State Jesse White, and U.S. Rep. Bobby Rush.
Also on stage were Emanuel's parents, wife and children, along with several people holding up signs that featured names of different neighborhoods.
This will be the first runoff since Chicago switched to a non-partisan system of voting. Former Mayor Richard M. Daley never won less that 68 percent of the vote, and Emanuel won outright with 55 percent against three opponents in 2011.