Garcia's grassroots efforts gain enough votes for mayoral runoff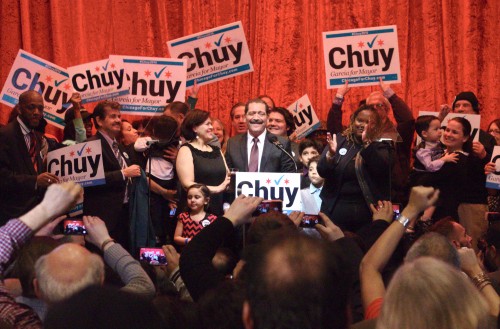 A diverse crowd hailed the grassroots effort that they said helped Garcia rein in 33.9 percent of the vote for a runoff against incumbent Mayor Rahm Emanuel Tuesday night in Chicago's mayoral election.
The results, announced shortly after 9 p.m. fulfilled the hopes of Garcia supporters who hoped for the April 7 runoff against Emanuel. There was public speculation about Garcia's chances against Emanuel's deep campaign funds and publicized support from President Barack Obama, but supporters said it was the community's effort that decided the vote.
"The money doesn't matter," said Travis Kluska, who worked on Garcia's campaign. "If (Emanuel) had so much money he would have won (the election) on this first shot. Chuy has people-power and that's what's important."
In the week before the election, Garcia for Chicago raised more than $57,000, particularly from Service Employees International Union (SEIU) Healthcare, who had an official introduce Garcia at the election party.   
"They spent billions attacking us, well we're still standing," Garcia said before the TV cameras and dance floor full of people at Alhambra Palace Restaurant in the West Loop.
Among the union workers, retirees and teachers that Garcia thanked were community organizers who received the largest applause from the crowd.
Emanuel held his election night event at the Union Plumber's Hall, but Raul, a union plumber who chose not to give his last name, said he Garcia would spend tax dollars in the communities outside the downtown.
It would be the grassroots efforts that would give Garcia an edge over Emanuel's support, Raul said. "Just (the) regular average joe –the regular tax payer– that's tired of tax money that's (not) being spent on communities," Raul said. Among Raul's criticisms was the Tax Increment Funds (TIFs) spent on the DePaul arena at McCormick place.
Maya Huggins, a junior communication student from Columbia College said Chuy's relationship with Harold Washington was something that caught her attention.
"I love some of his work that he's done. His policies I thought were really inspirational for his young people," Huggins said. But the potential for Chicago's first Hispanic mayor was also a draw. Harold Washington was Chicago's first African American mayor, and Rahm Emanuel is currently Chicago's first Jewish mayor.
Chuy has drawn a loyal following from Chicago's Hispanic and African American communities and the crowd at the election night reflected the diversity of Garcia's reach.
William McNary, co-director of the non-profit, Citizen Action Illinois, said he met Garcia 30 years ago when he was a state senator.
"(Garcia) has always been concerned not only for brothers and sisters in the Latino community, but brothers and sisters in every community. He's someone who brings us all together. That's a breath of fresh air and something Chicago needs right now," McNary said.
Now Garcia and Emanuel will campaign for another six weeks to win over voters in Chicago's first mayoral runoff.
"We've got six weeks of hard work ahead of us and believe me, these big money interests are going to throw everything they got at us," Chuy said. "But we're going to fight and we're going to win it and we're going to keep this city together."