Dave Leitao vows to change culture in return to DePaul men's basketball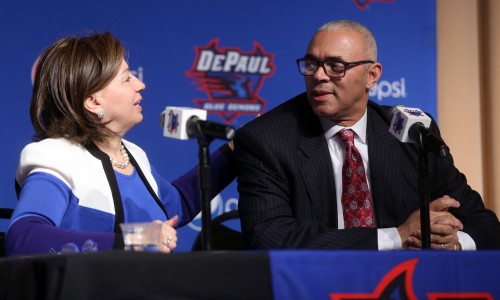 A prideful Dave Leitao's voice rose as he talked about getting a second chance with the program he left 10 years earlier as Leitao was introduced Monday as the next head coach of DePaul men's basketball program at DePaul's Student Center in Lincoln Park.
"Before I left, I told (DePaul Athletic Director) Jean (Lenti Ponsetto) that I'd be gone for 10," Leitao said. "She misunderstood me and thought it was 10 days. It was 10 years."
Leitao's joke was part of a room that was all smiles from DePaul's end despite the initial curiosity and backlash that came with his rehiring when it was announced Sunday evening. Leitao previously coached at the program from 2002 to 2005, leaving to become the head coach at Virginia.
Leitao, 54, said he is looking forward to turning the program around by installing a winning culture built on defense.
"Defense is in my DNA and it's what I was brought up to teach," Leitao said. "The ultimate goal is to reach the NCAA tournament. And that's what we're going to do. It's going to be really, really soon.
"What we do every day will speak to that. That's what I'm here to do."
Leitao admitted that returning to DePaul was something he didn't anticipate two weeks ago. The first interaction between DePaul and Leitao was through Parker Executive Search, a search firm hired by the University to find candidates. Leitao was at the Junior College NCAA Championships when he first received the phone call.
An intrigued Leitao consulted his family, who had previously moved with him 11 months ago for an assistant role at Tulsa, before eagerly taking the job. In his first stint with the team, Leitao went 58-34, including two trips to the NIT tournament and a second round appearance in the NCAA tournament. Leitao is the last Blue Demons head coach to bring DePaul to the NCAA tournament, last making it in 2004.
Leitao, however, said that coming back to DePaul is the toughest job he has accepted.
"This is an unorthodox situation because I was here and I came back," Leitao said. "I don't know how often that's happened. The challenge is to change the perception of the DePaul basketball brand because it hasn't been successful in a while.
"Changing the mindset is more than throwing a ball in a basket," he said. "We have a lot of work to do on both fronts."
Both Leitao and Lenti Ponsetto, though, made it clear the expectation is to win right away. Unlike when former head coach Oliver Purnell was hired, Lenti Ponsetto stressed this wasn't a rebuilding project. DePaul disappointed this past season and finished 12-20 after multiple losing streaks of over six games.
"We're going to have a team that plays with fierce competitiveness," Lenti Ponsetto said. "We made it clear to everyone we talked to — We don't see this as a rebuild project. This team is similar to when Dave took over from Pat Kennedy the first time. There's some talent here. There's some young men that can play. They just have to be reengineered a little bit."
Leitao was chosen over the young up-and-coming head coach candidates like Buffalo's Bobby Hurley and Valparaiso's Bryce Drew. Asked why DePaul went with Leitao instead of hiring someone younger, Lenti Ponsetto was aggressive in her answers.
She pointed to Leitao's experience of having success at other big name coaches when DePaul was in Conference USA, as well as his experience since leaving DePaul. Lenti Ponsetto also pointed to this year's Final Four, where each head coach is over 60.
Lenti Ponsetto said someone's age didn't factor into DePaul's search, repeatedly calling Leitao DePaul's number one choice.
"He's a proven winner,"  Lenti Ponsetto said. "He can recruit kids from all over the Chicago area. We thought he had all the component parts. I feel really confident with our choice.
"I'll be honest with you. No matter who was in our pool, someone wasn't going to be happy. There was all that kind of noise and in some way shape or form, there were people who didn't like who we were going to hire. You have to realize this when you do it."
In his 10 years since being at DePaul, Leitao went 63-60 in his four season at Virginia with just one NCAA tournament appearance. After being fired in 2009, Leitao spent time in the NBA D-League before ending up as an assistant coach at Missouri and Tulsa under Frank Haith, which Leitao fought back tears when mentioning his gratitude.
Leitao said he's a better coach from his tenure at DePaul, particularly on offense and understanding how kids in this generation have changed.
"(Haith's) approach has been very direct and is very helpful," Leitao said. "I learned how he deals with people, and fed off of that. I made it work in the sense that can be successful for me."
Now that he's hired, one of Leitao's first tasks will be to assemble a staff. One assistant he's already announced was keeping Billy Garrett Sr., who was also an assistant with Jerry Wainwright and Oliver Purnell.
Keeping Garrett Sr. is good news to DePaul guard Billy Garrett Jr., DePaul's best player and also Sr.'s son. On Monday, Garrett Jr. affirmed his commitment to DePaul while also being impressed by Leitao.
"He's a blue collar guy," Garrett Jr. said. "I don't really know him, but he seems like a tough guy. It seems like his style is going to help us. I'm looking forward to play under him. His toughness can help us defensively. I'm just really excited to work with him. … I'm pleased he's a proven winner."
Leitao also has to meet with his roster. Based on his initial impressions, Leitao said he's excited to meet his new group.
The mantra he's trying to instill, he said, is to look toward the future.
"I have a cliché that I like to tell my players that there's a reason the windshield is bigger than the rearview mirror," Leitao said. "You have to look forward, not back."