DePaul students coping with cancer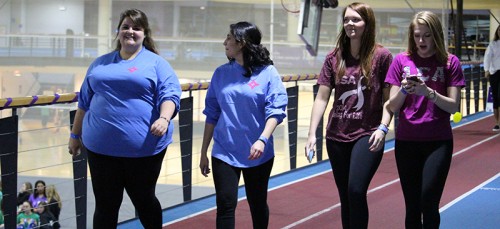 Last Friday, DePaul students raised more than $40,000 for Colleges Against Cancer's (CAC) highlight event of the year, Relay for Life. Participants, survivors and family members said everyone knows someone whose life has been affected by cancer. According to experts, coping with the effects of cancer on a family member is especially stressful to college students.
According to the American Cancer Society, there will be an estimated 1,658,370 cancer diagnoses and 589,430 cancer-related deaths in the U.S. this year. For those coping with the loss of a loved one, studies have shown they will likely experience different emotional states and that the grieving process may last for years.
DePaul juniors Emily Power and Tori Meschino have both seen the effects of cancer up close. Power's grandmother died last year after fighting cancer twice.
"She had breast cancer. She had it originally about nine years ago, and went through chemo," Power said. "I don't remember that very clearly. I was 11."
Gerry Koocher, Dean of DePaul's College of Science and Health, specializes in the psychology and coping methods of cancer patients in families. While not every person will be affected as deeply, Koocher said college students are often put under more stress due to their developmental stage in life.
"College students are in an age where the critical developmental task in your life is individuating yourself from your family," Koocher said.
"All of a sudden this serious illness crops up in your family, and that could be disruptive. So the question is: Do you get knocked off your developmental trajectory? It's easier to get knocked off if you're an adolescent or young adult than if you're a little kid or older adult," Koocher said.
Meschino's father was first diagnosed with  chronic myelogenous leukemia before she was born. It is a blood cancer that spreads slowly and can be treated with medication. His second diagnosis came when she was in fourth grade.
"Most of the time when cancer comes back, it's not the same, and it's more aggressive," Meschino said. "He was lucky — or you know, 'lucky.' (His cancer) was exactly the same and they have great medicine for it."
Meschino's father had been in and out of the hospital with blood clots and cuts that wouldn't heal due to the damage done by the cancer. Meschino said she and her siblings hadn't felt the impact until her father suffered a stroke earlier this month.
"That's when my mother sat us down, just like she and my dad did when they told us he had cancer again and told us that he wouldn't get back to the point where he would intentionally squeeze our hand and look at us," Meschino said.
Koocher said not all family members will react the same way to a cancer diagnosis.
"It's not that the illness experience by itself will make the big difference," Koocher said. "It's what that illness experience means to you and how that interacts with your individual coping abilities, resilience, personal skills and so forth."
Junior Kathleen Ashenden said supporting loved ones with cancer can be really hard.
"You see someone fighting so hard and you want to fight with them. You want to do everything you can. But you also feel so helpless because you're not a doctor, you don't know how to help them," Ashenden said.
Ashenden and almost 400 other DePaul students walked for CAC's Relay for Life, where survivors, caretakers and victims were honored.
"We form a community for the many people who have been affected by cancer," DePaul CAC president MacKenzie Parker said. "Almost everyone in our committee has seen a close loved one fight or lose their battle against cancer."
The American Cancer Society lists a healthy diet, consistent exercise, family support and enjoyable hobbies as healthy ways to cope with the loss of a loved one. Smoking and using substances like medication or alcohol to sleep or reduce anxiety are unhealthy means of coping.
One of the most important factors involved with coping, according to the American Cancer Society, is reaching out to a support network.
Losing her grandmother caused Power to focus more on her homework to avoid the pain of the loss.
"I felt extremely distracted when I did school work, but it was also all that I wanted to do," Power said. "I didn't want to pursue personal interests or relationships, so school was a convenient and comfortable escape. Despite this, it was frustrating to try and focus on schoolwork. I felt easily overwhelmed and anxious."
Meschino's father passed on March 11, 2015, and she took time away from school to grieve. Although professors gave her extensions on her homework, she still chose to complete this quarter without taking an incomplete grade.
"He wouldn't want to be pitied, he would hate to be," Meschino said. "In an attempt to accept this, as hard as it is, I am giving myself permission to do things that feel normal. If that means homework, then I'll do it; if that means crying randomly in the car on the expressway, that's gonna happen; if that means spending a day in bed, then I'll do it and be thankful it's spring break; and if that means smiling at the sky and thanking my dad for a beautiful spring day, then I'll do those things."