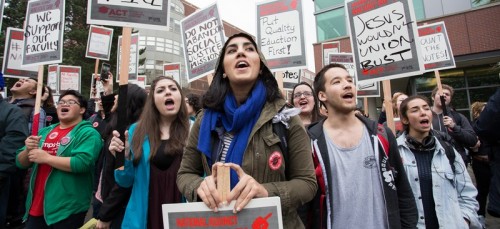 The predicament of adjunct professors in the United States is starting to gain attention, and that is a good thing, said Martin Bernstein, an adjunct professor of digital cinema at DePaul University.
Adjuncts are part-time professors who are not on a tenure track. They are paid per credit hour, with little to no health care or benefits. Classes can be taken away with almost no notice, leaving professors who are already struggling to make ends meet in the lurch. Most are not unionized, so they have no recourse to demand better compensation for their work.
"There are absolutely no safeguards, no safety net," Bernstein said. "And yet, 50 to 75 percent of undergraduate courses are taught by adjuncts."
According to the New York Times, only 25 percent of professors are tenured. The rest are "contingent," meaning that their jobs depend on the availability of classes. This group includes adjuncts, graduate students, and full-time non-tenured lecturers.
"We give as much of our resources — understanding, knowledge, passion — as full-time faculty," Bernstein said.
And yet, while tenured professors, on average, make close to six figures nationwide, some adjuncts struggle to pay rent or buy food. Adjuncts earn, on average, $3,000 for a three-credit course. Adjust that to $4,000 for a four-credit course at DePaul. If an adjunct gets to teach two classes per quarter at DePaul, plus one over the summer, their income would total $28,000, before taxes, which is less than a third of their tenured coworkers.
At DePaul, there are 1,700 adjunct faculty, compared to 980 full-time lecturers and professors.
National Adjunct Walkout day was Feb. 25, but at DePaul, adjunct professors who participated did so with a teach-in rather than a walk-out. Bernstein says he explained to students how the struggles adjuncts face might directly affect their educations.
He shared the story of Mary Margaret Vojtko, a French professor at Duquense University. Vojtko had been teaching as an adjunct for 25 years. She was working on a doctorate and spoke six languages. She was passionate about her studies and her teaching, and occasionally butted heads with the school's administration. She was sick with cancer and could not afford the treatments. When she tried to form a union of adjuncts at Duquense, the university protested that it interfered with their Catholic mission.
"For her efforts, she was cut down to one class," Bernstein said.
Being paid per credit hour as an adjunct, one class doesn't mean free time and extra attention for students, it means already low pay is cut by half or more.
"She took to sleeping in her office. She was removed, fired," Bernstein said.
Vojkto was 83 when she died on Sept. 1, 2013 from complications of a heart attack.
"She died unemployed, unappreciated, and uncompensated for her efforts."
Though Vojkto's story is an extreme case, it is indicative of the difficulties that adjuncts face. Most of his colleagues who are adjuncts work at two or even three universities to make ends meet. Bernstein teaches classes at both DePaul and Columbia College, in addition to doing freelance commercial work.
"But two part-time jobs doesn't equal a full-time job."
When he talked to his classes on National Walkout Day, most students had no idea what an adjunct is.
Neither Matt Witek nor Rachel Miglierie, both students at DePaul, had a clear idea of the distinction between adjunct and tenured professors.
"Isn't it a part-time professor?" Witek asked.
"Or are they going for their doctorates?" Miglierie added. Witek thought that all three of his professors in the business school might be adjuncts, but he cannot discern a difference in teaching quality. In fact, Bernstein, who worked for years in commercial editing before teaching, feels that the professional experience that many adjuncts have is at least as valuable as the terminal degree necessary for tenure.
"They understand the industry, which is something that full-time professors don't always understand," Bernstein said.
Amy Merrick, an instructor in the journalism department, said she can understand why terminal degrees are so highly valued.
"Going through all the work and sacrifice to get a terminal degree shows commitment to academia," she said.
However, Merrick sees value in students having access to both types of instructors: those with terminal degrees and those with professional experience.
"I don't think of it in terms of a hierarchy," she said.
Sean Austin, a student in the digital cinema department, said he finds instructors with professional experience, especially in creative fields, to be just as helpful as those with terminal degrees.
"The experience of working on set is invaluable," Austin said. "I can tell that they're working, and I enjoy those classes more."
Bernstein was quick to point out that the adjunct situation at DePaul is better than a lot of schools, and that here, adjuncts have a place to meet. He thinks that often, administrators are simply not aware of the struggles that part-time professors face, so his purpose in telling his students about the Walkout Day was to bring light to the situation. Bernstein is hopeful that the surge of media attention for adjuncts will lead to changes nationwide.
"Knowledge is always the first step."