Taking action: Environmentalism at DePaul and Springfield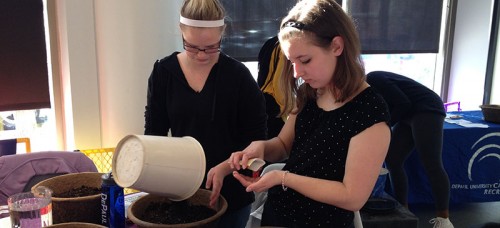 The winters of the 17th century were the coldest in more than 600 years. That century saw starvation and wars that tore countries apart around the world. Geoffrey Parker, a 17th century historian, said the overlap between what is called the Little Ice Age and the General Crisis was no coincidence.
At DePaul's Earth Week keynote speaker event, historians said the Earth's temperature fluctuated by only a half-degree in the 1600s, but recent years show that the Earth's temperature has changed 10 times that amount. Parker suggested that history may repeat itself and deliver a grim future if climate change continues.
"It makes a lot of sense, just general chaos or agitation within the system," DePaul junior Matt Gavin said. "Certainly the environment, the natural state of the world, has implications on human behavior."
Earth Week at DePaul isn't about convincing students that climate change is happening. Institutions around the world, most notably the Guardian newspaper in the U.K., are finished arguing about whether climate change is a fact. What students struggle most with is knowing how to make a difference in an issue literally the size of the planet.
That's why it wasn't easy for Gavin to swallow the Earth Week panelists' call to action, that the conversation about solutions for climate change needs to be started.
"It's like, 'what do you mean start?' We've already started. I feel like people are always talking about how we need to talk about this," Gavin said. "I feel like even at events like this, it's a professor speaking about a book — and we can speculate on ideas — but I feel like speculating is all we're doing."
Those fuzzy buzzwords that cloud our classrooms like "fruitful discussion" and "healthy exchanges of ideas" don't mean much to students who want to tackle climate change head on.
Like most students, Gavin said he tries to avoid wastefulness and that he accepts the facts of climate change. It's the scope of the issue and tangible solutions that give him grief.
"I have a hard time formulating opinions about (climate change) because it is a very multifaceted issue. I haven't done a lot of research on my own. I've just heard what people have volunteered to tell me about it," Gavin said. "Until I take the time to investigate the issues and causes myself I feel like I'm completely unjustified in positing any real thought on it."
Kristen Holdsworth, president of DePaul's Urban Farming Organization (UFO) said it's common for students to feel like they can't address such a huge crisis.
"I  think people are intimidated by the idea of claiming they're environmentalists or claiming they're doing something for the environment. They have this image in their head of what that means and they don't want to identify with that," Holdsworth said. "Or maybe they think it's too grand of a task because of the world we live in now and the challenges that we face."
"I think it's all about lifestyle changes," Holdsworth said. Getting people to join UFO means enticing them to things they already like. Once they get their hands dirty, Holdsworth said, students can see the mental and physical benefits of gardening. She said it's more fun to be involved in a cause greater than yourself than waiting for someone else to do it for you.
That was the case for psychology major Claire O'Connor, who didn't learn about UFO until her third year at DePaul.
"I grew up in the city, so there's not a lot of area where (urban gardening) is super common," O'Connor said. "I've always thought it was a cool concept."
"It's important to learn about where your food comes from," O'Connor said. "I didn't really know a lot about it until the past couple of years. I became really interested in being part of something where I could literally pick a leaf off of (a plant) and eat it. And that's just a concept that, like I said, growing up in the city was foreign to me."
DePaul recreation's associate director of marketing Gale Stewart and assistant director of marketing Kristen Pengelly hosted the herb planting event at the Ray last week to get students involved with an area of wellness outside of fitness.
"We offer a lot more than a treadmill and group class," Pengelly said. "Having green things in your home and having plants can clean your air."
"(Students) have the opportunity to see something grow from a seed to a plant. It supports Earth week because it gets them to see small changes they can make that will have a big impact," Pengelly said.
But are those little changes enough? DePaul senior Sergio Arroyo said they are.
"I'm a firm believer that the little things count. So even just walking somewhere or riding your bike. And that's even the bare minimum people can do," Arroyo said. "That stuff gets critiqued a lot by environmentalists because people think that doing those small things is enough. But still do them. I think it still does make a difference."