DePaul retention rate hits record
Hang on for a minute...we're trying to find some more stories you might like.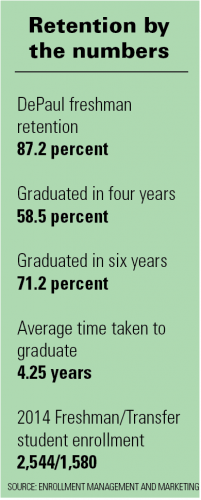 The past few weeks have been busy for many high school seniors as the far-off world of college suddenly appeared right in front of them. With the national decision deadline on May 1, most prospective college students have now made their commitments and mailed in their housing forms. In the midst of the excitement and apprehension, it's easy to forget that some of them won't make it through the first year.
The good news for incoming DePaul students is that, if current trends continue, they have a better chance of continuing to their second year than any DePaul students before them. These improved odds are due to the increased focus on retention by DePaul.
Statistics reveal promising results. DePaul's retention and graduation rates are at record highs. The first-year retention rate at DePaul for 2014 was 87.2 percent and the four-year graduation rate was 58.5 percent, which is 15.5 percentage points higher than in 2003. DePaul continues to outperform national, four-year private institutions in terms of first-year retention and five-year graduation rates, according to an annual report by the Division of Enrollment Management and Marketing.
The U.S. News and World Report includes the average retention rates freshmen who entered college from 2009 to 2012 and who returned to school the following fall. DePaul has an 86 percent retention rate compared to 99 percent at the University of Chicago, 97 percent at Northwestern, 86 percent at Loyola University and 80 percent at the University of Illinois at Chicago.
Perhaps the most significant statistic, as David Kalsbeek, Senior Vice President of EMM mentioned, is the difference between expected and actual graduation rates at any given institution.
"On U.S. News College Rankings, DePaul's single best ranking is the degree to which graduation rates exceed what is expected. This ranking is highly correlated with other measures of institutional quality," Kalsbeek said.
These trends are fueled in part by the increased national interest in retention and graduation rates, but actual improvements at the national level have been limited. Part of the problem is college students face a wide variety of challenges that institutions are not always equipped to effectively address.
"The most significant predictors of student retention (are) that they have the academic preparation necessary to succeed, the financial support and resources, the support systems of family or community support, and that they see themselves as part of the DePaul community," Peggy Burke, associate vice president for student development, said.
All these factors contribute to whether or not high school seniors make it to their sophomore year in college. While it is easy to look at the numbers and feel optimistic about retention, that 12.8 percent of students who do not continue on to their second years are real students, not just numbers.
Emma Williams is a freshman at DePaul who decided last month she would not be returning in the fall.
"When I enrolled in DePaul I was unsure what I wanted to major in," Williams said. "I thought that I had until junior year to declare my major. That is not the case with acting, which I have decided to major in. Additionally, I lost a tuition waiver I had this year, and my financial situation has changed, so I'd be hard pressed to afford DePaul next year."
Financial restraints and academics are two of the most commonly cited reasons for leaving DePaul, according to Kalsbeek.
"When schools decide to improve their graduation rates, they focus on all the wrong topics," Kalsbeek said. "At DePaul, we focus not on persistence, but on progress. We don't just look at how many students come back after the first year, but how many come back in good academic standing one year closer to graduation."
Last year, 95 percent of freshmen in good academic standing, which is defined by EMM  as having a 2.5 GPA or higher and having completed at least 48 credit hours, continued on to their second year. 
EMM  worked to increase the number of students in good academic standing by evaluating how the processes in place at DePaul impact students, with a focus on how instating new processes, such as the BlueStar degree progress report and adding more advisers could improve the quality of the education.
However, a personal connection to the DePaul and Chicago community is just as important of a factor. "It is the experience outside the classroom that supports the experience inside the classroom," Burke said. "A student could have all the academic preparation and financial resources, but if they don't see themselves as having a home here and connected to this place, then we could lose them."
Former DePaul student Tess Kilbane Myers transferred from DePaul to Georgetown University after her freshman year, but she still fondly recalls the connection she formed to the DePaul community during her first year.
"I miss Chicago terribly," Meyers said. "I miss my friends terribly. Washington doesn't quite have the charm of the Windy City. Also, there were a number of classes that I took at DePaul that I would never have been able to take here at Georgetown. For example, the Discover Chicago courses are fantastic and a huge plus for freshmen. Another one was my study abroad experience in Jordan."
In the fall, new students will walk into their first class at DePaul, each with a different background and a different plan for their future — plans which doesn't always go exactly as expected. What works for one student won't necessarily work for the next student, and some students, like Williams, will pursue a different future than what was set out for them at DePaul.
"I am trying very hard to find a job in acting," Williams said. "But at this point, it looks like I will have to take a job wherever I can and just take acting classes. There are a lot of teachers that I wish I had gotten to have more classes with, and it will be really hard to leave my friends."