Memorial Day: Honoring the fallen at DePaul
DePaul veterans say Memorial Day isn't about them, but their comrades' sacrifice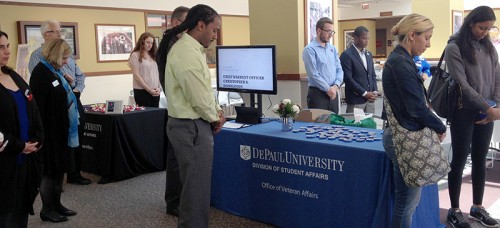 The university enjoyed a break from classes Monday for Memorial Day, but only a small crowd attended the remembrance event for veterans in the DePaul Center on Thursday.
Remembering their fallen comrades means a lot to student veterans, but to the rest of the student body, it seems to be another mis-rememberd day off from school.
Tim Barnes, a former Marine, feels that there is a lack of recognition of what Memorial Day means.
"For the past few years I've been thinking about it, and I see people say 'Happy Memorial Day,' … and it's kind of humorous because it's like saying 'happy 9/11'. It is not a day to be celebrating, it is a day of remembrance for the men and women who have passed away in the battlefields while serving the country," Barnes said.
Every Memorial Day he takes the time to go to church. He dedicates the day to his brothers and sisters from the military  service who have died.
"I dedicate it to everyone who has done a selfless sacrifice of their life," Barnes said.
Haydee Nunez is the current director of the Office of Student Veterans and supports veterans' transition to DePaul. She made it clear that this day was not a celebration for veterans, since they have their own holiday in November, but it was a time to remember those who have died.
"Memorial Day is definitely a commemoration of those who made the ultimate sacrifice for us," Nunez said. "So today it is not rare to hear veterans say that it is not about them, but about those who cannot be here today."
Andersen Delinois, next year's president of the Student Veterans Union, welcomed the attendees to the remembrance event and opened with an emotional speech. Delinois, 25, moved to the United States at 17 and later joined the United States Marine Corps.
"(There were) so many things I was not able to do in my home country, Haiti. I was not even allowed to play certain sports. And it was so hard, because people would not give you the opportunity," Delinois said. "I came here and so many opportunities opened up. I absolutely fell in love with this country."
"Then, I said, 'you know what? After the opportunities this country has given me and my father — things that were only imaginary where I'm from — for those things I'm willing to do what it takes to serve this country. (I will) even put my life on the line because I believe in this country,'" he said.
One of Delinois' initiatives as president of the Student Veteran Union is to increase volunteer opportunities for students, hand in hand with the university mission.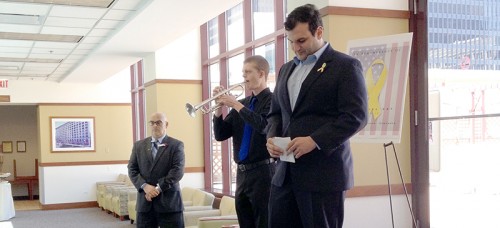 Delinois was stationed at Camp Pendleton, California, where Barnes was also stationed.
Transitioning from the "G.I. Joe lifestyle" as 35-year-old Barnes called it, to the civilian life has not been easy.
"I've always wanted to help people. So I joined the Marine Corps, not just to fight people, but to help people who are in need," Barnes said. "As a civilian, I was missing that, so I said, 'you know, I can be a teacher and help students understand life, or try to help them understand life.' My goal now is to be a mentor."
Currently pursuing a major in history education and loving history since he was a kid, Barnes discovered his passion for storytelling and history also while being in service. "In the military, one thing we do when we're back is tell stories. I would teach other marines interesting facts about a place," Barnes said.
"When I got out of the military, I was sitting there one day and I thought this is not what I want. I can make great money, but money is not everything, and I wanted to go to college, get a degree and do something I like," he said.
Barnes chose DePaul University because it was Catholic.
"My experience here has been wonderful, I've met a lot of different people," Barnes said.
"In the military we are not robots, you know? You have to deal with so many different people. For me, coming to college has not been different than serving in the military," he said.
Student veterans like Delinois and Barnes used this special event not only to remember lost comrades, but also to tell stories.
"For me, especially this quarter, I've seen so many other marines. We sit down and tell stories because we are able to share that culture," Barnes said.
Despite trying to blend in with everybody else, Barnes said veterans can tell when they see a member of the military among the student body.
"We see each other, and it does not matter what service you are in, but you know from the way they act and present themselves. In the end all that matters is what we share. It does not matter where you belong."