Christian protesters speak out against Hindu chanters at DePaul Center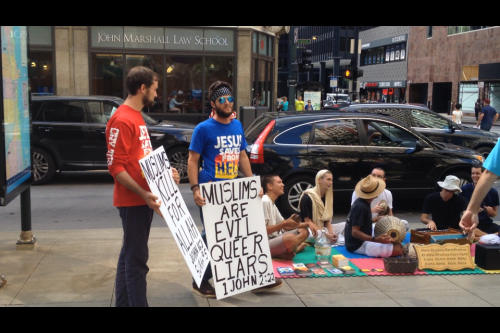 At about 2:30 p.m. Friday, two men holdings signs reading "Muslims kill for Allah —John 16:2" and "Muslims are evil queer liars — 1 John 2:22" shouted at a band of Hare Krishnas in front of DePaul Center at 1 E. Jackson Blvd. 
Passerbys stopped to film the spectacle, and after 20 minutes DePaul Public Safety called Chicago police. After speaking with the two men, police allowed them to continue protesting.  
One of the men who identified himself as "Brother D," said he and 10 others from a group called Bible Believers, organized on The Official Street Preachers Website, traveled from Arizona to protest what they said was a Muslim convention in Chicago. No specific convention was named.
The man who called himself Brother D said he was only passing the Hare Krishnas when he decided to protest against what he called "a cult."
"The lord Jesus Christ preaches against this kind of stuff, so I came out here to preach against them," the man said. "All other religions other than Christianity are a cult. It's time to repent and believe Jesus Christ right now."
Many onlookers spoke against the two men.
"I think (the two men) are really awful. They're hating on (the Hare Krishnas) just because they're a different religion," Anna Fryman, a freshman at Adrian College in Michigan said.
"That's the kind of thing that causes more evil and perpetuates evil," Chicago resident Paul Konkoly said. "They have no idea what they're talking about. And maybe if enough people told them that that's wrong, then they might change their minds."
The International Society for Krishna Consciousness (ISKCON) is a religious group founded in New York that follows Hindu scriptures. The nine members chanting outside the DePaul Center came from the Chicago temple, located in the Rogers Park neighborhood.
"Honestly, I think they're offending Christianity, they're offending Islam, they're offending us, they're offending the Lord. It's not good," Daniel Derd, one of the Hare Krishnas said. Derd, a New York native, said he became a Hare Krishna eight years ago. He now practices at the Chicago temple and chants on the street about four days a week.
"They're just jokers. I don't think they're — I don't know what to think of them honestly. Nothing intelligent has come out of their mouths," Derd said.
Others weren't sure if the protesters were part of a prank. The man who called himself Brother D wore an American flag bandana and aviators.
"I thought they were making a joke or a parody of the Westboro Baptist Church," Eric Aagesen, a senior at Columbia College, said.
Others in the crowd however felt that the men had a right to state their opinion.
"I think it's absolutely great," Peter Quigly, a Chicago resident and attorney said. "It's one of the things that makes this country great. People can sit out here and protest whatever the hell they want, and that's what they're supposed to do."