DePaul community remembers student Ben Darneille, alumnus Alex Greene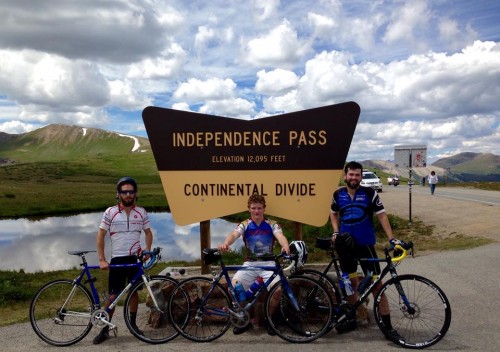 They were phenomenal musicians and best friends.
By remembering their quirks, passions and dedication, the DePaul community copes with the deaths of DePaul tuba player Ben Darneille, 21, and DePaul alumnus and trumpet player Alex Greene, 23.
Before the fatal car crash Aug. 24, it had been a summer to remember. Greene, a master's student at the prestigious Curtis Institute of Music in Philadelphia, was invited with his brass quintet, Rendezvous Brass, to the Aspen Music Festival and School for an eight-week music-intensive summer. When his tuba player couldn't go, Darneille got the call. 
"I cannot tell you how mad I was that Ben decided to go to Aspen," Joe Sanchez, friend and roommate of Darneille, said. The two were focused on getting into other festivals, but weren't accepted. 
"And then he gets a free ride to go to Aspen," Sanchez said with a laugh. "I couldn't believe it." 
The festival couldn't have come at a better time. Weighed down with schoolwork, hours of practice every day and preparing for graduate school auditions, friends said Darneille was feeling burnt out before the summer. 
"The festival really fired him up," Darneille's girlfriend and DePaul Theatre School student Andra Beatty said. "When I saw him at Aspen I really saw his passion. He wanted not only to play the tuba, but talk the tuba and show me about the tuba and teach me about music. And he wanted me to hear him play. It was not a chore for him but something he wanted to be doing."
The festival gave Darneille and Greene the opportunity to show their true colors as musicians. Friends and family who attended raved about their performances. Darneille had only played with the quintet once before, but his skill and instant likability made him fit right in.
"(Ben) was just automatically so charismatic and charming. Everyone who met him loved him. He made friends all over the place," Sanchez said.
For Greene, playing in the festival with his quintet was also a highlight. After making remarkable progress in his last two years at DePaul, his friends described his acceptance to Curtis in 2014 as his life-defining moment. 
"When I saw him (at Curtis) he was very happy. He was playing a lot and had really great friends," Sanchez said. "Not to say he had a bad time here. He loved Chicago. He was just a little bit different and really matured when he was over there."
Friends and family had trouble pinpointing exactly where Darneille and Greene's musical passions originated. What they did know was that young Darneille, from Rochester, Ill., hardly put down his first tuba, and Greene, from Orlando, Fla., was obsessed with finding music from every genre to send to friends. For both of them, a life of music just made sense.
They also connected outside of their musical passion. Avid bicyclists, they were known for biking long distances around the Chicago area, Darneille once making a 100-mile trek to Kenosha, Wis. So spending the summer on mountain trails around Aspen was, "just heaven" said Frank Darneille, Darneille's uncle.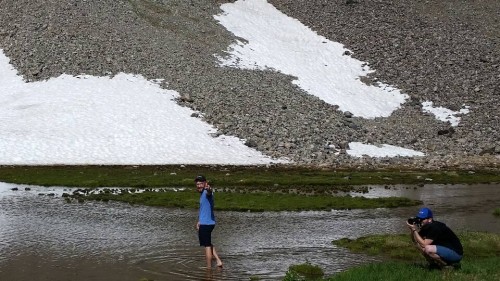 Together they enjoyed video games and enthusing about a great cup of coffee. They and their friends snuck into the Chicago Symphony Orchestra concert and gala, and they enjoyed asking deep questions about life and music. Despite Greene's joking nature — the way he lovingly got under people's skin — he was a profound thinker. 
"Next thing you know you're talking about, why are we playing music? What's the point of all this?" DePaul alumnus and friend Brandon Hunt said. "There was always a lot of soul searching involved, and I feel like Alex was very introspective in that way." 
Greene was known for his interest in rap artists and convincing his friends to watch disturbing indie films while he dozed off. He also had a tradition of taking every Facebook profile pictures with a cup of coffee.  
Darneille, on the other hand, was an upbeat renaissance man, becoming an expert at bike mechanics, photography and exploring the outdoors. From material possessions to his friends, he invested heavily in what he cared about.
Their friendship was colored by their vibrant, complimentary personalities and they fueled each other forward as musicians, providing critiques, praise and overall encouragement.
"Both young men were very talented and very dedicated to their art and practice," DePaul tuba professor Floyd Cooley said. Cooley had worked with Darneille for three years at DePaul and called him an excellent student that strived for perfection. In the last two years, Darneille performed and auditioned for ensembles in Denmark and Japan.
"It's heartbreaking to see the course of their lives and musical aspirations cut short," Cooley said. "They most likely would have been very influential in their field as they matured." 
[box]Read: DePaul School of Music student, alum killed in car crash[/box]
To the friends that are left behind, continuing to practice and perform is the best way to remember them
"I'm 100 percent sure they're up there, just as pissed as I am that they put us through all of this," Sanchez said. "If I canceled a rehearsal or stopped playing as much as I have been, because of all of this, they would have said, 'what the hell are you doing?"
"A lot of good is coming out of this," Hunt said. Since last week, a community of friends, family and peers have gathered on Facebook to share old photos and memories, as well as organize memorial events.
"I don't think I've ever seen my friends this tight," Hunt said. "We're all talking and calling each other. It's bringing us together."
Visitation and funeral services for Ben Darneille are open to the public. 
Darneille's visitation services will be held Tuesday, Sept. 1 at the Rochester Methodist United Church, 555 S. Walnut St., Rochester, Ill.
Darneille's funeral services will be Wednesday, Sept. 2 at 11 a.m. at Rochester United Methodist Church, 555 S. Walnut St., Rochester, Ill.

Alex Greene's funeral services will take place Sept. 12 in Orlando, Fla., but other details were not immediately available. 
View Comments (1)