DePaul community's concerns grow over Dean Koocher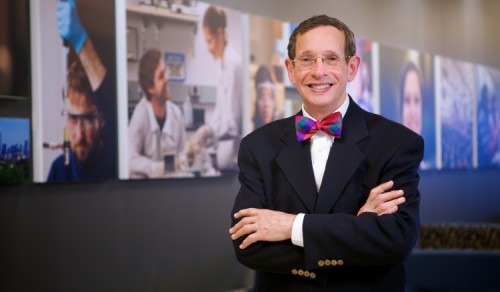 Members of the DePaul community are continuing to express serious concerns with the university's handing of the controversy surrounding College of Science and Health (CSH) Dean Gerald Koocher nearly three months after the release of the Hoffman Report, with some now calling for him to resign or be removed from his position.
Koocher, who served as both President and Vice President of the American Psychological Association during the time in question, has been under fire since the release of the 542-page report, which details the APA's collusion with the Department of Defense. This contributed to the implementation of policies that led to the torture of prisoners at Guantanamo Bay during the Bush Administration, the report said. 
Although the report did not conclude that Koocher knew about torture taking place at the time, it suggested that the top officials in the organization "had strong reasons to suspect that abusive interrogations had occurred."
The report also criticized Koocher for his gatekeeping role when serving as a board liaison to the task force of Presidential Ethics and National Security (PENS), where he belittled and dismissed those with alternative viewpoints, the report states.
DePaul professors were given the opportunity to discuss the topic during a closed portion of the university's monthly Faculty Council meeting last Wednesday. According to multiple sources in the room, far more faculty spoke out against Koocher than supported him, with many describing a culture of fear within the CSH under his leadership.
"Regardless of what happened, it's a public relations nightmare," said Noam Ostrander, chair of the department of social work in the College of Liberal Arts & Sciences (LAS). "And when I talk to my colleagues in CSH, they're nervous, they're afraid, I don't think they feel like they have the liberty to have much of a voice."
According to sources that wished to remain anonymous, some of the debate at Wednesday's meeting centered on whether the matter is an issue for the college or a university-wide issue.
For many, it became university-wide on Sept. 5, when it was announced to the Liberal Arts & Sciences Academic Council (LASAC), a group of chairs and directors in LAS, that Koocher would be the Academic Affairs representative on the search committee to find a new dean for LAS.
This sparked immediate backlash within the college. On Sept. 7, a coalition of LAS Faculty Council members, LAS Senate representatives and LASAC members sent an email to Rev. Dennis Holtschneider, C.M. and Provost Marten denBoer requesting that Koocher be removed from the committee.
"This deanship is a highly desirable position that should draw interested applicants from across the country," the email said. "However, the recent media attention surrounding Dean Koocher's collaboration with the Department of Defense's coercive interrogation program may jeopardize the search committee's ability to attract the best candidates for the LAS deanship. 
"Dean Koocher's presence on the search committee for LAS thus represents a conflict in our values, and creates a perception of the University that is diametrically opposed to how we want the College and the University represented," it continued. "Therefore, we request that Dean Koocher be removed from this committee and a more suitable replacement appointed."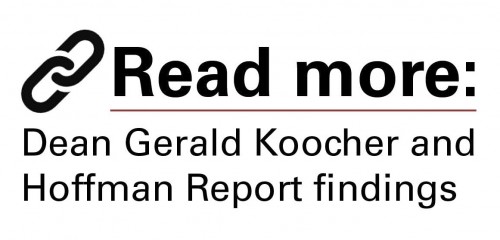 A day later, it was announced that Koocher had stepped aside and was replaced on the search committee by College of Communication Dean Salma Ghanem.
"Given the controversy surrounding the Hoffman report, many faculty just didn't see Dean Koocher as the best person to represent DePaul in the search for a new LAS Dean," said professor and LASAC member Scott Hibbard. "Hence, there was broad support for the letter."
Koocher will address the controversy again on Monday, Sept. 21 in a question and answer session he is hosting for faculty from 3:30-5:30 p.m. in McGowan South, room 108.
For many, however, the time for Koocher to go is now.
"I certainly hear from folks in other institutions in Chicago who say, 'Well, now is the time when DePaul will have to say that this isn't okay'," Ostrander said. "And I think until we're willing to do that, we're really open to some severe criticism. I think he either needs to resign or be removed from the deanship. This is not the public face that we want out there for our university."
A student-led petition drive seeking Koocher's removal as dean started last week on Change.org. The petition already has more than 300 signatures, with comments indicating a wide spectrum of geographic areas as students, alumnus, and academics criticized the dean.
Senior Jack O'Brien, president of DePaul Psi Chi, an honors society for psychology students, started the petition when the university did not "take steps to move towards accountability and transparency."
"I think it reflects poorly on our university, especially on our College of Science and Health, and even more so on our young psychologists in training and recent graduates," O'Brien said. "And that's not fair to them at all. They've put their time, money and energy into their degrees. And it's being cheapened in a sense by being connected to all of this."
Sources have said that the question and answer session will be important in assessing where the situation is it.
"I think that Monday will be interesting," Ostrander said. "I feel in some ways that's the bellwether."
Ostrander suggested that DePaul's Vincentian values make for a unique situation were a "values-based decision" is in order.
"I can't see a really good reason for keeping the status quo," he said. "It's so hard to really hammer those Vincentian values and then have this sort of sitting out there in the public."
View Comments (3)