Students rejoice at the arrival of free laundry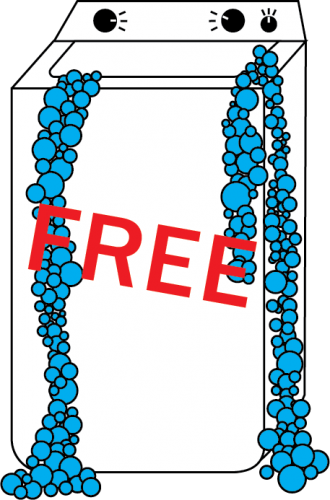 A life skill college students acquire is learning to separate your lights from your darks and figuring out which setting fits your load. For students like senior Beth Pedraza, laundry was a basic rule of survival.
Since the end of the 2014- 15 school year, the Department of Housing Services  (DHS) switched from WASH, the original vendor of the wash and dry machines, to ASI/Mac-Gray Campus Laundry Solutions. The new laundry machines were installed over the summer and they were fully functional and ready to welcome students when they moved into their dorms.
The new switch means students no longer need to stockpile quarters or swipe their Demon Express card to add money electronically.
The cost of laundry has been absorbed into students housing tuition, allowing it to be free to students.
Daniel Hansen, a DePaul senior who lived in Munroe Hall his freshman year, recalls his struggles with laundry.
"Back in my day, I used to have to trudge down to the first floor of Munroe with my laundry and stuff all my clothes in one load. I would squeeze all my apparel in one wash," Hansen said. "It was very unorthodox because I would mix all my colors; it was tough."
"These kids do not know how easy they get it," said Hansen. "In nine months I probably spent a good $100 on laundry or more."
The switch has not decreased the quality of the washing and drying machines. ASI/Mac-Gray Models are still high-efficiency models with energy saving perks.
"I've messed with the settings on my machine just to make sure I use the least water possible," Pedraza said.
Yasmine Tabbara, a certified home appliances consultant at Sears in Chicago Ridge, said high efficiency washing machines come with sensors, which detect the amount of clothes inside. The machines adjust the amount of gallons of water accordingly to the size of the users load. 
Mac-Gray's high-efficiency drying machines work following the same method, although drying machines detect how wet the users clothes are. Therefore, when the drying sensors detect no more moisture, the machine ends the drying cycle. Both high-efficiency washing and drying machines result in less water and energy use.
"Government regulation mandated electricity consuming appliances to become high efficiency in 2008," Tabbara said. "With non-efficiency laundry machines 23 to 28 gallons of water are used versus the 13 to 18 gallons of water with high efficiency machines."
DHS suggested  students use high efficiency laundry detergent as well.
"The 'less is more' approach helps residents stretch their detergent and get their clothes cleaner, since less soap means less chance of over sudsing or not rinsing out," said Jennifer Leopoldt, the Marketing and Communications Manager, from the DHS office.
Chaz Bottoms, a junior on the track and field team who lives in Sanctuary Hall, finds the no-charge laundry service beneficial for his frequently dirty uniforms.
"I use the service about once a week," he said. "As an athlete, we go through multiple outfits a day so the free laundry definitely saves a lot of money. The new machines are also faster than the old ones so I'm saving time and money."
With the switch of vendors came a new service: the LaundryView monitoring system. LaundryView allows students to check the remaining time of their laundry as well as giving them the ability to see which washing or drying machines are not in use.
"One time I entered the room and all the machines were taken up, and I was in a rush so I took clothes out of the washer, a common practice, and as soon as I started putting them on top of the machine the clothes' owner walked in and gave me the dirtiest look," Bottoms said. "It was very awkward."
Students can also track how much time their specific loads have left or if a machine has opened up by making an account on LaundryView. This additional tool is meant to make laundry more accessible and efficient for students.
The act of rushing to take clothes out of the laundry machine and dumping them on top of the machine is no longer even an option. The embarrassment isn't a concern for Bottoms anymore.    
By registering with their phone, students can receive text alerts reminding them of their laundry status. Students can also access LaundryView as a mobile app by scanning the QR code posted in the laundry rooms.
Kara Stieskal, a junior who lived her freshman year in Clifton-Fullerton, feels as if the upgrade makes dorm life much more convenient for current students.
"I think that the people living on campus are fortunate to have free laundry, and I wish that we didn't have to pay out of pocket for laundry when I was dorming," Stieskal said. "When you are paying a dollar to wash and dry each, it racks up pretty quick so I think I would have definitely done laundry more often back then."
About the Contributor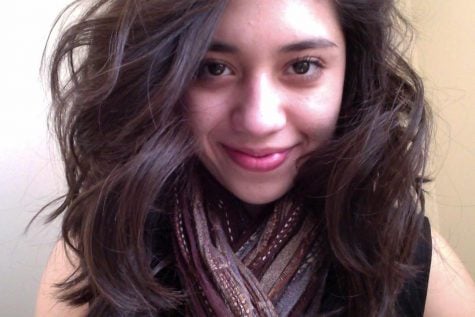 Yazmin Dominguez, Online Editor
Yazmin is the online editor of The DePaulia. She enjoys house music, storytelling, tough editors, and people who can make her laugh. Follow her on Twitter...