DePaul Catholic Campus Ministry welcomes new director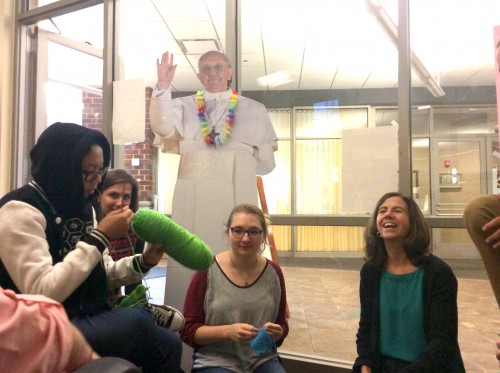 In Mt. Laurel, New Jersey, a 17-year-old Amanda Thompson would observe her mother cantor in her church choir. She would watch her excitedly return home from her spiritual retreats and soon enough she would fall in love with the faith her mother brought back with her.  It was a faith so tangible it made Amanda want it in her own life.
After being introduced by her mother Thompson began to attend a non-denominational Christian churchnamed "Come Alive" so Thompson would "get filled with the Spirit" as her mother would tell her.
And it worked.
Thompson was welcomed by the Catholic Campus Ministry (CCM) and the rest of DePaul's Catholic community as the new director of Catholic Campus Ministry. On the morning of Aug. 10, Thompson was greeted with an elaborately decorated door to her office with balloons and signs welcoming her arrival.
"I could not feel more loved and celebrated," Thompson said with a warm smile and shining blue eyes. "They seem really excited to have me on board."
After a rigorous three-round interview process that required her to create a presentation to the Division of Student Affairs and be interviewed by students over lunch, she received the call from the Human Resource Department.
Amanda was spending time with her family in her Jefferson Park home when she received the news that she would be filling in the director's position, left vacant in the end of June by past director of CCM, Sr. Katie Norris when she was missioned in Macon, Georgia.
"My thoughts about applying for the job were that I would love to work with a staff at DePaul University to help students discover, reclaim or own their faith during these college years. My faith gives me hope, meaning and purpose and that is what I would like to help facilitate for the students here in whatever way makes sense with their experience," Thompson said. "I knew this is a place that could use my gifts and experience if it was the right fit. And, praise God, it is the right fit."
Liam Kemmy, a peer minister of CCM, agrees.
"She has a really genuine and fresh appreciation of Vincentian charisma. She has an authentic commitment to it," Liam said. "CCM is in a period of transition since Sister Katie Norris left there is a lot of opportunity to make changes to CCM and she is the right person for it."
Thompson said the spark in her faith was the result of  her mother, who led her to live various religious experiences.
As an undergraduate, Thompson attended the University of Scranton, a small Jesuit school in Pennsylvania, which she jokingly referred to TV show "The Office" as putting it on the map. She became familiar with the spirit her mother thrived on when she began attending her own immersion trip to Mexico and serving the role of a Jesuit Volunteer Corps which allowed her to teach in a Native American Reservation.
In 1994, Thompson decided to continue to practice her faith by fulfilling the role of being a campus minister at Loyola University while she completed her master's in theology. During her time at Loyola, Thompson fell in love.
With a nun's guidance, she recalled deciding between pursuing a career as a nun or continuing her studies in theology and work, in the campus ministry. Working as a campus minister, she coordinated her fellow Jesuit collegiates to talk theology and, in doing so, she met theology student Chuck Thompson. Over cups of coffee and deep talks of life and faith, Thompson had fallen in love with her future husband. Six months later, Chuck halted his pursuit to be a eucharistic minister and Thompson decided to leave her choice in becoming a nun in order to create a family of her own
For the next 11 years, Thompson stayed at home and jokes she ran a personal daycare for her three children, Maggy, Hannah and Leo. In 2011, Amanda began dipping her toes into DePaul when she began working at St. Vincent DePaul Parish teaching religious education. A year later she moved onto the Archdiocese of Chicago, where she fulfilled the role of a Ministry Coordinator for the Office of Marriage and Family Ministries.
In March, she was informed by Mark Laboe, associated vice president for university ministry, that DePaul had an opening she was passionately hoping for, it being, the director of Catholic Campus Ministry.
"Sr. Katie is irreplaceable on so many levels. She was a wonderful pastoral woman who drew in students and motivated the staff to reach out and touch the lives of the community,"  Thompson said. "I am a married lay woman with a passion and as St. Vincent would call it, a zeal for God and spreading God's love. I have made great connections to the Archdiocesan offices and parishes through my previous jobs that can prove to be great resources for the DePaul Community. I have the skills necessary for continuing the good work of Sr. Katie and hope that I can help make a difference in the lives of those I work with."
For six weeks in August, Thompson became acquainted with the 23 peer minister students. Working closely together with Fr. Jim Osendorf and the rest of the CCM staff, Thompson continually supports and supervises staff.
"She's a great presence. She's very relatable," Jenna Humphries, a first year peer minister and Catholic Community Night Coordinator, said. "She is so supportive of us as students and employees."
Embracing all upcoming duties, she attended director and staff meetings with the intention to make meaningful connections. As director, Thompson is required to support and supervise the CCM campus ministers, connect and collaborate with other departments in the Division of Student Affairs, manage CCM's budget and continue to keep CCM focused on the best ways to reach out to other students who are not familiar with CCM and inform the ones that do know about CCM.
"I think it is really important to help support a staff by sitting, learning, and getting familiar in order to build relationships to better know one another in the long term," Thompson said.
Thompson finds a strong attachment to DePaul's methods of expressing Vincentian values.
"DePaul has a mission to create good citizens," Thompson said. "There is a strong faith towards non-Catholic people at DePaul and in every meeting I have attended the need of service lives and breathes."
Thompson has several goals as director of Catholic Campus Minister. She hopes to reach out to students and inform them of the programming at CCM and invite students to explore their spirituality deeper.
She's hosting a workshop, "Women of Faith," attempting to show all female DePaul students how to manage stress.
"Youth ministry is an awesome place to be for students to be informing their own identity and for them to question and deepen themselves," Amanda said. "Sometimes it just takes a personal invitation."
About the Contributor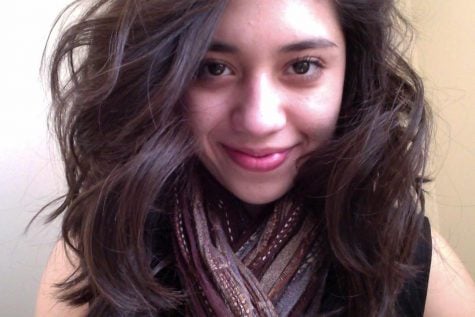 Yazmin Dominguez, Online Editor
Yazmin is the online editor of The DePaulia. She enjoys house music, storytelling, tough editors, and people who can make her laugh. Follow her on Twitter...