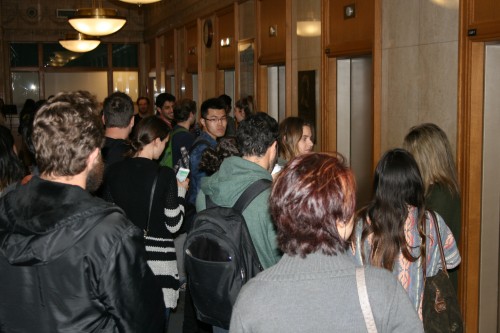 DePaul has its ups and downs, especially with its elevators.
Currently, elevators in the Loop are receiving major renovations. Elevators on the Lincoln Park campus, as well as the Schmitt Academic Center escalators, will soon follow.
Students taking classes in the Lewis Center or the Daley Building downtown have probably seen evidence of the ongoing and upcoming maintenance there. Both buildings will receive major elevator updates. Schedules are available in each building next to the elevators.
Rich Wiltse, director of Loop Facilities Operations, said that the Lewis Center elevators are continuing to be modernized. One elevator at a time endures repairs and modifications while the other cars continue to run for students and passengers.
With an office on the 16th floor of the Lewis Center, honors advisor Jennifer Kosco is familiar with the ongoing renovation process. She said that though there is a lot of traffic at peak class times, the maintenance is "making progress" and the elevators are "getting faster." Halfway through the schedule, cars four, three and two will be renovated from now until mid-July 2016.
According to the posted schedule, the major renovations include mechanical upgrades, such as "all new elevator control and dispatching system for improved reliability and faster car dispatching" and "all new elevator cab door hardware for better reliability and faster cycle times at floor stops." The interior will be remodeled with "sustainable wall panels and LED lighting." Additionally, they plan to "add a second set of elevator call buttons on each floor. No more running down the hall to catch elevators six or seven."
Sophomore Jonah Atchison, who has two classes in the Lewis Center, called the new elevator appearance "aesthetically pleasing" because it has a nice finish. With the Lewis Center elevators being "notoriously slow," Atchison hopes that when all of the elevators have been remodeled, the system's speed will "rival that of the DePaul Center."
Beginning in January, Daley Building elevators will face similar renovations, focusing on one car at a time to bring them up-to-speed with the other newly remodeled elevators. According to the schedule, each car will take approximately three months to remodel. Renovations are planned to begin in early January 2016 and span to late February 2017, and will focus on the mechanical aspects.
"Students can e-mail [email protected] and put either 'Lewis' or 'Daley' in the subject line to get project updates and alternative travel information for either project," Wiltse said. This convenience attempts to establish amnesty between maintenance projects and students, helping students through the renovations with less of a headache.
The SAC escalators will face a major renovation beginning one week before the end of the autumn quarter (its last official day is Nov. 24—now less than one month away). The escalator system will be closed as Facility Operations replace the gears and chains for the first time, prompting sophomore Bryan Debrah to appreciatively say, "It's about time." This project should wrap up just before students return for Winter Quarter.
The escalator system offers students an alternative to waiting for an elevator, said graduate student Maggie Collins. She added that the escalators in their current state, often stopped between floors so patrons must use them as stairs, potentially making a hazard to older faculty members.
Sophomore Kate Kownacki, who works in the writing center, comes to the SAC almost every day and uses the escalators. She sees it as an inconvenience when one or more of the escalators is down, so she hopes renovations will fix these regular malfunctions.
Lincoln Park custodial manager Richard Matulewicz also offered information on upcoming elevator renovations in Munroe Hall. In addition, beginning in November, one elevator will be taken out of service at a time for renovations. According to Matulewicz, the cables and motors will be replaced, as well as a complete redesign of the interior, to look similar to the elevators in University Hall. He said that this project will cost about half a million dollars.
Predominantly a first-year hall, several freshmen residents shared concerns about the project.
"If I have to wait too long, I will not be the happiest person," fifth floor resident Grace McKay said.
Sixth-floor resident Anna Wolfe said that, "it will really help with traffic if lower-level residents use the stairs."
Overall, these renovations should make vertical transportation around campus more pleasant and convenient.
Elevator repair schedule
Lewis Center, cars 2,3,4:  now until mid-July 2016
Daley Building: Jan. 2016 until Feb. 2017 (each car will take three months)
Schmitt Academic Center escalators: Nov. 2015 until Dec. 2015