New DePaul Coleman Center director overcomes adversity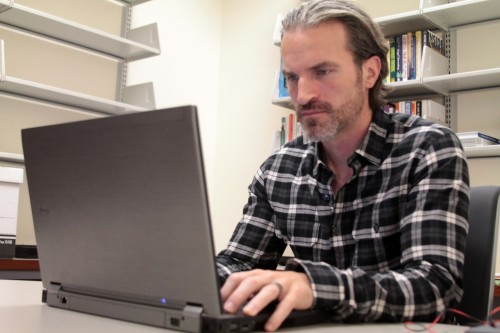 When you meet the new executive director of DePaul's Coleman Entrepreneurship Center, he'll shake your hand and ask you to call him Billy. Despite stepping into his first classroom only a year ago, he is ready to get down to business, but it was a journey to get there.
In 2011 Billy Banks had it all. He had come out of the Great Recession with his startup company still intact and a few more grey hairs in his beard; he had met and married the woman of his dreams; and then he sold his first company when it was making $20 million a year in sales.
Two weeks later, his wife was diagnosed with breast cancer.
She had a double mastectomy, 16 weeks of chemotherapy and nine weeks of radiation. Banks sold his steel business and his startup to support his wife through treatment. Then the day before Christmas, his father threw Banks' mother out of the house.
"There was a moment in January when I had my bald, broken wife and my devastated mother at the kitchen table, looking at my life like, 'what happened?' From getting the girl, selling the company, life is good, to holy shit, everything I thought was real is not," Banks said.
Banks' wife came out of treatment in May 2012 and by then Banks had lost his love of the business game. Instead, he was focused on having a family. Cancer treatment is known to cause infertility, so Banks and his wife began working to transfer their frozen eggs to a surrogate in order to have a baby. Four transfers failed and two babies died. By July 2013 they had three eggs left.
That is until his wife's morning sickness turned into a positive pregnancy test. Then a few weeks later the surrogate's successful transfer turned into twins.
By April 2014 Banks had two daughters and a son in his arms. With the family in stable condition, Banks began probing for a new opportunity.
An academic at heart, Banks' dream was to teach.
"I thought the students were going to run circles around me," Banks said. "What I realized is I actually know a lot more than I thought and the students are really hungry to learn."
He reached out to his alma mater, Northwestern University, and became a mentor for young entrepreneurs enrolled in Northwestern's Design for America program, which focuses on human-centered design and social entrepreneurship. He taught his first class as an adjunct professor in winter 2014, and by then knew that he loved what he was doing.
"Helping people realize their dreams…is something that gives me a thrill," Banks said. "I get to do that here. I get to create a platform for students to learn and grow and hopefully advance in their careers. Whether they're entrepreneurs or not they'll have the ability to think and learn and act like one."
This summer, DePaul's former executive director of the Coleman Center, Terri Lonier, took the job as Dean at the School of the Art Institute and Banks saw his chance. By October he was contacted by DePaul for the position and he moved into his office this week. 
"What I've learned over my career is the struggle that I really went through in my 20s, to figure out who I am and what I want to do … through that struggle I've landed here, which is truly a dream job for me."
Part of what Banks said he can help students with is overcoming the indecisive moments in their lives. Banks went through the same thing.
After graduating from Northwestern, Banks dutifully returned to Indiana to work in his father's steel business, which he hated. He enrolled in Indiana University's MBA program and at 26 he spent two years in Paris as part of the program.
Little did Banks know that his time in Paris would be one of the turning points in his life.
"I was lamenting this sort of duty versus desire that comes along with the family business," Banks said. "I feel duty to the family business to stay involved, but a desire to do anything but. So (my friend) looks at me and says, 'well it's a father's dream to pass a legacy on.' Bam, the light went on. I said, 'alright, that's what I'm supposed to do then.' I came back. My entire second year geared towards taking classes along the line of what I thought our family business needed."
Part of Banks' goal at DePaul is to help students realize what they want to do, not just what their parents want them to do.
"One of the biggest questions I get is, 'my parents want me to do this or I feel like I want to do this, but this is what I love and this is what I think I want to do,'" Banks said. "I'm the courage and strength to (help students) pursue that path."
Banks said entrepreneurship has taken off in the past five years and that students have the opportunity to pursue the next big idea more than ever. Students from all majors and backgrounds are encouraged to pursue their entrepreneurial ideas and appeal for funding at the annual Coleman Entrepreneurship Center's Launch DePaul awards.
"That's what I hope to do here, is find those kids who might not know what they have and help them take it to the next level and achieve their dreams," Banks said.
Being a part of the process is a dream come true for Banks too.
View Comments (1)