DePaul freshman Teresa Valadez is stressed, and not only because of her approaching final exams. The health science student, who dreams of working with children as a pediatrician, was promised Monetary Awards Program (MAP) funding from the state, but without a budget in place, her funding and future at DePaul is in limbo.
"It's just this fear," Valadez said. "If I don't get this money, there's no way I could stay in this school."
The university honored MAP funding this past quarter, assisting approximately 5,000 students who rely on it, and according to a statement, will continue to do so during Winter Quarter. However, the state's budget impasse is forcing universities across the state, including DePaul and students like Valadez, to reevaluate their options in the future.
MAP provides need-based financial aid to low-income and working class students attending Illinois colleges, and is awarded by the Illinois Student Assistance Commission (ISAC). The grant is allocated to students who fill out their FAFSA, and awarded on a first-come, first-serve basis.
Valadez's mother cannot work, and her father is disabled from a work-related injury. During his time off to recover, he amassed loans to pay for their mortgage.
"I know he's struggling," Valadez said. "Right now, he works three jobs, just to put me through the little bit that I'm paying now."
With a MAP grant and scholarships, her out-of-pocket tuition totals $10,000 per year.
For now, Valadez is covered. DePaul, along with many Illinois colleges, have honored MAP awards this fall despite receiving no funding and will continue to do Winter quarter, essentially fronting the money to students.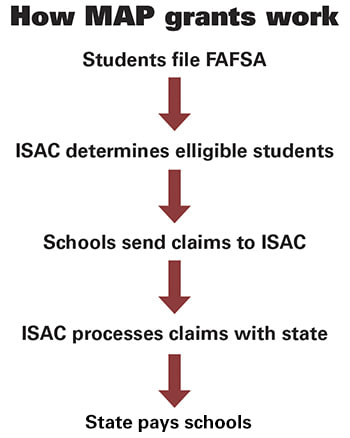 In its 2015-16 budget, the university set aside $6 million for MAP grant funding for students in case Springfield was slow to act. In a statement, a university spokesperson said this "contingency fund is not yet depleted, but it is still on reserve pending the state's decision and it would, in that event, be sufficient to cover Fall Quarter awards."
If MAP funding is left unapproved, students will not need to repay DePaul, the university said.
Traditionally, schools notify students of their award in the springtime, submit MAP claims to ISAC and the state pays out funding to universities. But like many social services this year, there is not yet any funding for MAP because Illinois has failed to pass a budget for the 2015-16 fiscal year, and therefore no money has been paid to schools.
"We're not even to the point where we're discussing the merits of these programs," said Illinois State Rep. Ann Williams, whose jurisdiction includes DePaul. "We're unable to move forward with discussion on these very critical programs, like MAP and numerous human services programs, because the governor is holding them hostage."
Since failing to agree on a budget, Illinois Democrats have pushed social services bills, including MAP, through the legislature piecemeal. Though the most recent MAP bill passed through the state senate in August, it has stalled in the house of representatives, with the most recent vote on Nov. 10 failing to garner enough votes to override a veto from Gov. Bruce Rauner .
"I remain hopeful that our state leaders will resolve their differences and pass a budget, but it is less clear to me whether they will do so in time to be able to fund MAP," DePaul President Rev. Dennis Holtschneider C.M. wrote in an Oct. 28 letter to students, faculty, staff and alumni, which urged them to advocate for MAP to state representatives and Rauner.
Since funding for the program is renewed on an annual basis, advocating for MAP funding is not new. The Student Government Association organizes lobbying efforts annually, but usually this is reserved for the springtime when the legislature convenes to discuss the next year's budget.
This year, SGA launched its MAP Matters campaign in full force Oct. 27, plastering posters across campus and urging students to contact their representatives.
Because MAP directly affects about a fifth of the student body at DePaul, losing or cutting its funding could signal a shift in university culture, said SGA President Vanessa Cadavillo.
"We're really going to struggle to attract those low-income students, those first generation students and students who are from diverse paths of life," she said. "I think that's really going to impact the type of students we have here at DePaul."
More than half of recipients are first-generation college students, and half are so low-income that the federal government does not consider them able to contribute any financial resources toward higher education, said ISAC Managing Director of Communications, Lynne Baker.
"My parents, who are immigrants from Vietnam, their economic status isn't really high," freshman and MAP recipient Brian Tran said. "So it was hard, it was hard to come up with the money."
The average award for students at private institutions is about $4,000, and Tran was awarded a $5,000 grant. For now, he said his family should be able to manage even if MAP is cut.
"I know I'll stick around no matter what," he said. "I think DePaul has a really good educational program, one of the best in Chicago. But it's messed up, to be honest, to take that away from someone."
Like Tran, some are left angry and confused. SGA does not currently have the resources to send students to Springfield but Cadavillo forecasted a student uproar if it failed to pass. 
"Hopefully moving forward if it doesn't pass, we'll get enough support to bring students down to Springfield," Cadavillo said. "If not that, hopefully something like a demonstration downtown."
The university said it will explore long term solutions if MAP funding is not forthcoming by Spring Quarter.
"Longer range planning in the event MAP continues in jeopardy in future years is actively underway with any possible solution coming at a very difficult price in the university having to sacrifice other priorities in academic programs and student services," a university spokesperson said.
For now, Valadez is also looking into other options: squeezing in scholarship applications between finals deadlines or attending a local community college, though she said her credits are unlikely to transfer neatly. As someone who takes pride in her academic prowess and hard work ethic, she said it's a frustrating fight.
"I graduated with a 4.3 GPA, I graduated with honors, I'm a National Merit," she said. "Why is it that I have to struggle so hard just to find the money to go to school?"