'Justice for all?' event addresses past and future of Black Lives Matter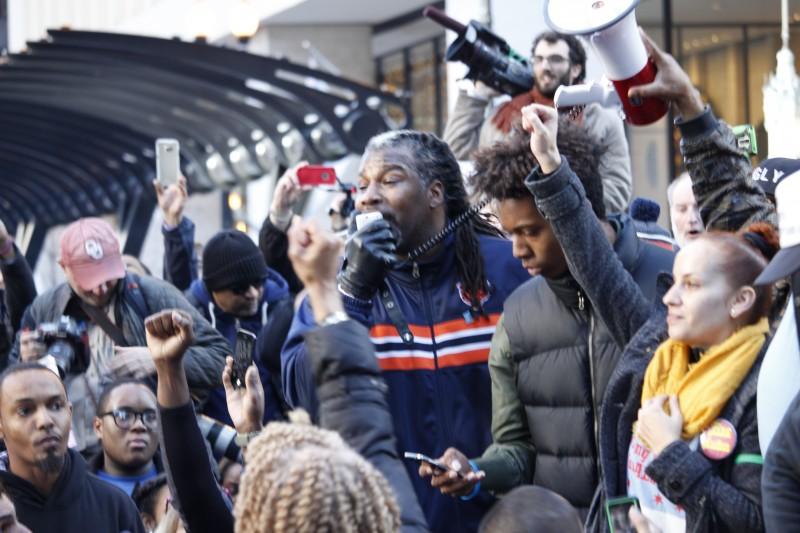 In 2011, DePaul professor Valerie Johnson turned on her television to find that George Zimmerman had been acquitted in the Trayvon Martin case. A feeling of disbelief overwhelmed her. 
"You see black lives getting murdered on the street, innocent lives, and it baffled me and continues to baffle me that we people, people who call ourselves progressive, people who call ourselves concerned with humanity, can see these things and just go numb to it," she said.
Black Lives Matter began here, created by three women: Alicia Garza, Patrisse Cullors and Opal Tometi. The chapter-based national organization works for the validity of black life, and to rebuild the black liberation movement through a communal effort, with no sense of hierarchy, so that the movement as a whole, not solely a select handful of individuals, progresses.
Johnson spoke during an event Wednesday called "Justice for all?" that focused on educating the community on three key issues: origins, alliances and where the Black Lives Matter movement goes from here.
Black Lives Matter has adopted a series of tactics, the focus of which has been direct action, or as Johnson said, "taking it to the people." Protests and demonstrations have disrupted highways, bridges and tunnels. Outside of physical disruption, however, it has also sought to disrupt the profit motive as it did on Black Friday in 2015.
"In my life I've never really experienced racism, but being in those demonstrations you actually kind of see how people are prejudiced," senior psychology major Jeremy Pagan, who participated in the protests, said. "I wanted to make a change; and being part of these demonstrations you finally have the opportunity to stand for what you believe in."
Pagan began his involvement inside the classroom and then expanded that experience.
"It's been a transition. I got to learn about it, I got to experience it and now I want to see with that knowledge (how to fix some of the issues from it)," Pagan said, stating that his experience has shaped the research he will be using to pursue his doctorate.
While his involvement began in a community psychology class, others who attended Wednesday's event formed part of a class with Michael McIntyre, professor and head of the international studies department , who teaches a class on Black Lives Matter.
"It's sad to say but I've definitely fallen under the category of the people who are indifferent, or who have been indifferent, rather, not really understanding the issues and the strife that black people go through every day," Emily Irish Ryan, a student in one of McIntyre's courses, said. "I've started to understand that I will never understand what it is that black people go through every day, just in the same way that a man will never understand what a woman has to go through every single day and the subtle issues that we all go through."
DePaul history professor Tera Agyepong said this movement has definitely reshaped things in the classroom.
"I have certainly noticed a shift in the classroom because students from a variety of backgrounds are aware of the movement (even if they themselves do not participate in it), and many are concerned with the unjust and disparate destruction of black bodies the movement calls attention to," Agyepong said. "It has become a lens through which students filter their encounter with African American history in the classroom, and it has informed many of the questions they have and the conversations they want to engage in."
It must be made clear, however, that this movement is more than just about issues of police brutality, Johnson said.
"Police terrorism is not the totality of what state violence looks like," she said. "It is a tangible and palpable part of state violence; food deserts; that's violence, poverty, that's violence; homelessness, that's violence."
In essence, the Black Lives Matter movement is nothing more than the latest reiteration for equality.
"We do not live in a post-racial society," Johnson said. She said the socioeconomic disparity between blacks and whites in America that was present in 1865 is still present today. The presence of those who fall outside of this, the "successful blacks," does not prove that systemic change has occurred.
"In America, speaking for myself, it's a burden to be black." Johnson said. "You're always conscious of it."
In order for the healing process to begin, she said, people must move beyond the narrow confines of diversity. It is more than just different faces, but about employing different voices, as well.
"It's a human problem not just a black problem," Johnson said. "Silence is complicity. Indifference is more powerful than hate."