DePaul bans hoverboards from university buildings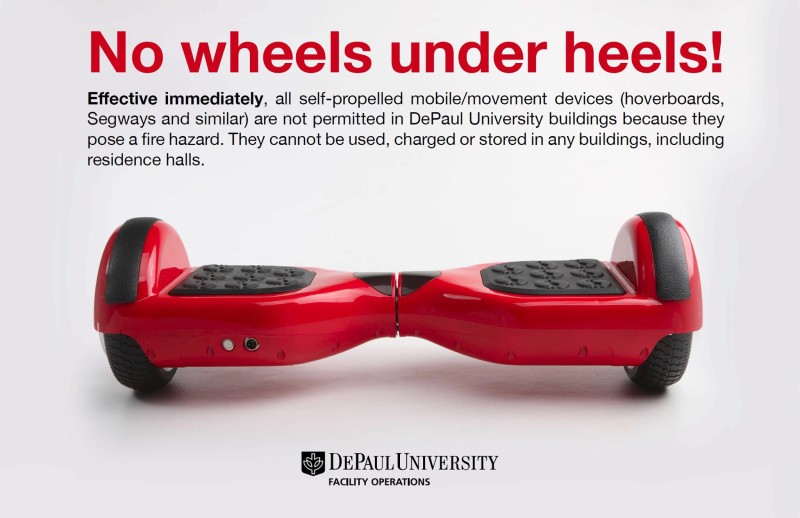 DePaul joined dozens of other universities across the country by prohibiting hoverboards from all buildings in the middle of last week, as announced by Facility Operations. The ban encompasses all "self-propelled mobile/movement devices," including hoverboards and Segways.
The move comes after the Consumer Product Safety Commission received numerous reports in December that these devises pose a fire hazard.
"There has been a good deal reported about actual incidents where hover boards have caught on fire, even when not in use and simply stored," DePaul's Vice President for Facility Operations Robert Janis said. "That is enough cause for concern to ban them from being in DePaul buildings."
More than 30 universities – including the University of Illinois at Urbana-Champaign – which have banned hoverboards from their buildings. Metra Rail also announced a ban on trains Jan. 15.
In a statement Jan. 20, Consumer Product Safety Commission Chairman Elliot Kaye commended universities and other institutions for prohibiting hoverboard use and "putting safety first while our investigation pushes forward."
Amazon is now offering refunds for customers who purchased hoverboards.
If students are found with a hoverboard in a DePaul building, they will be asked to remove it immediately, Janis said. Refusal would result in a referral to the Dean of Students Office.