SGA organizes MAP grant rally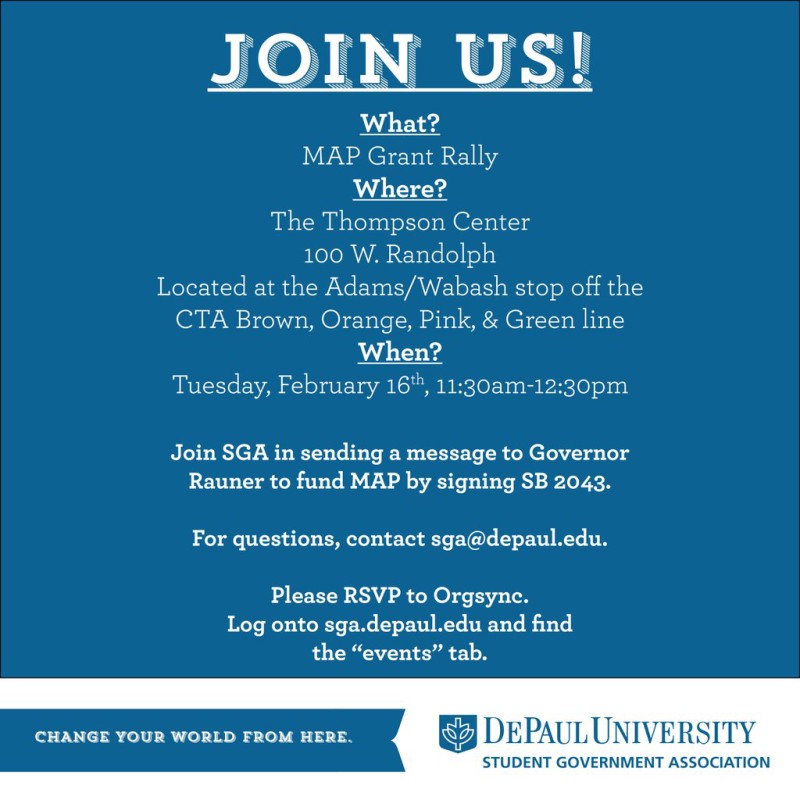 As a bill to fund MAP grants awaits a decision from Illinois Gov. Bruce Rauner, Student Government Association has organized a rally to gather support for its importance.
The event, which will take place at 11:30 a.m. Tuesday at the Thompson Center, will coincide with a similar rally in Springfield, as student and civic leaders hope to send a strong message to Rauner, who is expected to veto the bill.
Student Government Association President Vanessa Cadavillo said this was the first time in recent memory that SGA had organized a public demonstration. The organization worked alongside the Civic Federation and with DePaul's MAP Touchpoint group, which includes members of several administrative groups.
"I think our advocacy here in Chicago paired with the advocacy in Springfield will shake things up a bit," she said. "We're hoping that with our demonstration, this sends a strong message."
Without an Illinois budget, the state-funded MAP grants and several other civil services have been in limbo for more than the past six months. Though the state has yet to fix its budget crisis, legislators have passed a bill to fund MAP. Rauner is expected to reach a decision on the bill Tuesday.
DePaul will honor MAP funding regardless of a state budget through the end of the academic year, but next year remains to be seen. 5,000 students at DePaul receive MAP funding.
Cadavillo said SGA has emailed all of DePaul's MAP recipients to invite them to the Tuesday rally, along with all student organizations. Representatives from Columbia College Chicago are also expected to be present.
"We're hoping with the aid of Columbia, DePaul MAP recipients and non-recipients and organizations, that we can get a good number out there and send a strong message," Cadavillo said. "Not only does MAP matter to recipients, but all Illinois students.