DePaul, Chicago-area students rally for MAP grants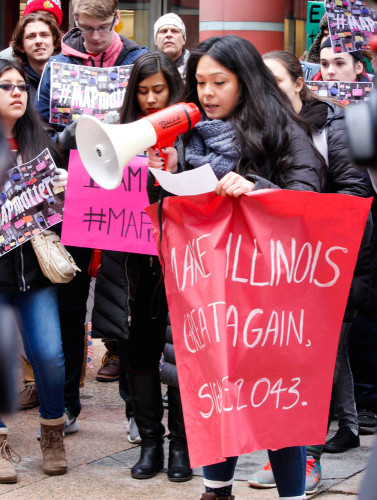 Though they were faced by a near-certain veto, more than 100 students, faculty and staff from several Chicago-area universities gathered outside the Thompson Center to voice their support for a bill that would restore MAP grant funding Tuesday.
The rally, organized in large part by DePaul's Student Government Association, called for Gov. Bruce Rauner to pass a bill which would fund the Monetary Awards Program, or MAP grant. MAP provides need-based financial aid to low-income and working class students attending Illinois colleges, and is awarded by the Illinois Student Assistance Commission (ISAC). Without a state budget, Illinois legislators passed a bill which would restore MAP and higher education funding, which Rauner vetoed late last week.
"Whether you're a MAP recipient or not, you're here today because you understand the impact it has on those who receive the grant, and the implications it has on the entire student body of Illinois if it isn't funded," Student Government Association President Vanessa Cadavillo said, speaking to those gathered. "We're seeing institutions turn away students who are MAP recipients and highly-qualified faculty and staff, because we've been left wondering whether or not the MAP grant would be funded."
Representatives from about 15 Chicago-area schools – including Lewis University, Columbia College Chicago and University of Illinois at Chicago, in addition to DePaul – attended the rally, coinciding with a similar demonstration in Springfield. Both were sponsored by Federation of Illinois Independent Colleges and Universities which asked DePaul to head the Chicago event, according to Peter Coffey, associate vice president for community and government relations at DePaul.
"It's crucially important to DePaul," Coffey said. "One-third of our undergraduates receive this. If one third of your classmates disappeared, what would DePaul look like?"
One of those 5,000 students is freshman Madeline Obrzut, who said the grant allowed her to both attend school at DePaul and live in the city. The River Grove, Illinois native currently shares a one-bedroom off-campus apartment.
"Basically, if I don't get my MAP grant, I'll have to go back to commuting, and I really don't want to do that because me and my father are paying for my education," she said. "It would be really hard for us to do so if I don't get this grant."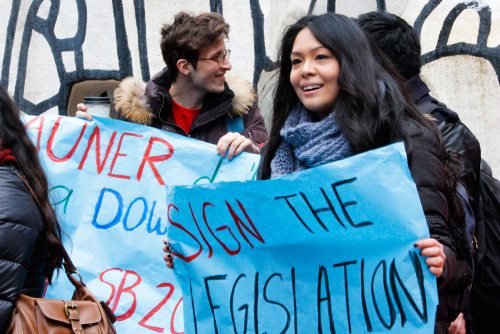 Though DePaul will honor MAP funding for students through the end of the 2015-16 academic year, the future beyond that is uncertain. According to a December 2015 report from ISAC, about half of Illinois institutions surveyed said they do not plan on crediting student account for MAP during the second semester. Only about a third of private institutions indicated that they planned on honoring MAP funding, while 24 percent said they were undecided.
In a statement Friday following Rauner's veto, DePaul President Rev. Dennis Holtschneider, C.M., said the university would honor funding for new incoming students who applied by the deadline set by ISAC.
"When it came down to either going into tons of debt, or not going into tons of debt, the grants and scholarships I got from DePaul and the state of Illinois really helped me to decide on where to go," Obrzut said.
Following Rauner's veto, Cadavillo said she was upset by the decision, but encouraged by the number of students across the state involved.
"Although it is disappointing that Gov. Rauner didn't really understand how important MAP is to DePaul, the thing to highlight here is that we definitely got a lot of community members engaged in our advocacy efforts," she said.
SGA will continue its ongoing efforts – including sending postcards to Springfield – and will be making its annual trip to lobby at the capital this spring.
"The combination of MAP and non-MAP recipients (involved) is overwhelming, but in a great way," Cadavillo said Tuesday. "We're energized, we're excited, we're doing this, we're making loud noises."