Enrollment down for fifth straight year, but diversity increases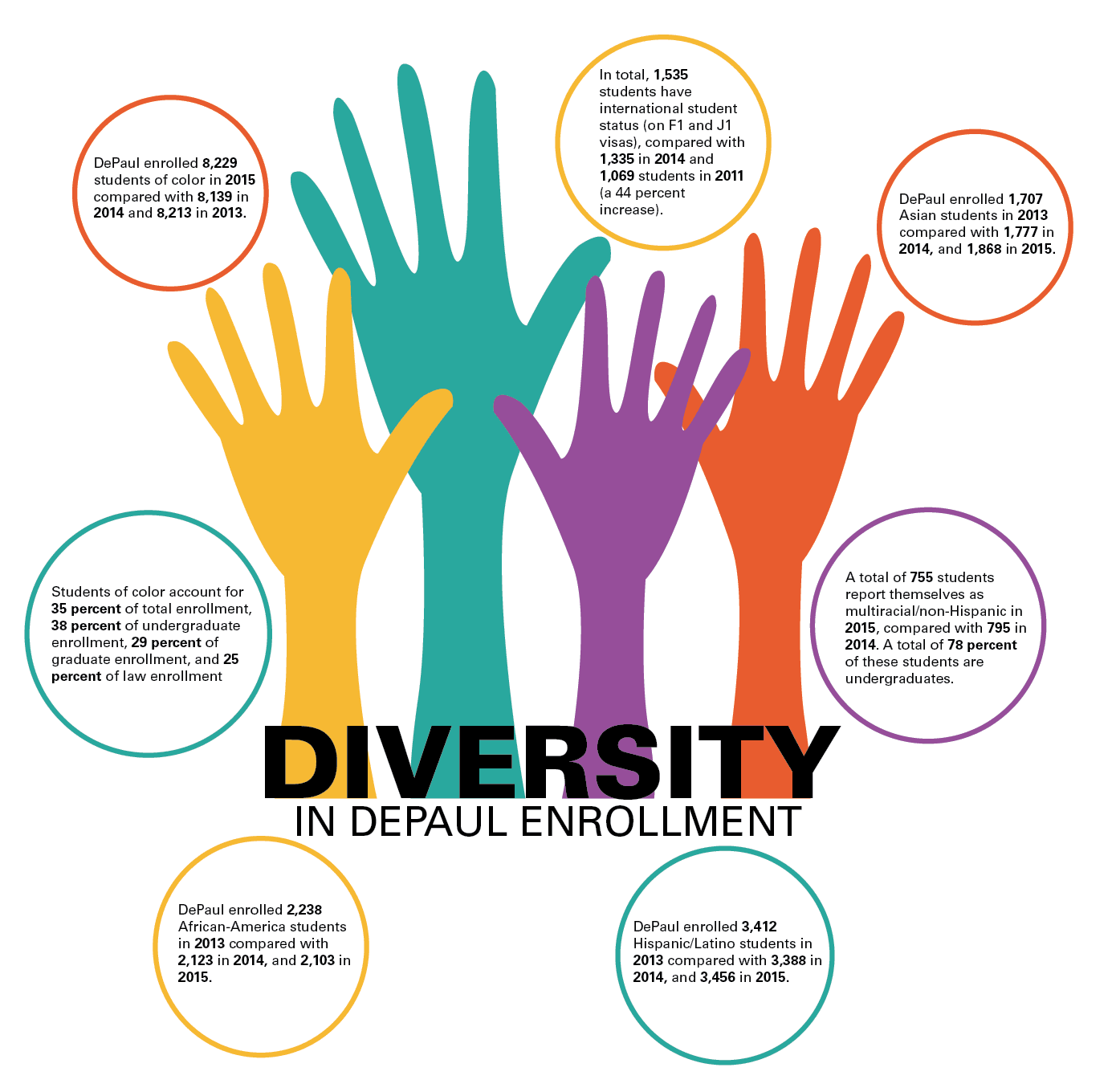 A fall enrollment summary conducted by the office of Enrollment Management and Marketing revealed a continual, but less-than-expected decline in the student population amid an environment that reflects national trends. The report also touted record racial diversity, a key part of the department's enrollment strategy.
Overall, university enrollment was 23,539 during fall quarter, a slight drop from last year and the fifth consecutive year of enrollment decline. Nearly 2,000 less students are enrolled now than were in 2011, when enrollment reached a peak.
Yet university officials said they are encouraged as numbers in every category (undergraduate, graduate and law) exceeded budgeted expectations and a record haul of tuition revenue was still collected in spite of the overall declines.
In an interview with the DePaulia last month, Executive Vice President Jeff Bethke said that the university tries to budget conservatively, which may partially be responsible for the better-than-expected numbers.
"Generally as a philosophy within the budgeting process, you try to budget conservatively," said Executive Vice President Jeff Bethke. "So, in the ideal world, you wouldn't have variances either way, but the real world doesn't work that way. Generally, you want to build a budget that is more likely to have a positive variance than a negative variance."
"I think we've been remarkably successful in a very challenging, competitive and volatile environment," said David Kalsbeek, the university's  senior vice president for Enrollment Management and Marketing. "As you saw, full-time undergraduate enrollment is very stable. We're seeing some declines not unlike other institutions in part-time adult enrollment and graduate enrollment, (which) varies considerably by program and college."
Taking a closer look, the College of Liberal Arts and Sciences (LAS), School of New Learning (SNL), College of Education (COE) and the Law School continued to see declines, each down at least 25 percent from 2011 and still shedding students. On the flip side, the College of Computing and Digital Media (CDM) and College of Science and Health (CSH) have maintained their solid growth, up 28 and 20 percent respectively from 2011. CDM in particular has been a university bright spot, up more than 450 students from last year when combining its undergraduate and graduate programs.
CDM is also a cash cow, providing the university with its largest operating margin at just over 40 percent, more than two and a half times better than the university's overall operating margin. The school's undergraduate enrollment also surpassed LAS' for the first time this year, underscoring the continuing trends both nationally and at the university.
"The university is fortunate to have a rich variety of academic programs," Kalsbeek said. "It's like (having) a diversified investment portfolio – you can have areas that grow and areas that are in decline and trying to keep it all in balance is key to DePaul's success."
Demographics of New Freshmen and Transfer Students by College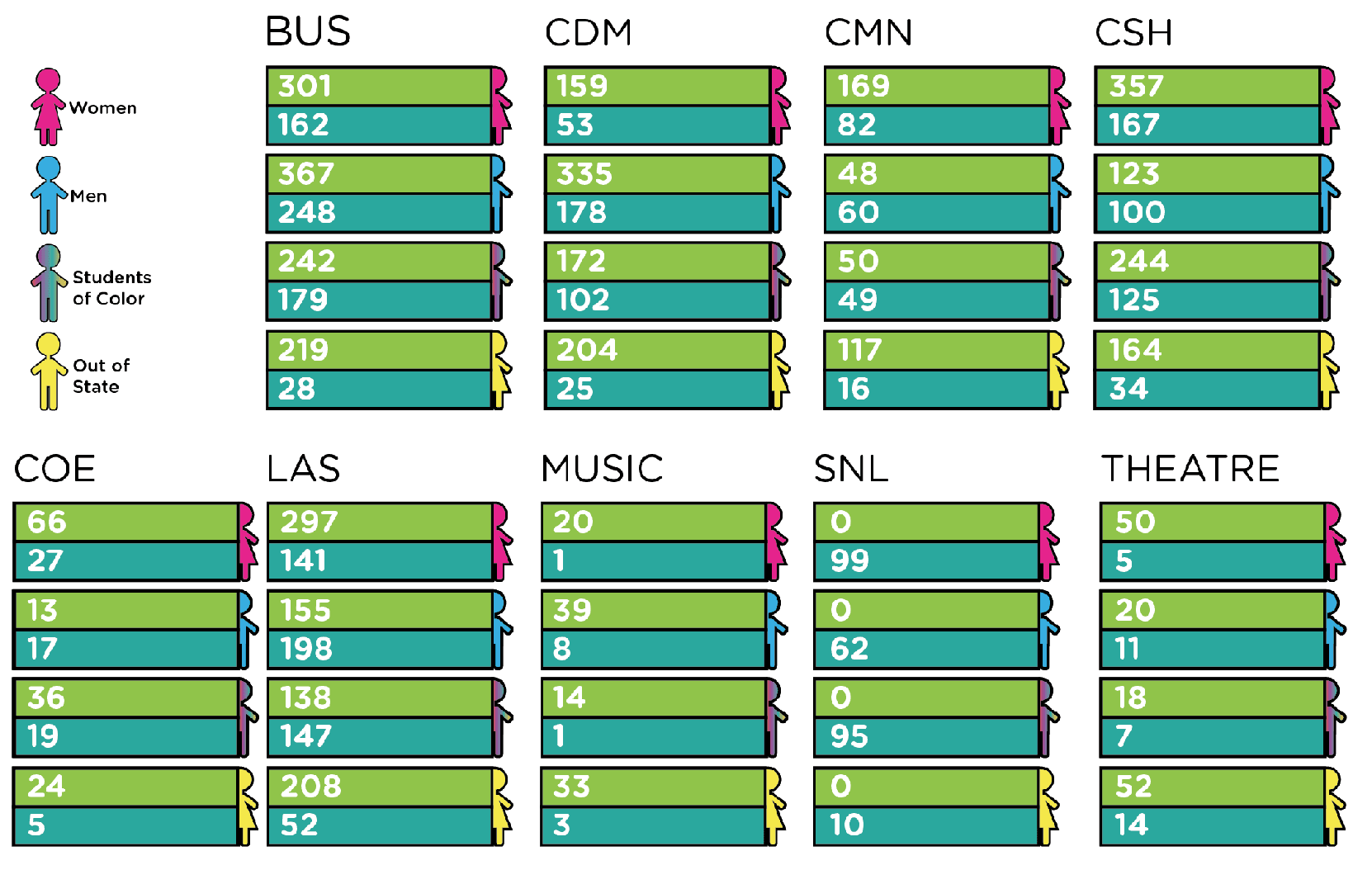 While DePaul has aggressively promoted its growing colleges over the last few years, most notably with the Big Data Campaign, Kalsbeek said that most of the enrollment trends at the college level reflect shifting demands in the marketplace.
"The declines we have mirror changing levels of demand by program. For example, we have seen a sharp decline in students seeking a graduate degree in education," Kalsbeek said. "Students statewide, there's been about a 50 percent decline in students seeking a graduate degree in education over the last few years. And so the decline we've seen is a reflection of gradual decline in interest."
"It's a tough market for teachers now and we're an expensive program." Kalsbeek said. "It's not surprising that we would see some decline there. And it'll come back. These things tend to be cyclical."
To that end, the COE has actually increased it's graduate student population last fall in spite of an overall enrollment decline in the college.
According to university controller Sherri Sidler in an interview with the DePaulia last month, the university tries to anticipate fluctations in enrollment, but certain programs, such as graduate-level courses can be tough to predict.
"There's less market data out there to project those," Sidler said. "So we're pretty good on the undergraduate side and we come in really close to that little bit of conservatism that we put in, but the graduate programs were the ones that were volatile and those are the ones that have less data available to plan with."
While fluctuating slightly, enrollment in the School of Music, The Theatre School, the College of Communication and the business school remained relatively stable.
Overall, undergraduate enrollment stood at 15,961 and graduate and law school enrollment at 7,578. DePaul remains the largest Catholic university in the country.
The fall enrollment summary also revealed that DePaul has achieved record diversity as 8,229, or 35 percent of all students enrolled, are students of color.
"While many institutions talk about improving diversity, we achieve it," Kalsbeek said. "It is an integral part of our enrollment strategy."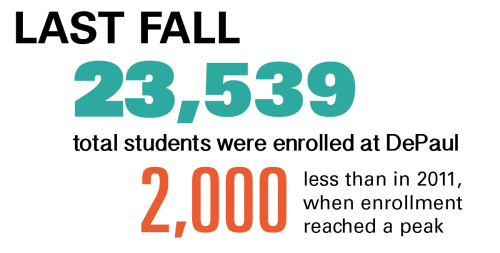 Digging into the numbers,  the growth appears to have been partially fueled by an uptick in international students, many of which are not eligible for federal financial aid and therefore must clearly display an ability to pay before admittance. Most of  these students are from Asian countries or Saudi Arabia.
The students of color who saw increases were those of Hispanic/Latino and Asian descent.
When compared to state and national demographics, African-Americans remain underrepresented at DePaul. While remaining relatively stable over the past few years, the number has declined in the past year even with the growth shown by other groups.
Kalsbeek, however, said DePaul does a better job than many of its peer institutions at reaching out to students of color, who are disproportionately low-income, especially considering the university's price point.
"Connecting it back to a revenue point of view, we're an expensive institution. We're a tuition-dependent institution, so the only we can pay the bills is through tuition revenue," Kalsbeek. "Yet we enroll a significant share of students for whom an institution of this quality and therefore this price is by any measure out of reach. And yet we have a significant share and a larger share than our peer institutions of students that are low income."
One of many ways the university attempts to reach out to these students is through several partnerships with Chicago Public Schools (CPS). Throughout the year, students from several CPS schools take field trips to visit campus; the university has long been a partner with the school system's International Baccalaureate (IB) curriculum.
"We have more Chicago Public Schools graduates coming to DePaul than any other selective private university, hands down," Kalsbeek said. "We are that school of choice for those students who are looking for a private higher education alternative. Nobody else is even close."
The share of this year's freshmen from Chicago is 18 percent, compared with 41 percent of students coming from the rest of Illinois and 41 percent from out of state or the country.
"Our total undergraduate enrollment is still disproportionately local because we rely so heavily on transfer students and most of those transfer students are from Chicago area community colleges," Kalsbeek said. "And so, because we have such a higher reliance on transfers, certainly more than other private universities, we end up drawing from a more local base than if we only enrolled new students as freshman."
Nearly 1,619 undergraduate transfer students enrolled at DePaul last fall, 61 percent of them from Illinois community colleges. College of DuPage, Harper College and Oakton Community College were the top three feeder schools. Kalsbeek credits this successful pipeline with the close relationship DePaul has with local community colleges.
"We have excellent partnerships with these schools. We have worked with our faculty and the faculty at these colleges for years in developing close articulation agreements so students know what course they take there will count toward their degrees here," Kalsbeek said.
One example is DePaul's Admission Partnership Program (DAPP), which allows students to take advantage of university resources while enrolled at a community college.
"We intentionally work with a student who is applying for admission to DePaul and for whatever reason, we think they'd be best served by starting at a community college, we have a pipeline program where we will enroll them as a DAPP student," Kalsbeek said. "They will enroll at that community college being jointly admitted to DePaul and take advantage of some of the advising services at DePaul and at the time we admit them, even though we're going to steer the student and work with them while they're at a community college for two years, the catalog that binds for their degree is the same one that was in effect when we admitted them into the DAPP program."
Kalsbeek said transfer students are a key part of the university's enrollment strategy. And while the marketplace is getting more competitive with students applying to more colleges and universities advertising more in the Chicago area, Kalsbeek said DePaul has never had a problem getting and retaining local students.
"It's an interesting question about what we have to do to keep students from leaving Chicago. Being in Chicago is the primary draw," Kalsbeek said. "And when we talk to students from out of state, the opportunity to study in Chicago is the hook. It is our brand."