UPDATED: Water main break causes flooding in McGowan South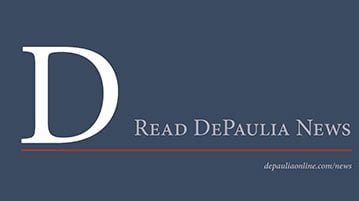 A flood recorded via Snapchat occurred on the first floor of McGowan South Monday morning. (Video courtesy of Peter Kinsella)
DePaul students reported a water main break on the first floor of McGowan South Monday morning. According to a flyer posted outside the building, McGowan South will be closed all day due to the break and all classrooms are currently unavailable.
Bob Janis, vice president of facilities operations, said that a 4-inch water main in the ceiling failed causing water to flow down into the first floor. The flood occurred at 8:30 a.m.
"We are in the process of extracting water and cleaning up, as well as repairing the pipe joint," Janis said. "We are hoping to re-open the building for evening classes on floors two through four, and looking to re-open the first floor classrooms for morning classes."
The final decision to open the building will be made within the next several hours, Janis said.
Despite the immediate response, Janis said that further work will need to be done in the upcoming weeks.
"We'll be completing ceiling and wall repair work over the next week or two," Janis said. "We'll do that in time frames that won't disrupt academic use further."
Students are urged to contact their instructor for more information about the location of their classes.
Classes being relocated @TheDePaulia pic.twitter.com/loV38zeTAH

— Jessica Villagomez (@JessicaVillag) February 29, 2016
UPDATE:
McGowan South will re-open for evening classes after all, Janis said. The building will be open for evening classes on the second, third and fourth floors.
"The whole building will be available for use in the morning for the regular academic schedule," Janis said.