DePaul Dining Services brings back stir-fry, residents rejoice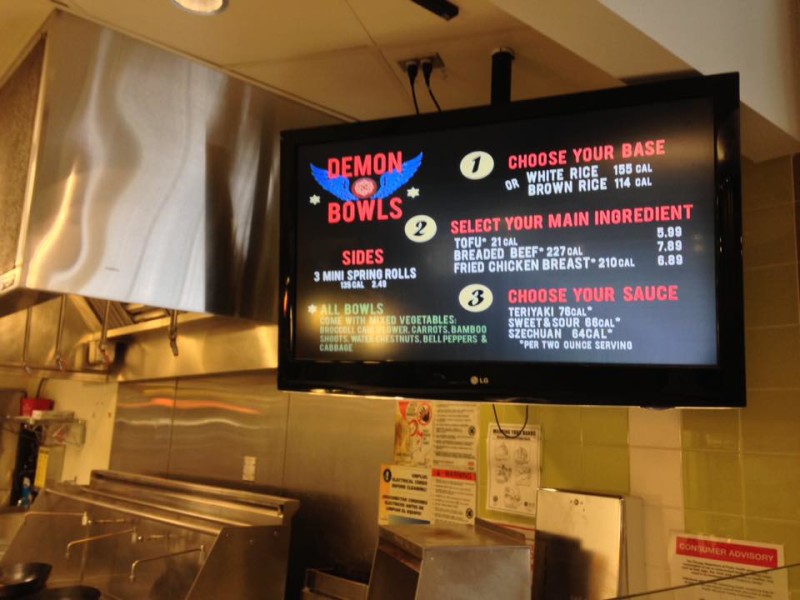 Yes, the rumors are true: stir-fry is back by popular demand. The build-your-own station, which debuted in Lincoln Park last fall, is returning – albeit in a simpler form – thanks to students' requests, according to DePaul Dining Services Resident District Manager James Lee.
Dubbed Demon Bowls, the station will allow diners to choose brown or white rice; tofu, breaded beef or fried chicken; and teriyaki, Szechuan or sweet and sour sauce. This time, vegetables come in a blend – picking out individual vegetables often held up the line, Lee said – and noodles are no longer an option.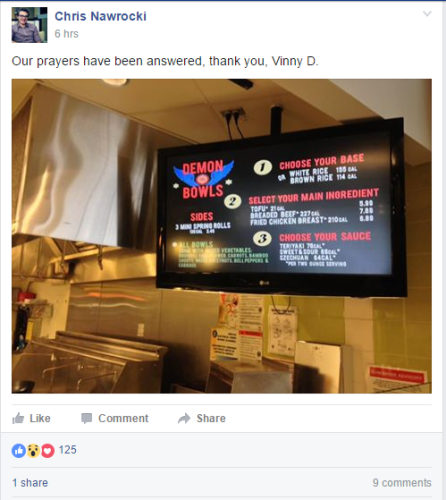 Because the station changes its theme each quarter, it switched to wings during the winter. In the meantime, freshman Chris Nawrocki, who frequented the Fall Quarter incarnation of the stir-fry shop three or four times per week, instead ate at The Ray or headed off campus to satisfy his stir-fry cravings. Thursday, he shared a photo of the station on Facebook.
"Given that (more than 120) people have liked my status about the news, I'd say there's a good group of fans for this place," he said. "I have a lot of vegetarian friends who are happy their favorite place is back. There was rumor of it coming back for months, and everyone was hoping, and DePaul delivered."
Freshman film student Arielle Toub said stir-fry was one of the few vegetarian options besides salad, grilled cheese and quesadillas. Winter Quarter, she supplemented her on-campus meals with goods from Whole Foods.
"I'm really glad they brought it back; it was pretty much all I ate Fall Quarter," she said. "I'm also happy because this is one of the few healthy options we can get with our meal plan."
Lee anticipates that the station will be open for lunch Monday, though the holiday weekend and staff training could push this back to Tuesday.
The change is one of several coming to DePaul Dining Services this quarter thanks to student feedback, he said.
Scoop, the ice cream bar, will eventually transition into a smoothie bar complete with options to add protein, flax and other add-ins. For those still craving frozen treats, fear not – the shake machine isn't going anywhere.
There will also soon be an option for students to order food in advance online for pick up.
In addition, DePaul students, faculty and staff will be able to purchase a gift card for $30 good for $40 worth of food. Lee said this option will be implemented to serve those who are not on a meal plan, but occasionally eat on campus.
These changes will likely be made within the next few weeks, he said. He also said he encourages anyone with requests and feedback to contact Dining Services.
"I feel like a lot of students assume that their say doesn't have a lot of impact, but it does at the end of the day," he said. "Our job is to feed the students, and we want to offer things that students want to eat and buy."