Pro-Trump chalkings spark outrage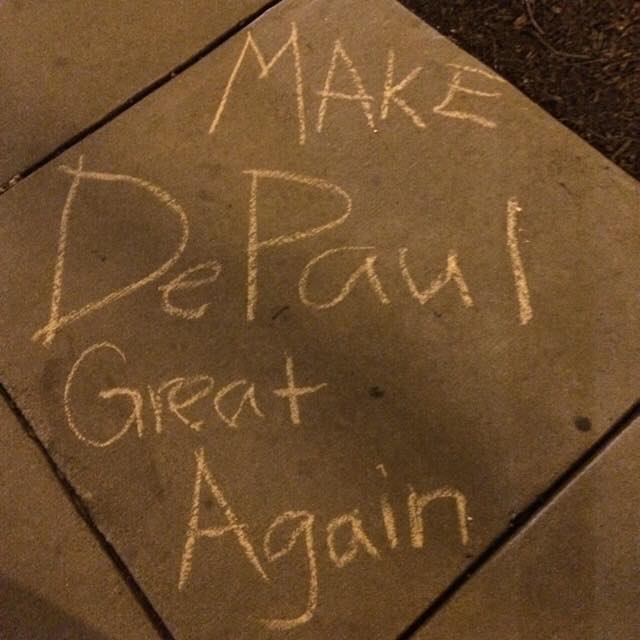 Phrases such as "Make DePaul great again," "Blue Lives Matter"and "Trump Train 2016" were chalked on DePaul's Lincoln Park campus late Monday night before being removed by the campus grounds crew sometime before mid-morning Tuesday.
The chalkings – which mimicked Republican candidate Donald Trump's rhetoric, and praised conservative values and candidate Ted Cruz – caused outrage among some students on both sides of the issue. Some took to social media to voice their concerns.
"It's sad that even at a school as diverse and accepting as DePaul, I still feel attacked," wrote one student in a DePaul Facebook group. "But I'm staying and am gonna thrive here anyway and maybe this organization will be held responsible for their actions."
The chalkings were organized by DePaul College Republicans, which posted photos on their Facebook page at 12:48 a.m. Tuesday morning. College Republicans President Nicole Been voiced her concern about free speech on Twitter.
"Thanks @DePaulU for limiting the free speech of all those who disagree with your agenda. Chalk is all washed away by this morning," she wrote.
Thanks @DePaulU for limiting the free speech of all those who disagree with your agenda. Chalk is all washed away by this morning.

— Nicole Been (@Nicole_been) April 5, 2016
In an email, Been wrote that College Republicans held the chalking "as a new way to promote Republican candidates and conservative ideas just as we would on our promotional tables and posters."
"I am surprised by the assumptions people are making about our intent and who we are as people is not reflected by what others are calling us," she wrote. "I can say all assumptions on the pages I've seen are false about timing and intent."
[UPDATE: DePaul's president responds, university clarifies chalking policies]
The movement, known widely as #TheChalkening, has occurred at several universities across the country – including the University of Illinois, Emory University, Kansas University and the University of Michigan – sparking outcries from students both about freedom of speech and racism.
In a statement, the university said that campus grounds crews made an independent decision to remove the chalking in part because of its content.
"After some investigation, it turns out this happened for two reasons.  First, the crew regularly cleans up chalk messages on our sidewalks.  This is a part of their duties.  Secondly, some among the crew considered the messages inflammatory. The crew has agreed to consult about such matters in the future."
"The university has policies on political campaigning activities on campus, free speech and the manner in which we conduct ourselves with respect for all affected by our speech.  In the next few days, we will send a more comprehensive statement reminding the campus community of these policies in this particularly charged political time in the United States."
Student organizations may use facilities for partisan political movements — as long as it is clear that they do not represent the views of the university — and individuals may post political flyers and slogans in their rooms, as long as it is not posted for public viewing. Chalking is allowed outside the Student Center, though university policy states that "messages may not contain profanity or may not abuse, assail, intimidate, demean, victimize, or have the effect of creating a hostile environment for any person or group of people based on any of the protected characteristics in the University's Anti-Discriminatory Harassment Policy."
However, it remains to be seen whether or not College Republicans were in violation of any of these policies. Vice President for Student Affairs Gene Zdziarski said this issue demonstrates that there is some confusion about what political campaigning is allowed.
"We are in the process of addressing this with the student organization responsible for creating, and the staff who removed, the chalkings," Zdziarski said. "Our next steps will be to work on closing this knowledge gap and clarifying practice soon with a campus communique.  As we move through the campaign season, we ask that all members of the university community become familiar with and abide by the 'Political Campaign Activity' policy."
This tension comes after a year fraught with difficult speech on campus and in DePaul Facebook groups.
"I'm disgusted but not surprised, because these thing happen all the time on campus," junior Michael Lynch said. Lynch, who also met with fraternity leaders after one of their members wrote racially loaded statements in a DePaul Facebook group,  is involved with Black Student Union, Men of Vision and Empowerment (MOVE) and is a student executive board member of the Steans Center.
While he said he respects free speech and the right to support a candidate, he also said that Trump's racist comments do not need to be included in the conversation and have no place on campus.
Moving forward, Lynch is hoping to meet with Latino student leaders, College Republicans, Young Americans for Freedom and other members of the DePaul community to end what he sees as an ongoing issue.
"I think it's important to note that as we are in the midst of an intense political season, we remember that each of us has the right to our own, personal opinion," Student Government Association President Vanessa Cadavillo said. "However, it is times like this that remind us that as a Vincentian community we must do everything we can to respect one another and take that into consideration in the way that we deliver our beliefs."
Cadavillo said that SGA, as part of the President's Diversity Council, is working to collect feedback and implement initiatives to help underrepresented groups on campus. These actions — including cultural competency training and the formation of six task forces — stemmed from a meeting between BSU and DePaul President Fr. Dennis Holtschneider, C.M., earlier this year.
"What happens is that students don't get reprimanded or disciplined for them, so it happens again, and we have to respond again," Lynch said. "It happens again and again and again, because no one is looking at the problem as a whole."
Editor's note: A previous version of this story said the chalkings were also organized by Young Americans for Freedom. A YAF representative confirmed that some of its members were involved, but College Republicans organized the chalkings. 
View Comments (11)