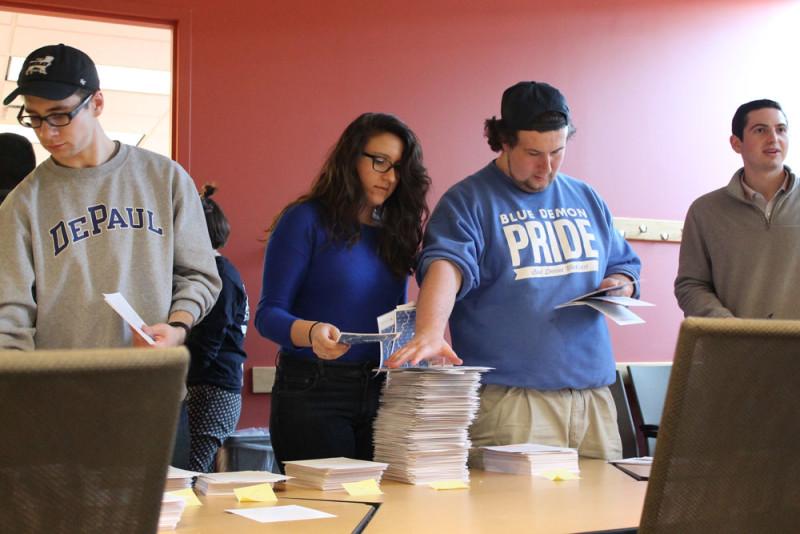 Members of Student Government Association (SGA) and the general student body will take a stand in Springfield for MAP grants on Wednesday, April 20.
Part of this includes hand-delivering MAP advocacy postcards straight to the desks of State Senate and State House representatives, as well as Governor Rauner.
Over the last few months, SGA has helped students, faculty, staff and citizens sign over 3,000 postcards. Vice President Ric Popp expects close to 3,200 postcards to be delivered to Springfield. This exceeds last year's total by 500, he added.
Each postcard has been signed as well as personalized by finishing the phrase "MAP matters to me because…".
Responses to finish that sentence included, "over 5,000 of my peers rely on the MAP grant," "MAP makes education more affordable for even those who don't receive it," and "The Vincentian mission fosters inclusivity. Without MAP, we can't fulfill our mission of supporting a diverse student population." SGA provided these and others on a sheet of example responses to help inform the student body about the effects of MAP.
The handwritten message allowed students to personalize the cards, and "sharing a story goes a long way," Vice President Rick Popp said.
In Springfield, 500 postcards will be delivered to Governor Rauner. The rest will be split between members of the State House and the State Senate for approximately 1,350 postcards delivered to each branch total.
"A lot of students I talked to already knew about MAP and a lot were passionate because they are recipients of MAP," Senator for the College of Science and Health Madeline Bolton said. "The whole student body knows about it."
SGA members spent Thursday night organizing the postcards and addressing each to the correct representative.
All of this work has been leading up to the advocacy day in the capitol, where SGA members will spend the day delivering the postcards to different offices.
"It will make a difference to be seen by all the people in Springfield," Bolton said.
Popp and Vanessa Cadavillo will speak with several legislators about what the impact of MAP grants, and the lack of MAP grants, looks like at DePaul and other schools, according to President Cadavillo. Associate Vice President for Community and Government Relations Peter Coffey coordinates these meetings.
SGA's presence in Springfield will "give faces" to the issue of the lack of funding for higher education, Vice President Popp said.
The Illinois Board of Higher Education (IBHE) as well as several private universities will also have a presence in Springfield that day with demonstrations.
"The more people involved, the stronger the movement is," Senator for First Year Students Andrew Willett said.