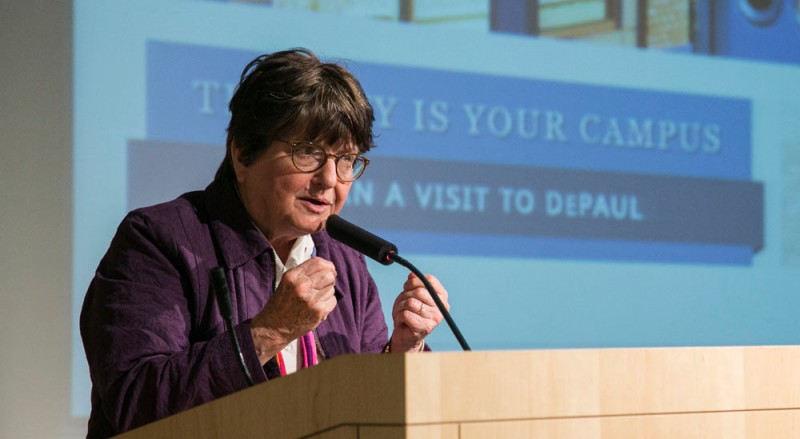 Standing behind a podium in one of the meeting rooms in DePaul's Student Center, wearing her signature purple jacket, Sister Helen Prejean begins to tell a story.
The story is about a man named Richard Glossip, who is currently sitting on death row in Oklahoma for the 1997 murder of motel owner Barry Van Treese, a murder Prejean believes Glossip did not commit.
Prejean found law yers to take Glossip's case pro-bono, but also mobilized a national media effort to raise awareness about his case and his innocence. She even managed to get Pope Francis and the Papal nuns to put pressure on the state government not to execute him.
"People were calling … the lines were filling up … the world was watching and people were getting it out on the social media," Prejean said. "When things were at their height, 300 million people in the world had heard … Richard Glossip's name."
Prejean's efforts and a problem with the drug cocktail used for lethal injection led to a stay of execution. This was but a minor victory for Prejean and Glossip, who is still imprisoned and sitting on death row.
The story of Richard Glossip is one of the many stories Prejean has to tell.
This is Prejean's third visit to DePaul since 2014. She spends most of her days traveling around the country telling the story of her experience with the death penalty and advocating for its abolition.
Prejean began her work with death row inmates in 1981. After moving into the St. Thomas housing projects in one of New Orleans poorest neighborhoods, Prejean became pen pals with Patrick Sonnier, a convicted murderer waiting to be executed by the state of Louisiana.
Prejean became Sonnier's spiritual advisor before ultimately witnessing his execution. This experience awakened Prejean to the darkest realities of the death penalty and she decided to dedicate her life to not only counseling inmates sitting on death row but also to work towards abolishing the death penalty.
In 1994, Prejean wrote a book detailing her experiences called "Dead Man Walking: An Eye Witness Account of the Death Penalty." The book became a bestseller, enjoying the No. 1 spot on the New York Times Bestseller List for 31 weeks.
Just two years later, the book was adapted into a film, directed by Tim Robbins and starring Sean Penn and Susan Sarandon, who played Prejean.
Matt Cook, a junior at DePaul, saw Prejean's book and the film as eye opening.
"After watching and reading Dead Man Walking, I never really realized that the justice system was so unjust and Sister Helen really emphasized that in her book," Cook said.
Prejean credits the people she met while living in the St. Thomas housing projects with teaching her how to write.
"I lived this privileged little white life of privilege in Baton Rouge and was never in the company of people struggling with poverty and racism, and they taught me, they graciously taught me … and so I began to write."
Through her book and lectures, Prejean has become the face of the struggle against the death penalty. But for DePaul students, like junior Maggie Mech, she is also a role model.
"She's devoted so much of her time but she's also so well-respected and so…well-known in the world just because of how smart she is and how much she has done for all different types of people. I think she totally embodies Vincentian values" Mech said.
The DePaul Office of Mission and Values described the Vincentian identity as "…above all characterized by ennobling the God-given dignity of each person." While values like community, service and reflection have guided Prejean's work, she has always placed special emphasis on dignity.
"
"We have a savvier, smarter group of young people coming up…I am very hopeful about young people in this country and how they are helping us." — Sister Helen Prejean
On her website, Prejean expresses her belief "in the dignity and rights of all persons and recognize that government-sanctioned killing … is a violation of those rights and a denial of human dignity."
Prejean hopes to raise public consciousness about the death penalty and the impact it is having on society. One group that Prejean thinks is especially important in the fight to end capital punishment is the millennial generation.
"We have a savvier, smarter group of young people coming up … I am very hopeful about young people in this country and how they are helping us," Prejean said.
DePaul junior Nora Melton agrees with Prejean's assessment that young people should get involved with social justice issues.
"I definitely think that youth and millennials need to be involved in social justice issues today," Melton said. "I love that Sister Helen Prejean is really including us and making us feel important … we have so much power even if we don't realize that we do … if we really apply ourselves to change something, we can make a really big difference."
As she continues to travel the country and the world, Prejean is hopeful that as more people are confronted with the inhumanity of the death penalty, the movement to abolish capital punishment will grow stronger.
"It's never going to be one man, it's never going to be one thing. But I think of consciousness raising in the culture  (like) the way a pot comes to boil," Prejean said.
"When a pot comes to boil you don't have one great big fat bubble comes up…but you have little bitty bubbles that start in the bottom … I believe that's the way consciousness changes."
Prejean believes that no matter what the crime, or who the victim, the death penalty does not constitute justice.
"(The death penalty) is pain, it's punishment for what you do wrong," Prejean said. "The safety of society is another thing … I believe, and we're beginning to see the first seeds of it to go towards more restorative justice."
A shift away from capital punishment and towards restorative justice is what Prejean has been working for her entire life. She is confident one day her vision will be achieved.
"I have met the American people and what I have met is not people wedded to the death penalty, it's just that we haven't reflected on it very deeply at all."
Racism is a fundamental part of Prejean's argument that the criminal justice system on a whole needs to be reformed. Not only does the current system disproportionately incarcerate African-Americans, but it is also biased against them when it comes to sentencing their killers.
In her years of counseling death penalty inmates, Prejean has realized the death penalty is reserved for people who kill white people.
"I don't know what made us think that we could design a process … and that we'd be so pure that there'd be no racism in it so if you killed people of color or you killed white people," Prejean said. "It's the same, it's equal."