Students scramble to find off-campus housing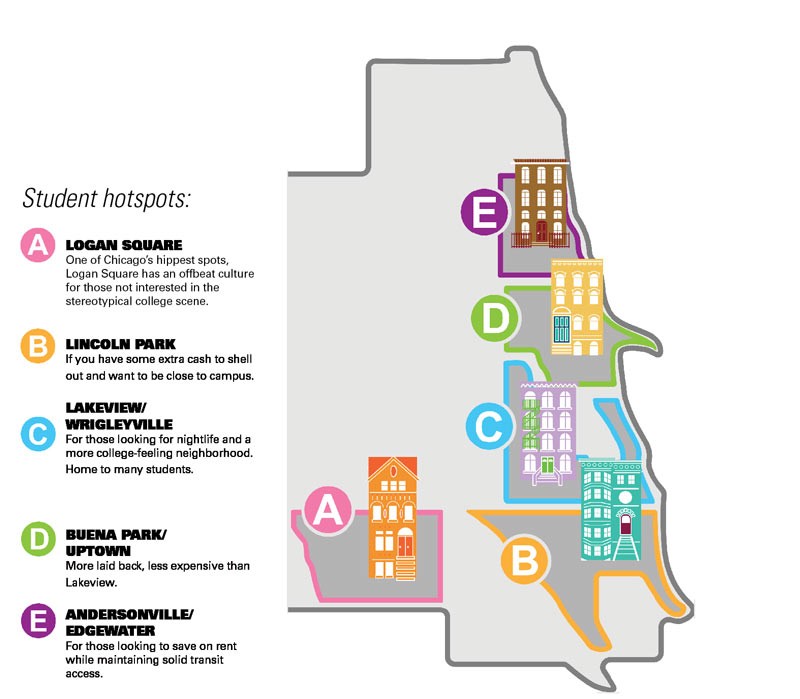 When Marly Prom and her two soon-to-be roommates arrived outside a respectable-looking building to check out an apartment listing in Lincoln Park, they immediately felt something was amiss.
"We're like, 'there's got to be something wrong with this,'" she said. "It wasn't necessarily a beautiful brick house, but very nice."
Before the illusion could continue, though, her Realtor texted them to say they were at the wrong address. The actual apartment — small, cramped, overpriced — represents the realities Prom and so many other DePaul students face as they embark on the off-campus housing hunt for this summer and beyond.
Chief among the list of challenges is cost. Chicago, which was ranked the seventh most expensive city in the world by UBS in 2015, is often bemoaned for its high rent prices.  And with the City Council's approval last October of a property tax hike that's expected to go into effect later this year, those rates are only going to get steeper.
According to Realtor Shay Hata, students could see shifts in rental costs as early as late August to September, which will make an already-competitive market even more overcrowded as landlords bump up rates to compensate for the higher taxes. 
"It's a challenging rental market right now for the most part, especially for the more affordable apartments," Hata said. "In the past, oftentimes tenants could negotiate to get maybe $50 off their rent, but this year is not really happening anymore. So renters should expect to pay full price and be in competition with a lot of other students."
Predictably, that competition is steepest in Lincoln Park and other neighborhoods close to campus. Timi Ikene, who is searching for a place in Wrigleyville with three friends, said it has been difficult to pin down a listing without it getting quickly snapped up by another renter.
"Even the other day (while) I was emailing back and forth with a potential listing that I found, things seemed promising until I checked the listing online and it was taken down," Ikene said. "It had been given to someone else."
She and her roommates have a place in mind in Wrigleyville, but haven't signed a lease yet. If for some reason it falls through and they can't find anywhere else to go, she said that they've also considered looking as far north as Rogers Park ­— about a 25 to 30 minute commute to DePaul's Lincoln Park campus.
[Read more in our Apartment Guide]
Charles Wurtzebach, chairman of the department of real estate for DePaul's Institute of Housing Studies, said that compromises like a longer commute are necessities of affordable off-campus housing.
"For DePaul students, the closer you go to campus, the more demand exceeds supply," Wurtzebach said. "Typically, for example, apartments in suburban areas are very affordable."
He added that students should keep in mind rent increases affect all tenants, including professional adults. This in turn creates more competition as students fight to keep up with older renters with steady jobs and established rental histories.
In order to mitigate this problem, Hata stressed that students have a guarantor — a parent who agrees to pay rent if the student no longer can — to reassure landlords that they will be paid under all circumstances. It also doesn't hurt for students to back up their applications with a few supplemental recommendations or references.
"Having a letter of reference from your past landlord for students that have rented before in the past would help a lot, just to say that this student paid their rent on time, that they didn't have loud parties, that they took care of the unit, that they left it in good shape and clean," Hata said, adding that a reference from a professor also works for first-time renters. "Those kinds of things go a long way to make landlords feel like they're going to be comfortable renting to students."
On top of that, she said, students should go to showings wearing professional and presentable clothing when meeting landlords, as well as consider signing a more stable two-year lease.
The stakes aren't so dire in all neighborhoods, though. Hata recommended looking in areas north of campus, like Buena Park, Rogers Park and Edgewater for cheaper — if farther away and less quaint — housing options.
Karolina Sileikaite, who will be living in the South Loop with friends from the Illinois Institute of Technology beginning in August, said she had virtually no problems securing an apartment in that area, which she attributes to its relatively remote location.
"We didn't pick such a great location because it's not really student friendly," Sileikaite said. "I mean, the Roosevelt stop is kind of dangerous, so not a lot of people want to live there."
Although the off-campus housing route is frequently challenging and always full of compromises, many students also agree that it's a necessary part of figuring out young adulthood in the city — a way to expand beyond the insular security of dorms and campus apartments, as well as Lincoln Park itself.
"I think it's kind of that thing where you're embracing your adulthood and going out," Prom said. "I kind of hate being babied into things. Not to say that living on-campus in university housing next year would be babying, but I think I kind of want to spread my wings and explore different neighborhoods and different parts of the city."