Students call for end to hate speech at Yiannopoulos protest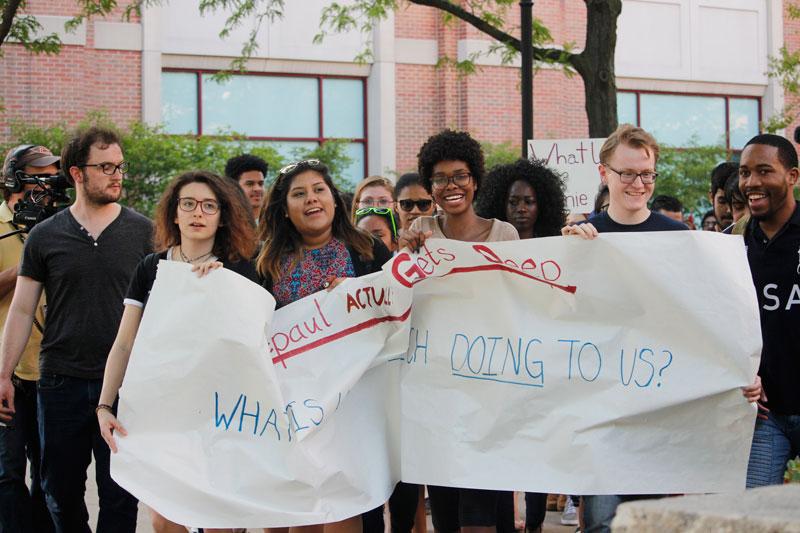 In the evening of a day already marked by controversial rhetoric, more than 100 students descended upon the quad late Tuesday afternoon to speak out against the appearance of self-proclaimed "internet supervillain" Milo Yiannopoulos at a campus event later that night.
The students – some of whom represented established activist groups and others who stood in solidarity – took to airing their grievances against the university and hate speech just hours before colliding with conservative attendees and Yiannopoulos himself on the quad after the event was disrupted.  
"We are constantly talking about being inclusive and diverse," junior Michael Lynch said. "However, when students of color, low income backgrounds and marginalized communities speak up, the response is, 'Stop being so sensitive.'"
While many said that Yiannopoulos' appearance at DePaul and platforms – such as equating feminism to cancer – were problematic, several students voiced concerned about what they said is an ongoing problem with intolerance at the university, and its failure to enact measures to end it.
"The problem isn't (Yiannopoulos) – he's one of many. The problem is why this private institution in Chicago in 2016 thinks it's okay to give a platform to hate," he said.  
Earlier Tuesday, "F— Mexico" was found painted on the Quad just feet from where the protestors spoke, which the DePaul President Rev. Dennis Holtschneider condemned as a hateful slur. The still-unknown perpetrator was caught by Public Safety and apprehended by the Chicago Police Department.
Charia McDonald, a resident assistant in University Hall, asked what the university would do to "make me feel safe in my own house."
"I live right there, and I saw that," she said, referring to the paintings Tuesday. "I don't feel safe in my own home, and I pay to be here."
Laura Springman, one of the leaders of Feminist Front, echoed the sentiment. The target of a tweet from Yiannopoulos earlier in the day, which featured a photo of her and other Feminist Front members with the message,"This is what a DePaul feminist looks like," Springman was disappointed in the university for allowing the event to go through.
"I think that it's unacceptable that DePaul is condoning the fact that a speaker is coming who has attacked students directly," Springman said. "I just think that's really inconsiderate. I pay tuition dollars. I shouldn't have to feel unsafe on campus."
"I shouldn't have to feel like the speaker that came is actively against me and my friends and stuff like that," she said. "It's just a really uncomfortable environment and it was not something I wanted to deal with today."
Others like senior Kiara Farmer pointed to incidents like April's chalking, during which College Republicans — which organized the Yiannopoulos event — wrote phrases such as "Build a Wall" and "Blue Lives Matter" on campus. The university erased the chalkings and cited its policy against political markings on campus, and College Republicans defended their actions as free speech.
Farmer, who is also an RA, said the chalking marked a definitive shift in campus climate, causing her to feel unsafe on campus.
"I'm just very hurt that DePaul didn't do more when the chalkings occurred, because if they had, we wouldn't have had people come back and write slurs in oil," she said. "We're not feeling sensitive, we're just not okay with what's happening."
Yiannopoulos and several of his supporters have argued that colleges provide a coddling environment for students, shooting down the notion of a "safe space." At the rally, students pointed to the need for an open environment to voice concern about what they deem as hate speech.
"It is important for you to feel free to say that 'I feel unsafe here,'" freshman Anais Donald said.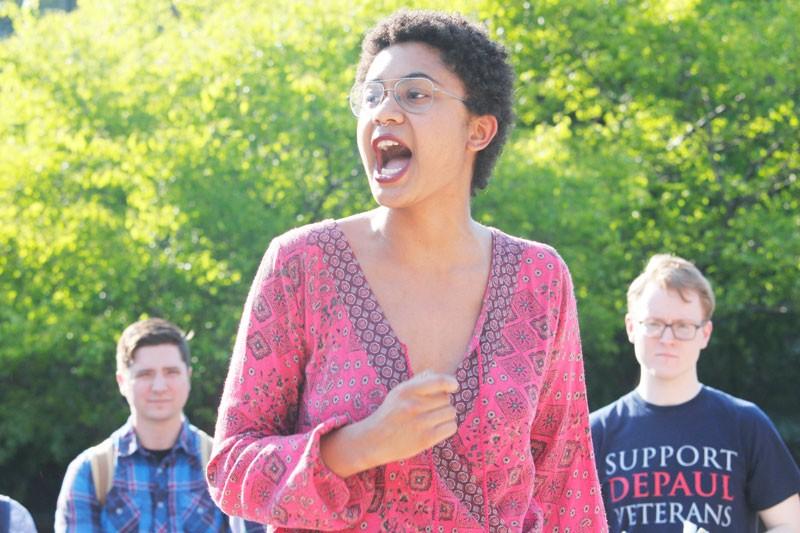 Though many at the rally voiced their agreement with free speech, they also said that there is a difference between free speech and hate speech.
"This isn't about being a Republican or a Democrat, this is about someone saying something hateful to a group of people that is directly aimed at them, and saying we have the audacity to call them out for it," freshman Anais Donald said. "Because I have a brown face, I am wrong for saying I am offended by your actions such as saying we should build a wall to stop immigration."
While most attendees stood in solidarity, around five or six men holding up pro-Donald Trump signs stood to counter the event. The men were registered guests for the Yiannopoulos event, but not DePaul students.
Since they were non-DePaul students on university property for an event other than the one they signed up for, Public Safety asked them to leave. The men at first refused, but dispersed once told the Chicago police would be called if they persisted.
Leaving the quad amid chants of "Racists, sexists, anti-gays, right wing bigots, go away," the group marched toward the Father Egan statue outside the Student Center, where several faced heated arguments from a cameraman from a conservative outlet who recorded them. Public Safety and several DePaul administrators warned him to remain on public ground. He was later ejected from inside the Student Center by Chicago police.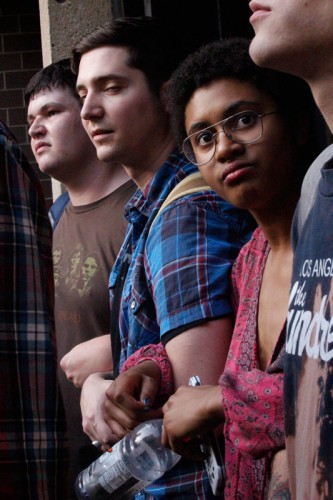 Contrary to their original plan, the group then entered the Student Center, chanting outside the first floor conference room where Yiannopoulos was speaking. While several tried to enter, increased security prevented them from doing so. After a few began banging on the doors of the event, several other students urged protesters to remain calm.
After two protesters inside the event interrupted it, Yiannopoulos, attendees and protesters spilled outside, erupting into a chaotic mass. Protesters barred entry into DePaul buildings and urged conservative supporters to leave, chain linking arms in front of the Schmitt Academic Center and west side of the Student Center.
Once Yiannopoulos left in a car, splinter groups from both sides faced off in heated discourse for more than an hour across campus and in front of the Student Center.  
Related:
View Comments (52)