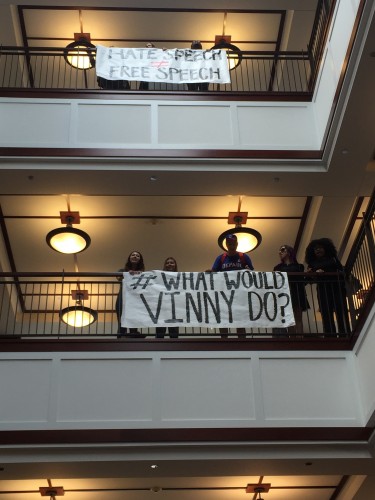 Student activists decried hate speech as they dropped banners, one stating "Hate speech ≠ free speech" and the other asking "What would Vinny do?",  from the third and fourth floor balconies of Arts and Letters Hall this afternoon.
The act comes after a week which saw political and racial tensions float to the surface following conservative writer Milo Yiannopoulos' visit to campus and incidents that include the drawing of an anti-Mexican slur on the Quad and the reported finding of a noose the sidewalk near a residence hall.
Around 20 student activists, split by floor, dropped the banners around 12:50 p.m. and started chants that included "Hate speech ain't free speech", "Can't stop the revolution" and "Black Lives Matter".
Sources said the event had been in the works for nearly a week and that it may have been the effort of a sociology class applying the events of last week to curriculum in the classroom.
About 10 minutes in, a university maintenance worker attempted to take the banners down, which led to chants of "Let the banner hang!" and then cheers when he indeed quit his effort.
"Let the banner hang!" pic.twitter.com/P1mMjhqfuO

— Brenden Moore (@brendenmoore13) June 1, 2016

The event would continue for another 10 minutes when Public Safety eventually took the banner down. The students then marched outside the building and dispersed.
The university appeared to have a heads up as an assortment of officials, including vice president for facilities operations Bob Janis, vice president for student affairs Gene Zdziarski and associate vice president for diversity Rico Tyler were quickly on the scene.
This is the fourth banner drop in recent years. One in April 2014 brought attention to the alleged rape culture in the athletic department, one in Spring 2014 called for DePaul to divest in companies that supported Israel's occupation of Palestine by dropping a Palestinian flag and one in the Student Center two weeks ago called for former Chicago Police officer Dante Servin to be denied his pension after he killed Rekia Boyd.