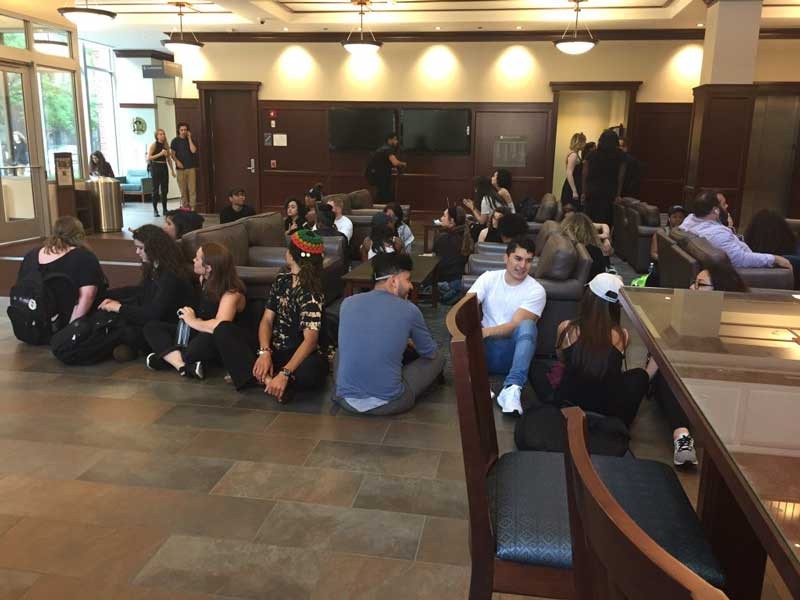 A small group of students expressed frustration over campus tensions and the university's corresponding response Wednesday evening by marching around the Lincoln Park campus and staging a sit-in in Arts & Letters Hall.
The event comes more than a week after conservative writer Milo Yiannopoulos' chaotic appearance at DePaul, which led to protests and exposed issues many students say have gone unaddressed for too long.
The protesters, a diverse crowd of around 20 students, zig-zagged around campus several times before staging a silent sit-in in the Arts and Letters Hall at 5:50 p.m. It follows events earlier in the day, which saw an anti-hate speech banner drop just hours before in the same building, and it preceded a town hall meeting hosted by the Black Student Union later that evening.
Senior Felicia Darnell, one of the leaders of the protest, said many students do not feel safe on campus following Tuesday's events, which she said made it even more important to speak out.
"We don't want hate speech on our campus. We certainly don't want hate speech bought and brought to our campus," Darnell said. "We don't want non-DePaul students to be able to come onto this campus and create chaos. We want an emergency plan. We want to feel safe."
"And I think a lot of people don't feel safe in their classrooms, outside their classrooms, in their dorms, they don't feel safe intellectually, there's more than one type of safety," she said. "Everything from physical to intellectual safety has been threatened this past week. And people are tired of it."
Many students said they felt, and were, personally attacked by people last week, whether on campus or on social media, by those who do not attend DePaul. Thoughts on Rev. Dennis Holtschneider, C.M.'s email to the university community were negative, with many saying they couldn't believe he apologized to the Republicans and that he received much of the information second-hand since he was in Normandy, France. Many also said that the apology went to the wrong people.
"I don't think that it was a very appropriate response at all," said student Sydney Porter. "I think he should have addressed the students who were harmed instead of apologizing to Milo. He came to our campus."
Many in the group, following their 10-minute long sit-in, would go the the BSU town hall, where a packed house of students discussed their experiences last week and next steps to ensure the harm many experienced never happens again.
"We won't necessarily be in college forever, but some of us will be black forever, women forever, queer forever, brown forever … we don't want to leave a negative legacy behind," Darnell said. "And I think one of the things we really hope to accomplish is really highlighting what the Vincentian values really are, which are letting people who are oppressed, people who are underprivileged be seen, be known and be loved."
At the town hall, students were able to speak about their experiences and address four administrators who were in the room listening.
University administrators, who included Provost Marten denBoer and Vice President for Institutional Diversity Liz Ortiz, spoke after students had the floor. They expressed an understanding for what students had said during the event, and also said they were working on measures at the policy level to address concerns stated throughout the night.
The issue of race relations and tension, as well as hearing the grievances brought forth by students of color in the week since Yiannopoulos came to campus and since other events over the year, remains unresolved.
Glen Curry, who attended the town hall, was glad that the forum happened and that plans for what's next are in the making since change isn't going to happen right away.
Anais Donald, a DePaul freshman, said the response from the administrators still felt they were making excuses and that the role of creating policies shouldn't fall in the laps of students.
"I was happy to hear people speak and to have this unity," Donald said. "But I think people shouldn't have to do the administration's job for them."
While some student organizations have officially called for Holtschneider's resignation, many in the meeting had an overall positive view of him despite consensus that his letter was disappointing.  
Holtschneider and denBoer will meet with faculty in a closed-door meeting next week on the university's Lincoln Park campus to discuss recent events. Students will not be allowed to attend.