DePaul Republicans chalk it out, again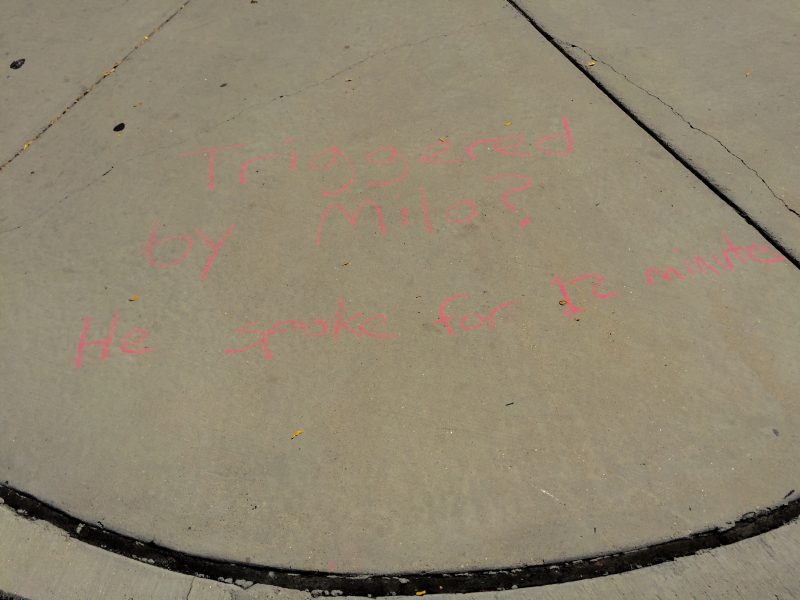 A sequel to April's 'chalkening', members of the DePaul College Republicans harshly criticized the university's position on free speech Tuesday in a series of messages chalked on the sidewalk outside university buildings on the Lincoln Park campus.
The messages, which were outside of the Student Center, Schmitt Academic Center and Arts and Letters Hall, were targeted at DePaul, a contrast from last April, when messages were definitively pro-Donald Trump. Messages alluded to the Milo Yiannopoulos incident from last May ("Triggered by Milo? He spoke for 12 minutes," one message read.), conservative writer Ben Shapiro's ban from speaking on campus ("Free #BenShapiro," read another.) and issues surrounding censorship in general ("Make freedom, not censorship.").
According to DePaul spokeswoman Carol Hughes, "At approximately 1 a.m. Tuesday, Sept. 13, a group of students chalked a number of messages on the sidewalks and exterior walls at the northeast and northwest entrances to the Lincoln Park Student Center. Public Safety officers advised students not to chalk the walls, only sidewalks, as allowed by policy. Students apologized for that action and removed what they put on the walls as best they could."
She added, "chalking remains permissible on sidewalks on DePaul's Lincoln Park Campus without prior approval from the university. The university may remove chalked messages as part of DePaul's regular maintenance of campus grounds, or if the messages themselves violate university policy."
As of 2:30 p.m. Tuesday, the majority of messages were still intact.
DePaul college Republicans President Nicole Been said the goal of the messages was to promote the club's ideas and remind students of their presence on campus.
"We hope this creates discussion about issues not discussed as often as other issues, especially being at a liberal university," Been said. "Many students could identify and believe in these issues, but might not know there is a club or someone like them. This is another promotional event for our club to express our rights as students and hopefully encourage other political groups, and all groups, to use this outlet as a way to discuss their ideas also."