Students explain drug usage and the easy access to them on campus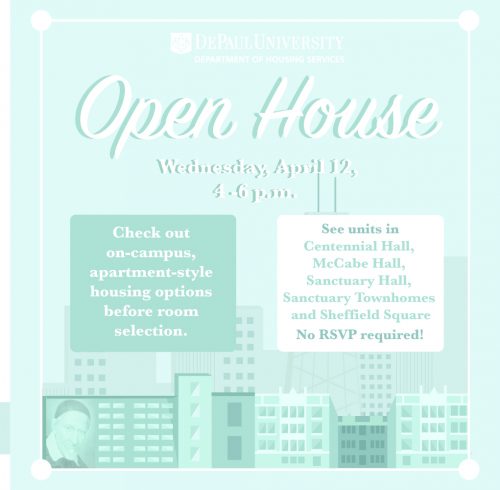 Access to prescription medications like Adderall and Xanax is, for many DePaul students, just a phone call away.
"I think everyone knows (it's easy to get prescription pills," DePaul senior and liberal arts student Dylan said. "I don't think everyone is into it but they know (about it)."
Dylan, as well as the other people quoted in this story, wanted to remain anonymous.
Despite the casual acceptance of this prescription medication market, the March 29 arrest of four DePaul students who sold 102 Xanax pills to undercover officers — Paul Fontana, Mark Randazzo, Chad Yale and Cole Hanusa — made headlines in Chicago. But it wasn't the act of selling prescription medication that shocked most students — it was the mere volume of the pills that the students sold.
"Those kids were, to put this nicely, a hundred Xanax is kind of ridiculous so I don't know what they were thinking to sell that large of an amount," Dylan said. "They were obviously greedy and trying to sell a lot but they were greedy. They definitely shouldn't have sold in that amount of excess."
DePaul senior and health science student Taylor sells some of her prescribed Adderall to friends and neighbors. She was prescribed the pills during her freshman year after struggling to complete her schoolwork.
"I went to a psychiatrist because I was stressed all the time and I couldn't handle the stress and anxiety," she said. "So she prescribed me Adderall. That was her solution."
"Where is the line between being a drug dealer and helping your friends out?"- Anonymous
Last year, Taylor started selling some of her Adderall pills after accepting just how common the practice was on campus. Unless she really needs the money, however, Taylor said she'll give Adderall to friends free of charge — for those she's not as close to she'll charge $5 a pill.
"It's so easy (to get prescription pills)," she said. "Everyone has it and everyone's trying to sell it. It's gross. It's a gross market. When they're not as close of a friend I do try to make money off it I guess."
These transactions can take place on campus, and, during the busiest weeks, usually do.
Adderall, which is prescribed to help people with Attention Deficit Hyperactivity Disorder (ADHD), is often used by students to help them concentrate while studying. Xanax, which is also popular on college campuses, is often prescribed to control anxiety and panic disorders or attacks.
"I've seen handoffs (of drugs) in the first floor of the library," Dylan said. "I've gotten Adderall in the library multiple times."
Taylor said that she only sells to friends because of the risks involved with selling prescription pills. However, even keeping such a tight circle can't ensure that they won't sell to an undercover officer, which happened to the four students.
According to Ben, a DePaul sophomore who is friends with one of the students arrested March 29, the students first communicated with the undercover officer after being introduced through "a friend of a friend of Cole's."
is friends with one of the students arrested March 29, the students first communicated with the undercover officer after being introduced through "a friend of a friend of Cole's."
Ben said the students were first detained March 28 when the undercover officers arrived at one of the students' apartments to purchase 50 Xanax pills.
"The guy got there and they were supposed to give him I think 50 (Xanax pills)," Ben said. "Mark went downstairs to give him 50 and didn't come back up."
The officers were there to arrest Cole, and when Mark informed the officers he was not Cole they told him to text Cole and say they were short a couple pills, according to Ben.
"Mark texts them and goes 'You're two short,'" Ben said. "And they all started freaking out like 'Mark's not back.'"
According to Ben, Paul was not involved in the two transactions that occurred before March 28. He woke that morning to the sounds of the students arguing about who would bring down the two supposedly missing Xanax pills. 
"(Paul) went upstairs and was like why is everyone arguing about this? I'll do it," Ben said. "Ten minutes later, Paul comes wandering down and they were like this isn't Cole again so then they stormed the place, from what I know. So that was Paul's involvement. That's why I feel so bad for Paul. He got really screwed."
Ben said the students signed criminal informant papers March 28 but were formally arrested the day after when one of the students hired a lawyer, violating the contract they signed.
Fontana, Hanusa, Yale and Randazzo are all currently out on bail and are suspended from DePaul until their next scheduled court date, April 17. Regardless of the news, Ben said the issue of prescription drug use among DePaul students remains widespread.
"What happened happens all the time and it's still happening now," Ben said. "The fact that they're out of the picture isn't going to change anything. I would say more often than not a lot of this is happening on campus too, and within dorms. It's all happening right here. This is within our own student body."
Dylan said he buys Xanax "to fall asleep" and Adderall "to study."
He said he and other students who buy drugs like Adderall use it to help get more work done in a smaller amount of time.
"(People use it most) during finals, midterms, anytime school work is overflowing and people need study drugs," Dylan said.
Ben said that the university suspending the four students arrested for selling Xanax fails to address the real issue at hand.
"DePaul acts like without these students on campus the problem is gone," Ben said. "They're not addressing that it's a serious issue. Kids feel like they can't pass a test without Adderall. They feel like they can't go to sleep without Xanax or smoking (marijuana). So there's a huge dependency issue that DePaul is overlooking. I think they should address he fact that the students are hooked on this. They were mostly selling to DePaul kids."
To better combat the issue of illegal prescription drug use, Ben suggested the university should establish a counseling service specifically for students who feel pressured to sell their prescription drugs or students who feel they need prescription drugs that are not prescribed to them.
"You have to ask why were they doing this," Ben said. "Whenever someone does something with such high risk and not much reward (they're all from wealthy families), people should look at the motives. This was not a matter of money. To me, it seems like status."
A federal drug agent who asked for his name to not be used said there is an undeniable attraction to prescription pills.
"People don't understand the destructiveness," the agent said. "The awareness is there. The media is telling them about it but a lot of the times it's a group you're hanging around with. That's been going on since I was a kid."
Ben has been prescribed Xanax since his sophomore year of high school and said high profile arrests like that of the four DePaul students can be damaging for those who need it. "It has given the drug a bad name and it can do really awesome things for people who need it," he said.
Selling Xanax or Adderall to friends can seem harmless, and those like Taylor do it mostly to help out friends who want the help of a study drug or the stress relief of pills like Xanax. 
"Where is the line between being a drug dealer and helping your friends out?" Ben asked.