DePaul University has been named the 93rd safest college campus in the U.S. by the National Council for Home Safety and Security (NCHSS).
DePaul ranked right in the middle of its Chicago counterparts; Loyola University came in one spot ahead in 92nd, and University of Illinois at Chicago and University of Chicago came in at 94th and 95th, respectively.
The NCHSS assessed more than 2,000 four-year institutions and arrived at their rankings by examining both on-campus and off-campus crime data from the National Center for Education Statistics and the FBI's Uniform Crime Reporting database. No data for DePaul is available for either of sites they claimed to use and the NCHSS did not respond to any inquiries about where they acquired their data on DePaul.
The NCHSS says there were 14 instances of violence against women – which includes domestic violence, dating violence and stalking – on DePaul's campuses. The organization listed 60 criminal arrests, only six fewer than its total number of drug and liquor violations. Criminal arrests include anything from robbery and assault to rape.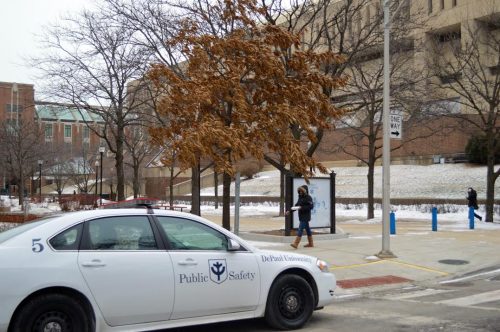 Before committing to DePaul, freshman Abby Smithe said she looked deeper into the university's track record on safety because of what she had heard about crime in Chicago.  She knew Lincoln Park had a reputation for being a safe neighborhood, but also that Chicago had a reputation for being a dangerous city. For her, the choice between University of Missouri – which ranks 79th on the list – and DePaul came down to her desire to live in a major metropolis rather than  a concern for her safety.
"So far, I haven't experienced any situations that made me feel afraid for my safety," Smithe said. "Before I moved here, I was aware of the reputation Chicago had for having a lot of crime. But I feel like Lincoln Park is different, it feels nice and safe in this part of Chicago."
Despite its high ranking, DePaul is not immune to crime. In August, Lincoln Park experienced a rash of criminal activity. There were a reported 162 thefts, two armed robberies, two vehicle hijackings, 22 burglaries, and two criminal sexual assault arrests, according to the Chicago Police Department. On Friday, Sept. 15, two teenagers were arrested for assaulting an 80-year-old woman and stealing her purse in broad daylight on the 1400 block of W. Altgeld St.
Junior Alex Hernandez expressed surprise that DePaul made it so high on the list of safest schools in the country.
"I honestly would have never believed that DePaul would make it to the top 100," Hernandez said. "I'm not saying it feels dangerous here, but walking around Lincoln Park alone after dark doesn't exactly feel safe all the time."
DePaul's Public Safety Department offers a number of services aimed at making students feel safe at both the university's Lincoln Park and Loop campuses. They offer an escort service in Lincoln Park from 6 p.m. to 6 a.m. to make sure students can get home safely.
But the escort service is only available to students moving around on campus, which doesn't help someone trying to get home from far away.
"I've never really understood how the escort service could possibly help very much," Hernandez said. "If you've had too much to drink and you're walking home from a mile away late at night, the escort is not going to come to you. It really is kind of silly."
Lawrence Fowler, a sophomore, agreed that DePaul's location in the city of Chicago does not make it the safest place.
"I saw that list," Fowler said, "and it's crazy to think that schools in those small college towns can rank only a few places higher than DePaul. I'm sure that DePaul's on-campus safety is pretty good, but most of our students don't spend a lot of their time on campus. They spend it out exploring the city, where there are no campus safety services to help you."