Remembering Frankie Valencia: eight years later
If you live in Clifton-Fullerton Hall, you might have seen a plaque near the first floor lounge that reads "We ARE the future. How will you make it better? How will you be remembered?"
The plaque honors DePaul senior Frankie Valencia who was shot and killed at a Halloween party on Oct. 31, 2009 after gunmen crashed the party and opened fire.
Valencia, 21, was just eight months from graduating with an honors degree in psychology and political science. He was also a first-year Resident Advisor (RA) for the 6th floor in Clifton-Fullerton Hall.
The last time The DePaulia wrote about him was in 2011 when gang member Narciso Gatica was found guilty of first-degree murder and aggravated battery with a firearm.
Since then, Valencia legacy has been maintained by the stories shared to us by his friends, his mentors and his family.
Today, it'll have been nine years since his passing.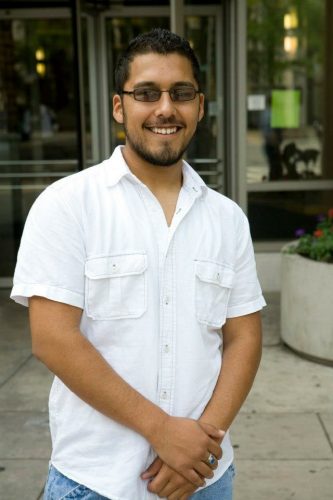 Valencia was an active member of the DePaul community. Throughout his time here, he served as a Chicago Quarter Mentor, Men of Color Initiative mentor, Vincentian In Action — the number of other leadership roles creates a list too long for publication.
In the Oct. 25, 2010 edition of The DePaulia, Valencia was remembered for his "thought provoking questioning, constantly challenging others to face the realities of the marginalized and embody the Vincentian mission."
Ellen Fingado, Associate Dean of Students, was Valencia's Resident Director at the time of his passing.
"I met Frankie through the interview process for the Resident Advisor position in the spring of 2009," Fingado said. "I remember connecting with him incredibly well and being so impressed with the person that he was."
Valencia was still adjusting to his new role as RA. He was the only new addition to the Clifton-Fullerton staff.
"There was something about Valencia that was really special," Fingado said. "During the interview, I remember the conversation going from how do you build community for your residents to what does it mean to honor the dignity of every human. At one point, it even felt like I was being interviewed."
Valencia had a similar impact on his peers as well.
Marykatherine Woodson served as Valencia's co-RA in Clifton-Fullerton at the time of his passing. She recalls her favorite memory of him right after RA training.
"I remember the night before we had our RA retreat, Frankie was working on his bulletin board around midnight and I didn't make anything of it," she said. "I woke up  around six the next morning and he was still doing the same board and I remember asking if he needed any help. He only asked for a stapler."
"After he passed, I put up a memory board for people to use, which meant I had to take down his board," Woodson said.  "I was literally sobbing and I started to take down his work and then immediately started cracking up. I realized that he had cut out individual letters from magazines and individually stapled them to the paper and then taped the paper up on the board. It was a complete backwards way of doing a board and then it made sense why it took him so long. And that was Frankie, right? Always making you laugh, always making sure you were having a good time, even through the tears."
His peers also remember Valencia's desire to change the world.
Daisy Camacho, Valencia's close friend, was at the party with Valencia the night he was killed. She was shot through the neck but survived. In "How Long Will I Cry?" Camacho recalls her fondest memory of Valencia and the impact he left on her.
"Frankie was a dreamer, but he also did things," Camacho said. "It wasn't just, 'Oh, this is what I think.' He engaged with people. He was active. He was doing things like volunteering for an organization that helps low-income preschool kids with literacy and other skills . After a while, he and I began to share a dream about improving our education system and breaking the cycle of inequality from one generation to another."
Valencia's legacy lives on through DePaul's commitment to service and leadership. He was the full embodiment of a Vincentian In Action. He led with determination and with purpose. He believed in truth, justice, equality, service and love — all things that he shared in common with his hero, Barack Obama.
Most of all, Valencia valued family.
His mother, Joy McCormack, decided to continue the work Valencia left behind. She founded the nonprofit organization, Chicago Citizens for Change (CCC) just six months after his death. The organization provides support to families who have lost loved ones due to gun violence; the kind of support she wish she had when she lost her own son.
One of Valencia's last moments at DePaul was the keynote speech he gave at the President's Annual Diversity Brunch in 2009. He had one final message for the DePaul community:
"My last message (…) For the young folks out there, I challenge you to take a risk. Take a risk in dreaming about a better world. Take a risk in dreaming about everything that's possible for your life. Dream about how to improve it. Dream about bettering the lives of the people around you. Dream about the need to build a better world. Dream about all the opportunities to do just that. Sometimes we may not see them, but they're there. Maybe we need to ask questions, maybe we need to get pushed — but they're there. Take a risk and dream about leading — leading your families, your friends, your networks, your communities. Lead them to do good, to be loving and caring people. Lead by example. Don't let doubts, fears, pressures, concerns — don't let that hold you back. Dream, lead and take action. We need you."